Proposed 15pc VAT: Plastic crockery to get pricier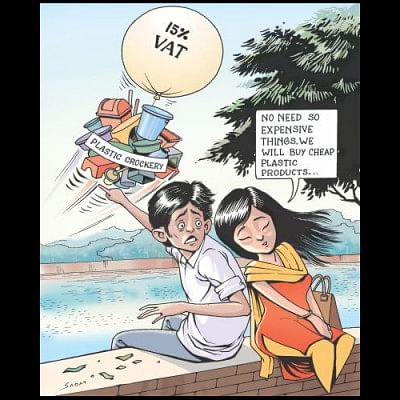 Plastic crockery has seen a steady rise in sales over the last several years mainly due to its growing popularity among middle and low-income families for relatively cheap prices and more durability than glassware.
But this is likely to change soon as the prices of these items would go up for the withdrawal of VAT exemption benefit on them.
Uniform 15 percent VAT is going to be slapped on plastic crockery and some kitchenware once the new VAT law takes effect on July 1.
Industry operators fear the imposition of VAT on these items will push up the prices, eroding the purchasing capacity of consumers, particularly those from low and middle-income groups.
"People living in rural and suburban areas are our main consumers. When prices will increase, demand from this section of people will fall, resulting in a slowdown in growth of the sector," said Md Jashim Uddin, president of Bangladesh Plastic Goods Manufacturers & Exporters Association (BPGMEA).
The concern comes as the government is going to implement the much-talked-about VAT and Supplementary Duty Act 2012 from July 1, doing away with multiple VAT rates now applicable for more than 100 goods and services.
The imposition of the flat VAT rate is feared to fuel living costs and affect people, particularly those from low and middle-income groups.
People will have to spend more to buy various items such as garment and furniture though the finance minister offered concessions to small and medium firms and VAT exemptions to 1,042 items, instead of 536 items under the VAT Act 1991.
Many of the products, which will get VAT exemptions, are not essential items.
Some consumers say that if plastic crockery prices rise for imposition of 15 percent VAT, many would go for imported products, instead of locally manufactured ones.
Until now, manufacturers have to pay VAT on import of raw materials for plastic crockery but there is no indirect tax at the production level, according to industry insiders.
"Prices of these items are going to increase for imposition of 15 percent VAT although we will be able to claim rebate," said Choudhury Atiur Rasul, director (accounts) of Pran-RFL Group, leading manufacturer of plastic items.
Giving an example, he said a 70-litre bucket is now sold for Tk 500 in retail. Manufacturers import raw materials worth Tk 350 for it and pay Tk 52.50 in VAT.
But once the new VAT system comes into effect, its price will rise by around Tk 23 and customers will have to pay Tk 75 in VAT.
Industry operators say the plastic industry has grown over the last several years, buoyed by increasing domestic use of plastic goods for relatively cheap prices, availability and a wide range of designs offered by local manufacturers.
The sector fetches more than Tk 3,000 crore from export of plastic goods and records nearly Tk 15,000 crore in annual turnover from domestic market with operators expecting that the market would grow further.
Atiur said, "A few years back, people were not interested in buying plastic crockery as many of those were of substandard quality. But consumers' confidence grew over time owing to improvement in quality by manufacturers and introduction of a wide variety of designs."
Jashim, also vice chairman of plastic goods maker and exporter Bengal Group of Industries, said the government should have exempted plastic crockery from VAT given the fact that it has waived VAT on domestically manufactured refrigerators and air conditioners under the new law.