PM defends gas price hike
Says people should accept it for the sake of development, China to play its due role on Rohingya issue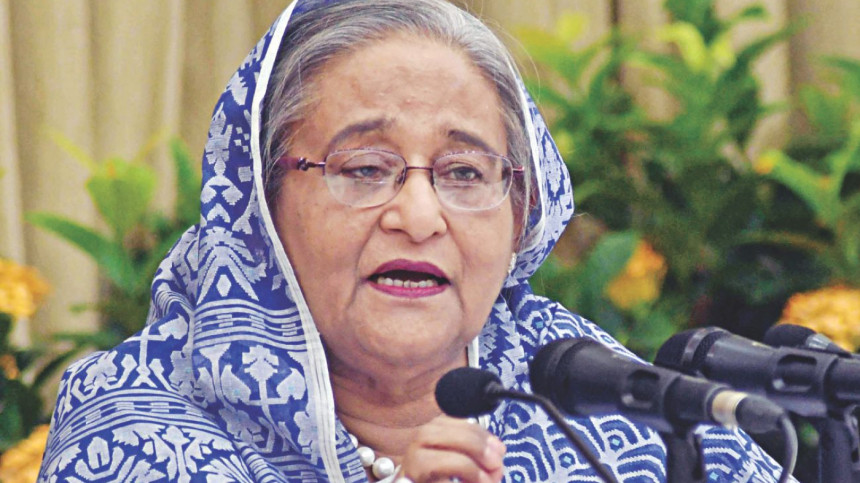 Prime Minister Sheikh Hasina yesterday said people should accept the gas price hike for the sake of the country's development as the government had to import LNG at a higher cost.
"If you truly want economic development, you will have to accept it [gas price hike]," she said.
The PM was replying to a question while briefing journalists at the Gono Bhaban about the outcome of her just-concluded visit to China.
Hasina said Bangladesh has achieved 8.1 percent GDP growth. "It was possible as we paid enough attention to energy, and we've been able to boost power generation, too. But we are to import gas, and the import cost of LNG is huge. Energy is most important for economic development."
The PM said the import cost of per cubic feet LNG is Tk 61.12, but it is being sold at Tk 9.80/cf by providing a huge subsidy. "Even after increasing the gas price, over Tk 10,000 crore has to be given as subsidy."
She said two ways remain open -- either to refrain from increasing economic growth by reducing LNG import or accepting the price hike in the interest of economic development. Prices of gas are also adjusted in all countries in line with energy or gas import.
Referring to gas prices in neighbouring India, the PM said the prices are still much less in Bangladesh than in India. In India, gas prices are adjusted twice a year -- in April and October.
"It is said the gas prices were decreased [in India]. The price of household gas is Tk 30-37/cubic feet, whereas that is only Tk 12.60 in Bangladesh."
The gas price for industrial purpose is only Tk 10.70/cf in Bangladesh against Tk 40-42/cf in India, the CNG price is Tk 43/cf in Bangladesh against Tk 44/cf in India, and the gas price for commercial use is Tk 23/cf against Tk 58-65/cf in India, Hasina said.
Taking a swipe at protesters, the PM said leftist and rightist parties raised the same voice over it. "They forgot what the situation was 8-9 years ago."
In 2004-2005, India wanted to import gas from Myanmar by installing pipeline through Bangladesh, but the then government of Khaleda Zia didn't allow it.
The PM said had she been in power at that time, she would have allowed installing the pipeline after ensuring Bangladesh's share from the gas.
She said had Bangladesh taken the share and used the gas for economic development, it would have not required to import LNG now.
'WATCHFUL ABOUT DEBT TRAP'
Talking about external debt, the PM said Bangladesh was alert so that it didn't fall into any debt trap. The country's external debt was only around 14 percent of its GDP.
"We're paying the [foreign loan] installments on time without any default."
She said Bangladesh implemented 90 percent of its Annual Development Programme (ADP) with own funds and the Padma Bridge was also being constructed with own fund.
Asked whether the relations of Bangladesh with the USA or other countries would be affected if Bangladesh-China ties were strengthened amid the US-China trade war, Hasina said it was not her job to see who got involved in a conflict, war or trade war with whom. "The economic development of our country is my only concern."
Responding to another question on the growing number of child rape incidents, she said her government was taking proper actions against rapists, including arresting them promptly.
Hasina urged all men to raise their voice alongside the women against such violence against women.
About Bangladesh cricket team's performance in the ICC World Cup, she said the team improved much. "I would like to thank them [cricketers] as they showed bravery and confidence. I didn't see any lack of confidence in them."
Replying to another query, the PM apparently ruled out the possibility of extending the age limit to enter public service. She placed a number of arguments in support of keeping the current age limit unchanged.
She said a student can complete his post-graduation at the age of 23 years and the success rate of the BCS exam candidates aged 23-25 is higher than that of examinees aged 25-27 and much higher than that of those aged above 29.
In the 35th BCS exam, 40.7 percent of the successful candidates were aged 23-25 while 30.29 percent aged 25-27, 13.17 percent aged 27-29 years and 3.45 percent candidates were aged above 29, the PM said.
In the 36th BCS exam, the success rates were 37.45 percent, 34.78 percent, 14.89 percent and 3.23 percent in those age groups respectively. The success rates were 43.65 percent, 23.35 percent, 7.20 percent and 0.61 percent respectively in the 37th BCS exam, she added.
"What will be the situation if the age limit is extended to 35 years? There's a certain age to do work," Hasina said.
REPATRIATION OF ROHINGYAS
The PM said during her July 1-5 visit to China, Chinese leaders assured Bangladesh of extending all-out cooperation to resolve the Rohingya crisis and repatriate Myanmar nationals to their homeland.
She mentioned that the two countries agreed to work together to take the bilateral ties to a new height.
Hasina said the two countries agreed on speedy solution to the Rohingya crisis and China wants the repatriation of Rohingyas.
She said Bangladesh and China agreed that the representatives of the two countries would work together for the repatriation.
'PROPOSAL ON RAKHINE FULSOME, UNJUST'
Talking about US Congressman Brad Sherman's proposal to incorporate Myanmar's Rakhine State into Bangladesh, Hasina said the proposal was "fulsome and unjust".
She said Bangladesh is happy with its area of 147,000 square kilometres.
"We fully reject the proposal to include other country's border in our territory or attach a province of another country. Every country has to remain happy with its own sovereignty and Myanmar will be the same."
The PM questioned the intention of the proposal of the US Congressman, also the chairman of the US House Subcommittee on Asia, the Pacific, and Nonproliferation. "They might be a very big country and he is the congressman of that country, but do they forget their past history where there were civil wars in their country? They should not forget their past. How do they say that the past will not be repeated in future?"
She also said many incidents have been taking place in Rakhine State every day. "Why should Bangladesh attach that kind of problematic area to it after knowing all these?"
"We will never do that. Myanmar is our neighbour and we're sheltering Rohingyas on humanitarian grounds. But sheltering them doesn't mean that we will include one part of their country."
The PM mentioned that Bangladesh does not have that kind of mentality.
She also said the US congressman should propose that the Myanmar has to take back their nationals from Bangladesh.
Hasina returned home on Saturday wrapping up her five-day official visit to China.