Prescription as usual
Over a month into HC directive, hardly anything changed for patients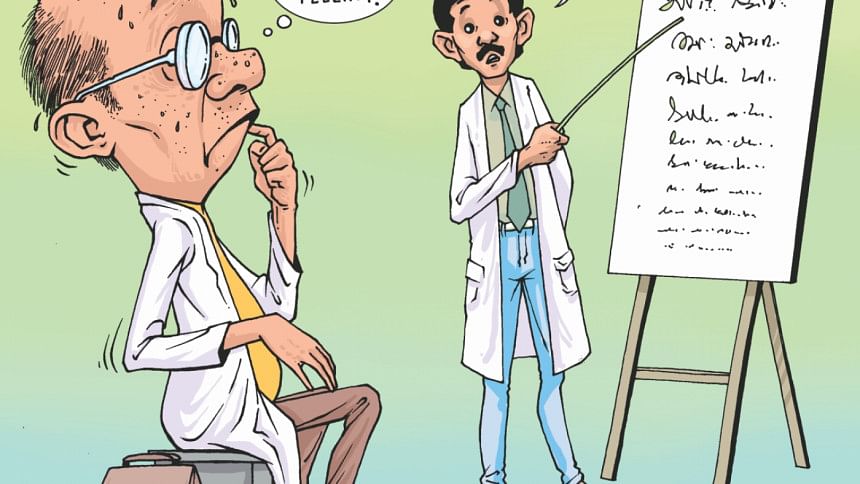 Over a month and a half has elapsed but the health secretary has not issued any circular asking doctors to write prescription in block letters or provide printed prescriptions in compliance with a High Court order issued on January 9.
However, Bangladesh Medical and Dental Council (BMDC) in the third week of February issued a circular asking doctors to write prescription in block letters or provide printed prescriptions in compliance with the High Court order.
The doctors, in the meantime, continue to write the prescriptions the illegible way they have long been doing.
Secretary of the Ministry of Health and Family Welfare and registrar of the BMDC were asked to issue a circular in 30 days and submit a report to the court in six weeks after complying with its directive.
The order came after a writ petition against the backdrop that sloppy handwritings of doctors in prescriptions have been bearing serious risks of drug retailers providing wrong medicines to patients.
Drug retailers said they reject around 20 percent prescriptions, failing to understand what the doctors have prescribed.
"This creates a real problem for us and the patients," said Sumon Mia, owner of a pharmacy on Indira Road.
Prof ABM Faroque at the department of pharmaceutical technology of Dhaka University said there are some 150 drugs in Bangladesh with names close to one another. "If the handwriting is not clear, the dispenser might make mistakes."
For example, Inderal is a drug for high blood pressure, while almost similarly Incidal is an anti-allergic drug.
"If the retailer provides Incidal instead of Inderal, the high blood pressure is not going to normalise. This may lead to dangerous consequences," said Faroque.
Contacted, Health Secretary Sirajul Islam told The Daily Star that they asked the Directorate General of Health Services (DGHS) yesterday to issue the circular in this regard.
Prof Abul Kalam Azad, director general of the DGHS, told The Daily Star over the phone last night that they would issue the circular soon.
Manzill Murshid, the lawyer for the petitioner and also president of Human Rights and Peace for Bangladesh, said respondents could wait for the court order in the cases where the authorities need to know details of the order. Short orders, like this one, should be complied with fast since it was published in the media.
Therefore, the order should have been complied with by February 9. "Waiting for the order to reach their offices and then acting on it is an old mentality," said Manzill.
The fact remains that authorities appear to work in a comfort zone, while doctors continue to write the way they have been, leaving the patients at risk.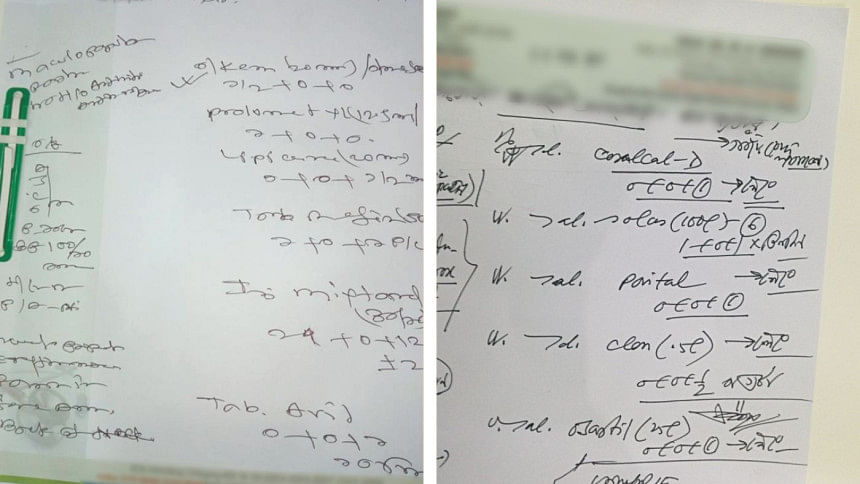 The Daily Star correspondents visited Dhaka Medical College Hospital, National Institute of Cardiovascular Disease and National Institute of Traumatology & Orthopaedic Rehabilitation (NITOR) and a number of drug stores in the city, but found that no doctor was writing prescriptions in block letters.
They found that doctors of only a few reputed hospitals and some private practitioners provided printed prescriptions.
Rafiqul Islam, employee of Belview Pharmacy in Shahbagh, said he did not find a single prescription written in block letters.
Sontash Mitra, another employee of Popular Pharmacy in Shahbagh, said, "We got some prescription written well but still most of the prescription are written in bad manner."
Visiting Anurag Pharmacy, Medicus, Bangladesh Pharmacy, Rogmukti Pharmacy, Dhaka Pharmacy, Seba Pharmacy, Medicine corner in city's Shyamoli area where some specialised state-run hospitals are located, it was found that none of the pharmacies get any prescription written in block letters.
An employee of Lead Pharmacy in Mohammadpur Town Hall market said the situation has improved very little but did not find any prescription written in block letters.
This correspondent waited for around an hour and saw the prescriptions in Lazz Pharma in Kalabagan. Not a single prescription was found written in block letters.
Monju, an employee of Lazz Pharma, however, said they rarely find prescriptions written in block letters.
Mamtaz Begum, 60, who went to Lazz Pharma to buy medicine recently said she often gets confused as to which medicine to take as her eyesight was not as good as it used to be.
"I have to take a number of medications at different times in the day. Sometimes I mix them up," she said.
The National Academies of Science's Institute of Medicine in a July 2006 report said doctors' sloppy handwriting kills more than 7,000 people annually in the United States.
The World Health Organisation clearly said badly handwritten prescriptions could lead to mistakes, and it was the legal duty of the doctors to write legibly.
"The most important requirement is that the prescription be clear. It should be legible and indicate precisely what should be given. A few prescriptions are still written in Latin; the local language is preferred," the WHO said.
WHY BAD HANDWRITINGS?
Doctors claimed that when they were medical students they had to write so much that their handwriting got from good to bad.
Even, while practicing, they often handle so many patients that it gets difficult for them to keep good handwriting.
Rumi Myedull Hossain, a child specialist at the Directorate General of Health Services, said they had to write long answers to many questions in their three-hour exams when they were students and it was difficult to maintain good handwriting.
"So, most of the medical students concentrate on answering all questions, not on handwriting, because the pass mark was 60 out of 100. If any question was left partially answered, there was no hope of passing.
"If there are many patients in the chamber, then doctors have to listen, think, and write at the same time. Patient pressure often force doctors to write quickly."
An intern in a state-run medical college hospital in Khulna said the situation worsens during internship.
"Two interns in a ward have to handle at least 100 patients. Writing clearly does not remain a priority then …  Later, this practice continues," the intern said.
Rashid-E-Mahbub, chairman of the National Committee on Health Rights Movement, said clear handwriting or print prescription was important for countries like Bangladesh where there are no pharmacists in drug stores.
"Eventually, we also need to go for print prescriptions with dates and signatures," Prof ABM Faroque told The Daily Star, adding that doctors' handwritings could mean the difference between life and death for patients.