PM criticises Myanmar's handling of crisis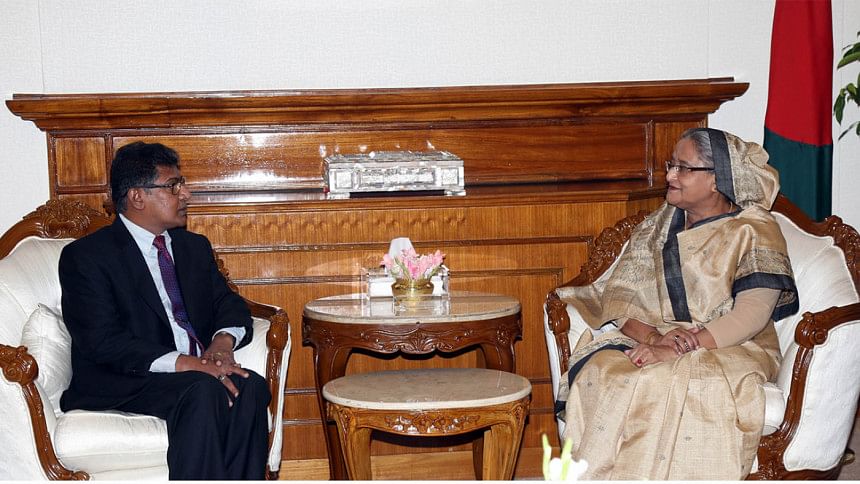 Bangladesh was facing problems because of the way Myanmar government reacted to insurgency, said Prime Minister Sheikh Hasina yesterday.
"Bangladesh never supported such kinds of acts [attack on police posts and an army base] that previously happened in Myanmar. But, the way the Myanmar government is reacting is creating problems for Bangladesh," she said.
The prime minister said this when Sumith Nakandala, the outgoing secretary general of the Bay of Bengal Initiative for Multi-Sectoral Technical and Economic Cooperation (Bimstec), called on her at her office.
Regarding terrorism, she said it was now a global phenomenon. "All countries should work together against the menace."
While talking to visiting Turkish First Lady Emine Erdogan and Turkish Foreign Minister Mevlut Cavusoglu at the Gono Bhaban in the evening, Hasina said Bangladesh has given shelter to the displaced Rohingyas purely on humanitarian grounds.
She described it as a big burden on the country.
Hasina said the international community must take the responsibility in this regard.
The PM said the government has taken initiatives to identify the refugees as it wants to ensure that no terrorist under the guise of refugee enters Bangladesh.
"We won't allow our land to be used by any insurgent or for terrorist activities against any country. Terrorists have no religion and territorial identity."
The Turkish first lady appreciated Bangladesh for giving shelter to the displaced Myanmar nationals, saying Turkey is trying to mobilise global opinions against the persecution as the entire world has the responsibility to resolve the crisis.
She said Turkey would raise the issue at the upcoming OIC Summit in Kazakhstan.
During the central working committee meeting of ruling Awami League at the Gono Bhaban, Hasina said her government wants Myanmar to take back its nationals.
"We're putting pressure on the Myanmar government so that they take back their nationals who are now staying in Bangladesh," she said in her introductory speech.
"Incidents are happening one after another and [Rohingya] people are coming here for shelter after losing all they have. We're trying our best to help and assist them."
She said the intrusion of the Myanmar refugees started in 1978.
"The most painful matter is that women and children die every day in boat capsizes ... it can't be tolerated," she said.