Pak diplomat 'withdrawn'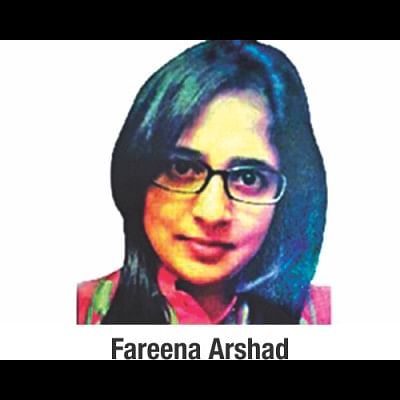 A Pakistani female diplomat was withdrawn from Bangladesh yesterday, weeks after allegations of her involvement in terror financing surfaced in the judicial statement of an Islamist militant.
Fareena Arshad, second secretary (political) at Pakistan High Commission in Dhaka, left the capital by a PIA flight in the afternoon after Dhaka asked Islamabad to recall her in 72 hours, said diplomatic sources.
Bangladesh foreign ministry, instead of going for harsher measures such as deportation, opted to have her withdrawn, added the sources.
Contacted, the foreign ministry and the high commission declined to comment on the matter.
A senior foreign ministry official, however, said Pakistan High Commission informed them that Fareena surrendered her diplomatic identification card and left Dhaka by a Pakistan International Airlines flight at 1:35pm.
Wishing anonymity, a high commission official said, "We sent Fareena Arshad home today [Wednesday] after verbal communication with Bangladesh foreign ministry. She reached Islamabad."
This is the second instance of withdrawal of a Pakistani diplomat from Bangladesh. On January 31, Pakistan recalled its diplomatic official Mazhar Khan for his alleged links with terror financing and currency forgery racket. Mazhar was allegedly involved in producing and distributing fake Indian currency.
Following media reports on Fareena's alleged involvement in terror financing, the Pakistan High Commission in a rebuttal on December 16 protested the reports, saying the allegations against her were "utterly baseless".
According to Bangladesh intelligence sources, the Pakistani diplomat was involved in setting up a terror financing network in Bangladesh.
A foreign ministry source said the ministry on December 20 communicated to the high commission that the government found Fareena's links with terror financing.
"It was an informal communication… there was no written communication with the Pakistan authorities," said the source.
Dhaka made the move against the Pakistani female diplomat after an arrested operative of banned militant outfit JMB told a Dhaka court on December 6 that he had links with her.
Jama'atul Mujahideen Bangladesh operative Idris Sheikh, arrested on November 29 in the capital, told the court that he got a ride from the Pakistani diplomat in her car from Baitul Mukarram to Fakirerpool, and received Tk 30,000 from her.
Referring to Idris' judicial statement, an official of the Detective Branch of police said Idris had conversations with the diplomat several times over mobile phones between June and July this year.
Asked, the DB official involved in the investigation said Idris did not disclose the details of his dealings with her and why she gave him the money.
At one point of their "dealings", the diplomat asked Idris to meet her at Uttara. But on Idris' request she met him in Motijheel area, the official said.
Quoting Idris' statement, the official said Idris got acquainted with Pakistani citizen Kamal, who identified himself as an ISI agent, through a person named Babul who settled in Pakistan.
When Kamal left Bangladesh in 2012, he gave Idris a mobile phone number saying the holder of the number would look after all his business dealings with Babul, said the official.