'Only thing that matters is gold'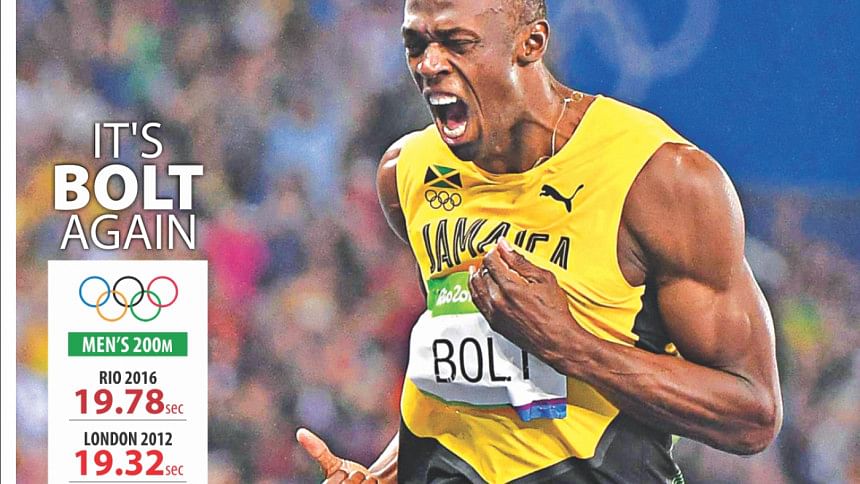 Usain Bolt is back in form. He is back in the very best of form as far as his antiques are concerned. He has always been in form as far as racing is concerned, but now that he has breezed through to victory in his favourite 200m on Thursday night to complete a double hattrick of 100m and 200m, he is back with his typical show of wit, charm and antiques.
After his 100m victory on Monday night, the Jamaican had turned up at the press conference with a rather serious demeanour. He wasn't doing any of the things he is famous for -- he wasn't having a dig at the journalists; he wasn't picking on his rivals or making faces at them; he wasn't bragging about his own superhuman qualities and he wasn't even showing his brilliant dance moves.
But all of those were on show on Thursday night, perhaps because this victory meant more to him than the other races. After the semifinals, he had even admonished Andre de Grasse for having pushed him all the way to the finish line, for he wanted to 'save some legs' for the final. And save he did; the sprint king kept pushing to extend, and rather untypically, did not slow down in the final straight, eventually finishing the race at 19.78 seconds, almost a quarter of a second ahead of second-place finisher de Grasse.
Soon after the finish, Bolt was telling the world know who the best was, just in case anybody needed any more confirmation. "I don't need to prove anything else. What else can I do to prove to the world I am the greatest?" Bolt declared at the mixed zone. "I am trying to be one of the greatest. Be among [Muhammad] Ali and Pele. I hope after these Games I will be in that bracket."
The Jamaican revelled across the track with his country's flag draped over his shoulders; posing for selfies with his countrymen and strutting his moves to a Bob Marley song.
"There are no words to explain. Eight-time Olympic Champion. The 200 means a lot more to me and I have been enjoying it," the Jamaican champion later said at the press conference.
Bolt had sounded out his intentions of beating the world record he had set in Berlin seven years previously. Despite falling short of that target by 0.59 seconds, the Kingston resident was happy as winning gold was the most important thing, and beating 21-year-olds and 25-year-olds at the age of 29 years and 362 days was satisfying.
"My legs decided they aren't having it and I was so tired I lost my form in the last part of the race. But the key thing is that you guys know I won and the only thing that matters is the gold medal," Bolt said.
The Jamaican was hoping that his legs held up for one last run, and that his teammates put on a race to perfection as he was gunning for a record-equalling ninth track and field gold in the 4X100m relay final on Friday.