Onion selling at Tk 120 a kg
Locally grown, they sold at Tk 85-95 a kg in city retail markets a week ago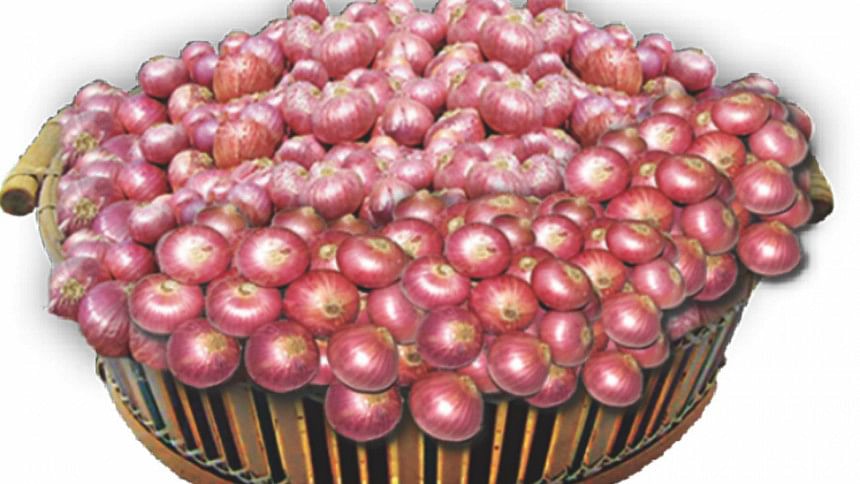 Onion prices shot up to Tk 120 per kg in the kitchen markets of the city, an average rise of 28 percent from last week.
Yesterday, locally-grown onions were selling for Tk 110-Tk 120 per kg at retail in kitchen markets while the same quantity sold for Tk 85-95 a week ago.
Prices of imported onions also rose and were being sold for Tk 80- Tk 90 per kg yesterday, up from Tk 75- Tk 85 a week ago, according to data from the Trading Corporation of Bangladesh.
"It appears that beggars will seek onions instead of taka the way prices are going up," said an annoyed Md Shihab Uddin, who works at a private firm.
He said he was buying fewer onions expecting a fall in price owing to the arrival of a fresh harvest.
Traders said consumers will have to wait for two to three weeks to see increased supply of the essential cooking ingredient and buy the vegetable at lower prices.
However, some traders warned that arrival of early varieties of onions may be delayed owing to bad weather and yesterday's rainfall.
Prices of imported onions increased following imposition of $850 as Minimum Export Price for each tonne of onions by the Indian authority.
India reset the MEP after nearly two years to increase supply in its domestic market and curb price hike there.
"The market has become dependent on Indian onions as stock of locally grown bulbs has almost exhausted. Besides, we had onions imported from other countries," said Narayan Chandra Saha, a wholesaler at Shyambazar market in the capital.
Some 90 percent stock of local onion has already been used up, he said.
"Increased imports will help cool down the prices," said Mohammad Aminul Islam, another onion wholesaler at Karwan Bazar, a major kitchen market in Dhaka.
He said supply of locally grown onion declines fast in the major growing regions such as Pabna.
"Early harvested onions have started coming to the market. But the current rainfall will affect onion fields. A portion of the bulbs in the fields will be damaged if the rainfall continues for longer. The wet weather will affect harvest, supply and prices of onion," he said.
"Cultivation is good. But it may take a month for enough availability of onion in the market," he said.
Mohammad Mazed, secretary of Shyambazar Onion Samity, said a large amount of onions was damaged in the field due to the unseasonal rains in October. The recent rainfall is likely to affect crop too, he said.
He said prices of imported onions have dropped to Tk 63-64 per kilogram at wholesale at Shyambazar yesterday from Tk 67-68 couple of days ago.
"Supply has been short in India," he said.
On import from other countries, he said some importers incurred losses due to a price fall after importing onions from countries such as Pakistan, China and Egypt prior and after Eid-ul-Azha in September.
That is why imports of onions from other countries have dipped, he said, adding that prices are likely to remain high for the next three weeks. But prices may not go up too much, he said.
In the last fiscal year, 15 lakh tonnes of onions were exported.
The Department of Agricultural Extension has targeted to bring 2.15 lakh hectares of land for onion cultivation during the 2017-18 fiscal year, up from 2.13 lakh hectares the previous year.
Onion production rose seven percent to 18.66 lakh tonnes in the 2016-17 fiscal year, up from 17.35 lakh tonnes the previous year, according to Bangladesh Bureau of Statistics (BBS).