One killer safe in US with political asylum
Another in Canada; no info about 4 others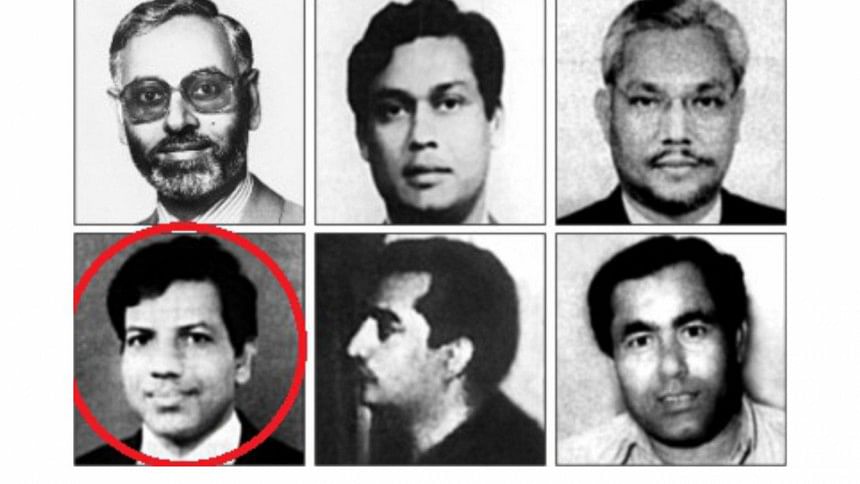 Despite repeated requests from Bangladesh to send him back, the United States granted political asylum to one of the six absconding killers of Bangabandhu a few years ago.
US Ambassador Marcia Stephens Bloom Bernicat on Thursday officially informed Dhaka that fugitive Rashed Chowdhury was staying in the US after securing political asylum.
A highly placed source at the foreign ministry yesterday told The Daily Star that the government has decided to appeal to Washington to cancel Rashed's political asylum and extradite him to Bangladesh. 
Since 2010, a government taskforce has been working to locate and bring back the six absconding killers -- Rashed Chowdhury, Noor Chowdhury, Khandaker Abdur Rashid, Shariful Haque Dalim, Abdul Mazed and Moslehuddin.
Apart from Rashed's stay in the US, the taskforce is certain about Noor Chowdhury's location.
Noor is now in Canada but without any legal papers. The country has declined to deport him, as its policy does not approve sending back a person to where there is the provision of death sentence. Canada, however, didn't accept Noor's application for political asylum.
The taskforce has no confirmation about the location of four other fugitives -- Khandaker Abdur Rashid, Shariful Haque Dalim, Abdul Mazed and Moslehuddin.
It has engaged a nine-member intelligence team to spot the four through surveillance on their family members and relatives in the country.
Besides, the government has already confiscated properties of the killers in Bangladesh.
However, a member of the intelligence team admitted to The Daily Star that there is no progress in tracing the whereabouts of the four fugitives.
A home ministry report placed before a taskforce meeting on December 9 last year read that Rashid could possibly be in Pakistan or Libya; Dalim in Pakistan/Libya/Zimbabwe, Mazed in Senegal and Moslehuddin in India.
The report said the intelligence team was also trying to know whether the accused were maintaining contacts with any "third party"-- people other than the relatives.
DHAKA TO APPEAL
The US has long been assuring Bangladesh to consider the extradition of Rashed but it apparently suppressed the information that the killer had already been granted political asylum, diplomatic sources say.
Removed from diplomatic job at Tokyo mission by the Awami League government in 1996, Rashed went to the US the same year and applied for asylum.
A highly placed source from Bangladesh embassy in Washington told The Daily Star that the US Board of Immigration Appeals affirmed an initial grant of asylum to Rashed and his family several years ago.
As immigration-related information of US is not publicly available, Rashed's visa status remained unclear until Aug 13, 2015.
"We can now appeal to Washington to bring back Rashed Chowdhury. We can also appeal for the cancellation of his political asylum status. We will have to take legal and diplomatic steps to this end," State Minister for Foreign Affairs Md Shahriar Alam told this newspaper on Thursday.
Asked why the government did not appeal earlier, he said, "We were not officially informed about the legal status of Rashed Chowdhury."
Talking to this newspaper over telephone, he said, "We requested US Ambassador in Dhaka Marcia Bernicat during a meeting with her on Thursday and she assured us of extending cooperation in bringing back convicted killer Rashed Chowdhury."
The US envoy, however, termed the process difficult as US has already given him asylum, he added.
Bangladesh made a global appeal to track down the killers at the 78th annual general meeting of Interpol in Singapore in October, 2009.
On October 5, 2011, the then foreign minister Dipu Moni wrote to US Secretary of State Hillary Clinton and Canadian Foreign Minister John Baird with request to hand over convicted killers Rashed Chowdhury and Noor Chowdhury to Bangladesh.
Akramul Qader, then Bangladesh ambassador to the US, on March 29, 2012 made a formal request to US congressman Peter King, also chairman of the US House Committee on Homeland Security, about sending back Rashed.
Dipu Moni raised the issue of deporting Rashed during her bilateral meetings with Hillary Clinton in Washington DC on October 10, 2011 and again during the official meeting with the US secretary of state in Dhaka on May 5, 2012.
The US government had deported another fugitive Lt Col Mohiuddin Ahmed on June 17, 2007, after a US court rejected his appeal for residency. Mohiuddin was hanged along with four other convicted killers of Bangabandhu on January 28, 2010.
The government also had appointed a US-based law firm in January this year to take necessary steps for bringing Noor Chowdhury and Rashed Chowdhury back home.
In 2011, the government had appointed a Canadian law firm to help the government bring back Noor Chowdhury.
Also, the Interpol had issued warrants for arrest of the killers and the government has sent their photos and details to major airports abroad.
PROPERTIES CONFISCATED
The authorities has already confiscated 10.82 acres of land owned by Khandaker Abdur Rashid at his village home at Chandina in Comilla and 3.84 acre of land of Abdul Mazed in his village home in Borhanuddin of Bhola.
They also froze a Tk 76 deposit in Mazed's account in Agrani Bank's Borhanuddin branch.
The authorities also seized 28 decimal land of Moslehuddin at his village home at Narsingdi and cancelled plot allocated for Noor Chowdhury in Gulshan Residential Area in 1997.
The authorities also confiscated 1.15 acres of land owned by Rashed Chowdhury at his village home at Hajiganj in Chandpur.
 Besides, a house of Shariful Haque Dalim in the capital was auctioned. With part of the auction money, a loan against the house was repaid to Sonali Bank. The rest Tk 66.94 lakh was kept at the bank as sundry deposit.
The trial in Bangabandhu assassination case started in Dhaka in 1997, more than two decades after the great national leader and his family members were massacred by some disgruntled army men at his Dhanmondi-32 residence on August 15, 1975.
The Supreme Court on November 19, 2009, upheld the death penalty awarded to 12 ex-army officers.
Five of the convicts -- Syed Farooq Rahman, Sultan Shahriar Rashid Khan, Bazlul Huda, AKM Mohiuddin Ahmed, and Mohiuddin Ahmed -- were hanged on January 27, 2010, while a sixth convict, Aziz Pasha, died in Zimbabwe in 2001.
[Rezaul Karim, Shariful Islam and Partha Pratim Bhattacharjee contributed to this report]