'We'll decide our foreign policy'
Foreign minister terms Chinese ambassador's statement regrettable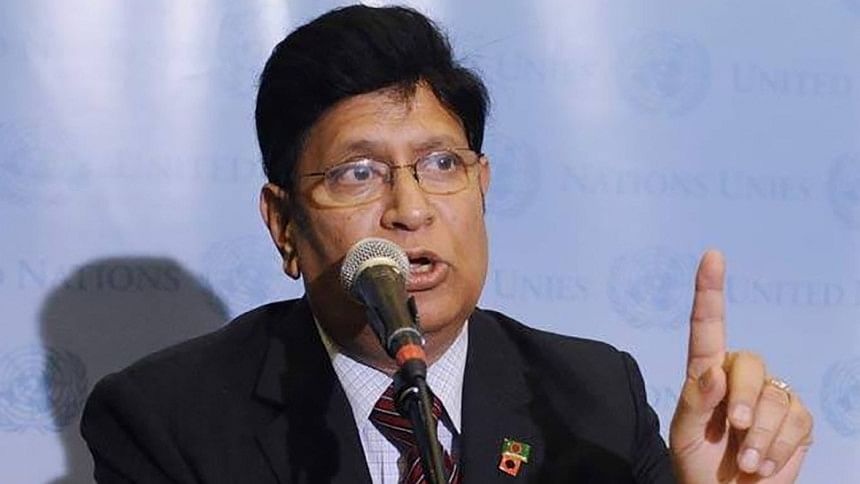 Terming Chinese envoy's recent remarks very regrettable, Foreign Minister AK Abdul Momen yesterday said Bangladesh maintained a non-aligned and balanced foreign policy and it would decide what to do following that principle.
"We are an independent and sovereign state. We decide our [own] foreign policy. But yes, any country can uphold its position," he said.
The minister made the remarks when reporters sought comments on Chinese Ambassador Li Jiming's remarks on "Quad" and Bangladesh.
Momen said they recall with respect what others say, but did not expect such behaviour from China.
"Naturally, he [ambassador] represents a country. They can say what they want. Maybe they don't want it [Bangladesh's joining Quad]."
The minister said no one from the Quad has approached Bangladesh yet. "The comment has been an advanced one."
He said China usually does not interfere in others' internal affairs and that they did not see anyone saying anything in such an aggressive way. "It's very regrettable."
Momen said China can say their position and Bangladesh always welcomes what others say. "We will listen to what they say. But we will decide what is good for us."
He said once the United States had asked Bangladesh to sell gas but Prime Minister Sheikh Hasina replied to the power like the US that Bangladesh would decide after keeping reserve for 50 years. "Who are you?"
The minister said they are lucky that they have a leader like Prime Minister Sheikh Hasina.
He said Bangladesh will decide following the foreign policy principle considering the interest of the people and the country.
Momen said Bangladesh maintained a non-aligned and a balanced foreign policy and it would continue to do so.
"What he [ambassador] said [is] fine. We've no special comment on that," he said.
Chinese Ambassador to Bangladesh Li Jiming on Monday said Bangladesh's relations with China will "substantially get damaged" if the country joins "Quad", a US-led initiative.
The envoy said obviously it will not be a good idea for Bangladesh to participate in this small club of four countries.
"So, we don't like to see any form of participation by Bangladesh to this small group of countries," said the envoy.
He termed "Quad" a military alliance aiming against China's resurgence and its relationship with neighbours.
The US, India, Japan, and Australia are part of an informal strategic alliance -- the Quadrilateral Security Dialogue, or Quad as it is known.
Representatives of the four member nations met periodically since its establishment in 2007.