Volatile Rice Market: Import eased as prices soar
Agriculture minister blames millers, wholesalers for price hike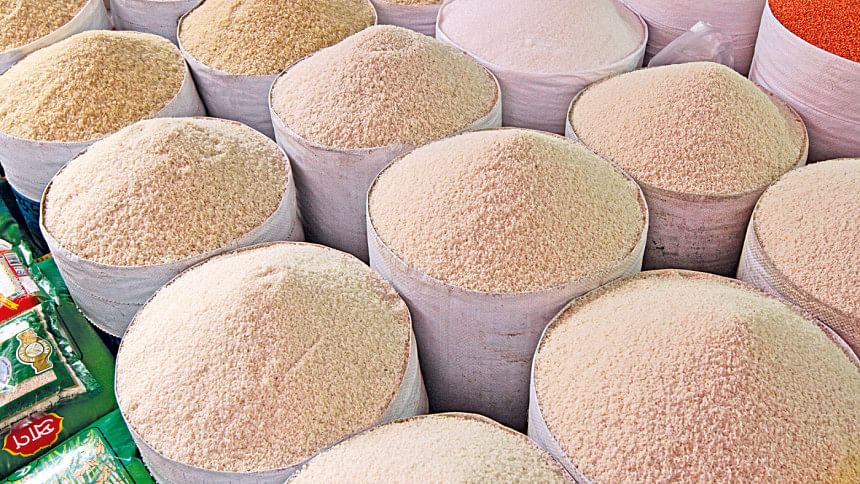 The government is going to allow the private sector to import six lakh tonnes of rice with 25 percent duty to stabilise the rice market.
Now, an importer has to pay 62.5 percent duty for importing rice.
Rice importers will have to apply to the food ministry with all necessary documents by January 10 next year, Food Minister Sadhan Chandra Majumder said at a virtual press conference yesterday.
"The ministry will give approval to import of a certain quantity of rice after scrutinising the applications.
"If needed, we will buy 15 to 20 lakh tonnes of paddy from farmers," said the minister.
Meanwhile, Agriculture Minister Muhammad Abdur Razzaque has said the government will not allow import of more than six lakh tonnes of rice by the private sector to safeguard the interests of farmers.
The government move comes at a time when prices of the staple keep soaring in both retail and wholesale markets.
Besides, the food grain reserve has dwindled to seven lakh tonnes from 13 lakh tonnes in December last year. Of this, around five lakh tonnes are rice, according to food ministry officials.
Food Secretary Nazmanara Khanum said the authorities will fix how much rice an individual or a firm will be allowed to import so that farmers do not incur losses.
The importers have to take permission from the food ministry to enjoy the 25 percent import duty, she added.
Talking to reporters at the Secretariat yesterday, the agriculture minister blamed millers and wholesalers for the price hike of the staple.
"Usually, wholesalers and millers are the ones who increase rice prices. They had done this in the past and they are also doing this now," said the minister. 
"In this peak season, they are buying paddy and rice on the one hand and increasing their prices on the other.
"We don't have that much shortage of food grain. But millers are trying to increase rice prices through manipulation. If we can ensure adequate supply of imported rice in the domestic market, there won't be much problem.
"As the rice price is high, the government is allowing the private sector to import rice under special consideration. The government will also import rice.
Rice will be imported from India, Vietnam and Indonesia, he mentioned.
About millers' opposition to rice import on the grounds that it will cause losses to farmers, Razzaque said paddy is being sold for Tk 1,200 a maund and for around Tk 1,040 in some areas. Even if farmers get Tk 1,000 for it, they will not incur losses.
PRICE HIKE
Coarse rice, an indicator of the rice market, was sold for Tk 46-50 a kg yesterday, which was Tk 30-35 exactly a year ago, according to Trading Corporation of Bangladesh data.
The price of medium-quality rice rose by Tk 10-13 from Tk 40-50 and that of fine rice by Tk 5-15 from Tk 45-60 a year ago.
Mohammad Jasimuddin, a rice retailer at a market in the city's Mirpur-11, said the price of coarse rice, consumed mainly by low-income people, rose by Tk 2-2.5 a kg in the last couple of weeks. Different varieties of fine rice such as Nazirshail and Miniket also saw their prices rise by Tk 5 during the same period.
About the reason behind the price hike, the trader said the millers were claiming that this year's rice production is lower than last year's. Cashing in on the situation, many are now hoarding rice to make a quick buck.
Another rice retailer, Rahman Mia, in Mirpur-10 area, said he sold Swarna, a coarse rice variety, for Tk 45-48 two weeks ago. Now it is sold for Tk 50-52 a kg.