Too pricey to be on menu of many
Prices of 5 basic food items rose by Tk 5 to Tk 110 a kg over 2 months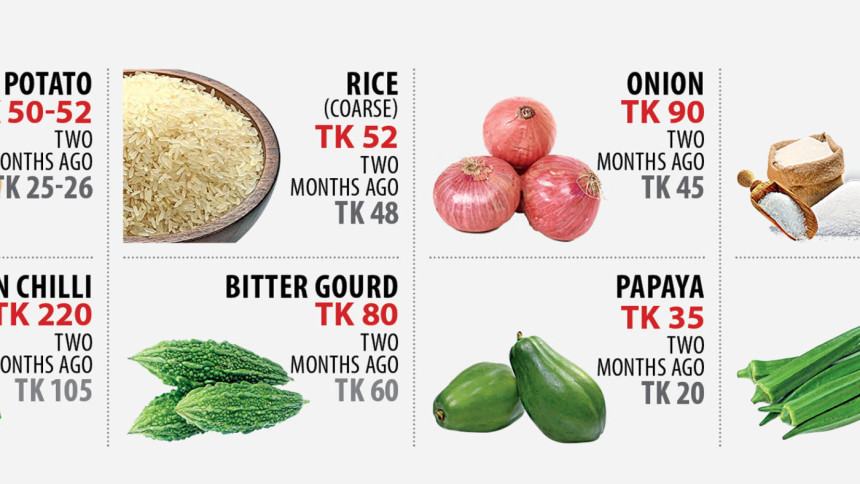 While people of middle- and low-income groups are still struggling to get over the loss of income caused by the Covid-19 pandemic, soaring price of daily essentials is compounding their problems.
The situation has become so dire for some that the minimum amount of food on everyday menu -- rice, potato, edible oil, green chili and onion -- is being considered luxury as prices of these five basic items have increased by Tk 5 to Tk 110 per kg over the last two months.
"If the situation persists, people like us will start starving," said Amir Ali, an auto-rickshaw mechanic.
Amir's wife Jotsna used to work in a garment factory but that has been closed. She now works as a domestic help to meet their expenses.
"In normal times, we find it difficult to provide our children with good food. It has turned worse now," said Amir, a father of two who lives in the capital's Mugda.
Two months ago, the price of a kg of potato was Tk 26. Yesterday, it was Tk 50.
The price of onion is yet to drop from Tk 90 per kg. Onion price doubled between September 15 and September 17 from Tk 40-45 after India banned export of the key ingredient.
Green chili which was Tk 105 per kg on August 15 is now being sold at Tk 220 per kg. Not only that, the price of vegetables sharply rose in recent weeks.
The price of coarse rice has gone up by Tk 3 to Tk 5 per kg.
Price of edible oil also soared. A week ago, the price of a 5-liter container of soyabean oil was between Tk 495 and Tk 505. Now, these are being sold at Tk 515 to Tk 530 at different markets.
The Daily Star correspondent visited different kitchen markets in the capital and compared the prices with the TCB price list for the last two months.
"You won't find any vegetable less than Tk 70 per kg," said Hosne Ara, who runs a tailor shop.
Already hit hard by plummeting income due to the novel coronavirus, Hosne Ara is now looking for alternative ways to make ends meet.
"I've curtailed my grocery shopping list and I buy vegetables at night to get comparatively lower prices," she added.
Egg, a good source of protein for the poor and limited income group, has also become dearer.
Farhad Hossain, who runs a grocery shop in Jatrabari, said he bought 100 eggs for Tk 890 a week ago. "Now it is sold at Tk 920 in the wholesale market. I will sell each dozen at Tk 144," he said, adding that he earlier sold a dozen for Tk 100-110.
The price of broiler chicken, another good source of protein, has also increased to Tk 130 from Tk 120 a kg.
MYSTERY OVER POTATO
Fixing the retail price of potato at Tk 30 a kg, the Department of Agriculture Marketing (DAM) issued a letter to deputy commissioners on October 7.
In the letter, DAM claimed that about 1.09 crore tonnes of potato was produced last year against an annual domestic demand of 77.09 lakh tonnes. Though the country exports potato, there is less possibility of crisis, read the letter.
According to DAM, the price of a kg of potato when kept in cold storages was Tk 14.
The cost of cold storage rent, interest, collection charge, and weight loss stand at Tk 9. Considering that factor, if the potato is sold at Tk 23 per kg, persons who kept potato at cold storage will get Tk 2 profit.
If the wholesaler adds Tk 2 per kg profit, the price would be Tk 25 and it is not reasonable to charge over Tk 30 per kg at retail stage, read the letter.
A farmer spent Tk 8.32 to produce one kg potato, it said.
Four days after the DAM's letter, Bangladesh Cold Storage Association (BCSA) on October 11 called upon farmers and traders to get the potato out of storage in an attempt to stabilise the price.
The association said that this year the production of potato was 85 lakh tonnes and due to transport and labour crisis for Covid-19 only 40 lakh tonnes of potatoes was kept in cold storages.
However, DAM Director General Mohammad Yousuf disputed BCSA's potato production figure of 85 lakh tonnes. He said about 1.09 crore tonnes of potatoes was produced this year.
About 55 percent of 40 lakh tonnes potato has already been sold in the market. Of the remaining, 10 lakh tonnes are seed potato which will be used for the next cultivation season in November, read the BCSA letter.
A source said with the remaining potatoes, another one and half months will be covered. The newly harvested potato is supposed to hit the market by the end of December as potato cultivation was delayed by the flood.
"Farmers and traders who kept potato at cold storages understand that there will be a crisis in the market. That's why they are releasing potato slowly to get more profit," said the source with knowledge about potato business.
Contacted, DAM Director General Mohammad Yousuf said they have taken measures and within a day or two the price of potato will drop.
Claiming that potato cultivation was not hampered in Rangpur, he said, "The newly harvested potato will start hitting the market early December, after that the crisis will end."
Yousuf also said winter vegetables will hit the market in 15-20 days. After that the vegetable price will start dropping.
Replying to a question related to onion price, he said they have already taken an initiative to import seven lakh tonnes of onion from Turkey. "It takes 25-45 days to reach Bangladesh," he added.
Asked, SM Nazer Hossain, vice-president of Consumers Association of Bangladesh (CAB) opined that the government had failed to effectively monitoring the market.
"The government is relying on businessmen to control the market. Because of this policy, they fail to intervene when prices escalate," he said.
He suggested that the government create an alternative market to control price hike. "We saw success in the Open Market Sale [OMS] in the past. But this time they are silent. Their silent role is creating frustration among people," he added.