Suicide at public univs rises in 2yrs
DU saw 9 cases last year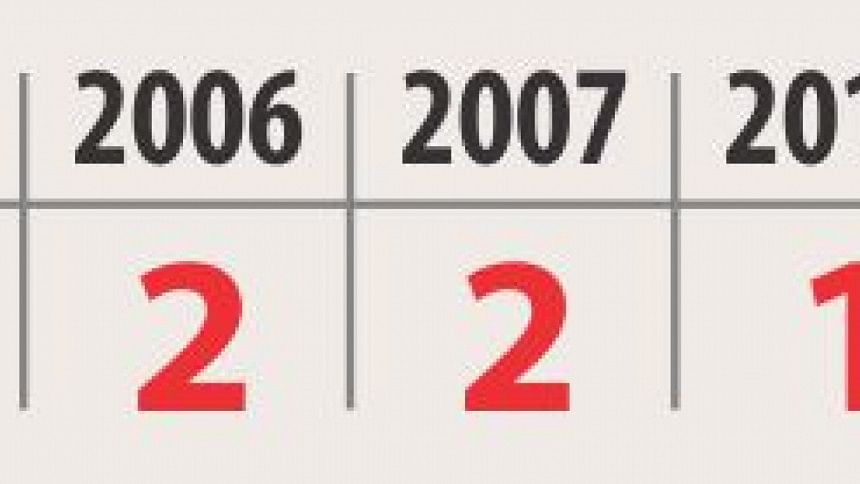 Nineteen students from five public universities died by suicide last year, showing a rise in such incidents. 
Of them, nine were from Dhaka University, seven from Islamic University in Kushtia and one each from Bangladesh Agricultural University in Mymensingh, Shahjalal University of Science and Technology in Sylhet and Khulna University, according to newspaper reports and data obtained from the institutions.   
In 2017, six public university students had died by suicide. Four of them were from DU while one each from Jahangirnagar University and Jatiya Kabi Kazi Nazrul Islam University in Mymensingh. 
According to data from the Police Headquarters, the number of suicides in the country rose from 9,665 in 2010 to 11,095 in 2017.
The rise in suicides in public universities comes at a time when most of them in the country have mental healthcare cells. The increase in such deaths perhaps warrants more action, especially effective counselling and creation of a congenial atmosphere on the campuses for ensuring students' sound mental health, experts said. 
Dhaka University is one of the institutes which has seen an increase in reported suicide cases. While as many as 13 students died by suicide between 2005 and 2016, the same number had died in two years between 2017 and 18.
In the latest reported suicide case at DU, Huzaifa Rashid, a second-year political science student, was found dead on November 22.
"Huzaifa took admission at DU in the 2014-15 sessions and dropped out twice. However, after readmission, he remained absent from classes and exams," Anika Tabassum Badhon, one of his classmates, told The Daily Star.
On November 14 last year, Laila Anjuman Eva, a home economics student of the university, was found dead at her rented room in the city's Azimpur. 
Her friend Shrobona Shafique Dipti said Eva was a girl full of potential. She would stay busy with theatre, arts, and singing.
Since 2005, 26 DU students have died by suicide and none of them went to the Student Counselling and Guidance Office situated on the second floor of TSC, said sources at the office.
Asked whether help was properly reaching those who needed it, Mahjabeen Haque, chairperson of Psychology Department and also director of the centre, said, "During students' orientation, the university authorities inform them about the counselling and tell them to go there if they want.
"Afterwards, it is the students' responsibility to come here."
She added that apart from providing students with proper guidance on academic activities, the university authorities give counselling to at least 500 students on various issues every year.  
Mahjabeen said, "A self-centred life dependent on technology is one of the main causes behind depression."
She stressed the need for building direct social relations through communication, sports and cultural activities for the student's mental health development.
Talking to The Daily Star, DU Vice-chancellor Md Akhtaruzzaman said the authorities had directed all teachers to pay extra attention to the problems facing the students. 
However, there are other public universities, such as the Islamic University (IU) in Kushtia, that have yet to establish a counselling centre. There have been seven cases of suicide at the university last year.
Student adviser M Rezwanul Islam said the university would have a counselling centre soon.
Suicide cases were also reported in some other universities in the last few years.
One of the students was from Khulna University who died in 2016. Two students of Bangladesh University of Science and Technology (Buet) died by suicide in 2005 and 2015, two students from Chittagong University in 2014 and 2009, a student from Chittagong University of Engineering and Technology in 2016, and two Jagannath University students in 2014, according to newspaper reports. 
In the latest case of reported suicide, Md Taifur Rahman Pratik, a student of Sust's Genetic Engineering and Biotechnology, was found dead at his home in Sylhet on Monday.
SUST Proctor Prof Zahir Uddin Ahmed said a probe committee was formed to investigate the matter. 
[According to the World Health Organization, some of the warning signs of suicide are: threatening to kill oneself; making indirect statements such as "no one will miss me when I am gone", or referring to death as a place to go; looking for ways to kill oneself (e.g. seeking access to pills, firearms, pesticides); describing suicide as a solution to a problem; giving away valued possessions; saying goodbye to close friends or family members.
If you or anyone you know are exhibiting these signs, contact Kaan Pete Roi, an emotional support hotline, at: 01779554391, 01779554392, 01688709965, 01688709966, 01985275286, 01852035634, 01517969150]