SUBIR NANDI (1953 – 2019): Of melody, melancholy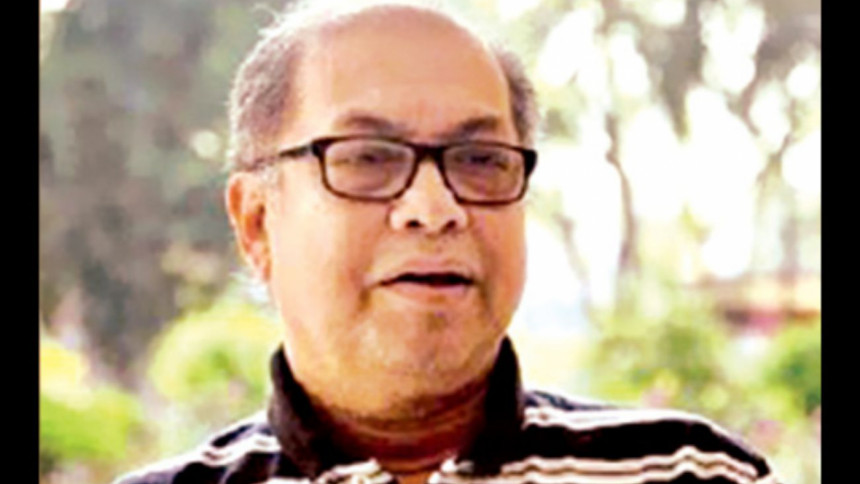 Whether he sang Nazrul Sangeet, film scores, modern Bangla songs, folk tunes, or raga-based melodies, his voice would always capture the nuances and majesty of this land.
Having performed on all platforms, including radio, television, film, and stage, Subir Nandi had never fallen below his potential and maintained the high bar he had set for himself.
His voice that aged like fine wine cemented his stature as one of the leading playback singers at the country. He was known to touch the hearts of his listeners with the tinge of romantic melancholy he embellished his songs with.
The 66-year-old National Award and Ekushey Padak winning artiste died in the early hours of yesterday, ending a career that spanned five decades.
He breathed his last at Singapore General Hospital around 4:30am, his family said, adding that his body will be brought to Dhaka today by a Regent Airways flight scheduled to land at 6:10am.
Subir's body will first be taken to his Green Road residence and then to Dhakeshwari National Temple. People from all walks of life are expected to pay their final tribute to the legendary singer at the Cen-tral Shaheed Minar from 11:00am.
He will later be taken to Ramkrishna Mission. His cremation will take place at Bardeshwari Kali Temple and Crematorium in the capital's Sabujbagh area.
Subir's surname was Phool and, coincidently or not, he loved flow-ers. "My father wanted everyone to bring him flowers. Please bring him flowers to the airport, and also when you come to see him for the last time," a weeping Falguni Nandi Mou said when speaking to The Daily Star yesterday.
The versatile artiste, who considered singing to be a form of medita-tion and prayer which provided him with peace, was set to perform live in the recent tribute to Manna Dey on his 100th Birth Anniversary this month, but could not make it to the programme.
He suffered a massive heart attack on the night of Pahela Baishakh (April 14) and was taken to the CMH around 10:25pm. There, he was put on life support at the Critical Care Centre (CCC), and was kept under a 72-hour observation. A five-member medical board was formed for his treatment.
According to his family members, this was the third heart attack Subir had suffered. He had undergone a bypass surgery in the USA in 2013 for critical triple vessel coronary artery disease and had an an-gioplasty earlier this year.
Born in Sylhet on November 19, 1953, Subir spent his childhood in Dhaka and Kolkata. He and his nine siblings were trained in music under Ustad Babar Ali Khan. He grew up listening to Pankaj Mullick, Kundan Lal Saigal, Sandhya Mukhopadhyay, and Manna Dey. At the beginning of his career, Subir was also a Nazrul Sangeet student.
In 1972, he recorded his first song, "Jodi Keu Dhup Jele Deye", writ-ten by Mohammed Muzakker and composed by Ustad Mir Kasem.
In 1979, he sang one of the biggest hits in his career -- "Din Jaye Ko-tha Thake", a timeless song from a film with the same title. The lyrics were written by Khan Ataur Rahman.
The artiste had the distinction of performing at the House of Com-mons in the United Kingdom in 1994.
He is credited with recording over 2,500 songs, including super-hit tracks like "Amar E Duti Chokh", "Ekta Chhilo Sonar Konna", "Bha-lobashi Shokaley", "Tomare Chharite Bondhu", "Tumi Emoni Jaal Pe-techho Shongshare", "Ami Brishtir Kachh Theke", "Koto Je Tomake Beshechhi Bhalo", "Chandey Kolongko Achhey Jemon", "Keno Bha-lobasha Hariye Jaye", "O Amar Ural Pongkhirey", "Bondhu Hote Cheye", "Bondhu Tor Borat Niya", "Paharer Kanna Dekhe" and "Hajar Moner Kachhe".
Subir won the Bangladesh National Film Award five times as Best Male Playback Singer for his timeless work in the films "Mahanayak" (1984), "Shuvoda" (1986), "Srabon Megher Din" (1999), "Megher Pore Megh" (2004) and "Mohua Sundori" (2015).
He believed that every award-winning work was a team effort. "Any kind of recognition or appreciation encourages an artiste. A nod from the state is the highest honour for a performer," Subir had once said earlier in an interview with The Daily Star.
Subir learned folk music from Bidit Lal Das, a Bangladeshi folk sing-er. He was a member of a musical troupe named Bidit Lal Das and his team, which was founded in 1972. Other members of the troupe were Akramul Islam, Jamaluddin Banna, Rakhal Chakrabarty, Himangshu Goswami, Himangshu Biswas and others. They used to perform as a group and travelled many countries like China, India, the USA, the UK and Norway.
The group sang the song "Sadh Er Lau Banailo More Boiragi" in many performances, as it was a huge hit though incomplete. Com-posed by Bidit Lal Das, the number was completed with joint efforts by Ustad Rashbihari Chakrabarty and Kobi Giasuddin. It became so famous that Bangabandhu Shiekh Mujibur Rahman invited the troupe to his home. Subir was fortunate to be there with the team, and came to limelight gradually.
Since the beginning of his career, Subir collaborated with most of the music directors of our country. He worked with eminent composers like Alauddin Ali, Pradeep Saha, Satya Saha, Samar Das, Sheikh Saadi Khan, and Alam Khan.
He also worked with the musical stars from the younger generation like Habib Wahid, S I Tutul, Bappa Mazumder, Emon Saha, Shouquat Ali Imon, Kabir Bokul and others.
He sang duets with all of his contemporary female artistes like Runa Laila, Sabina Yasmin, Shahnaz Rahmatullah, Ferdousi Rahman, Ka-nak Chapa and others.
A four-time recipient of Bangladesh Cine Journalist Association Awards, Subir was awarded with the Ekushey Padak in 2019. Citi-bank conferred on him the Gaan-e Gaan-e Gunijon Songbordhona award in 2012 while Channel i honoured him with the Lifetime Achievement Award in their annual music awards ceremony in 2018.
In 2015, the artiste performed live in an instalment of Star Melodies, The Daily Star's regular initiative to promote Bangla music, to pay homage to Kazi Nazrul Islam in celebration of the National Poet's 117th birth anniversary.
After Subir fell ill again, he was taken to Singapore on April 30 on Prime Minister Sheikh Hasina's instructions.
His condition deteriorated once again yesterday as he had suffered from multiple organ failure at the hospital. Subir was earlier admitted to Combined Military Hospital in Dhaka on April 14 after he fell ill while returning to Dhaka from Srimangal by train.
President Abdul Hamid, Prime Minister Sheikh Hasina and Speaker Shirin Sharmin Chaudhury, among others, expressed their deep shock and condolence at the death of such a gem.
In a condolence message, the president said, "His death was a great loss for the country and music industry". In a separate condolence message, the PM said that Subir will live on in the hearts of the peo-ple.
A sincerely professional and extremely modest personality, Subir would always mention the names of the lyricist, composer, music di-rector and films prior to performing any song live on stage. This cor-respondent once heard him sharing his memories of Khan Ataur Rahman and quoted him as saying, "If you want to sing, you have to portray pictures with melody."
The singer left behind his wife Purabi Nandi, daughter Falguni Nandi and a host of relatives, friends, fans and well-wishers.