Strong will shows way
A group of visually impaired performers takes up the challenge to produce dramas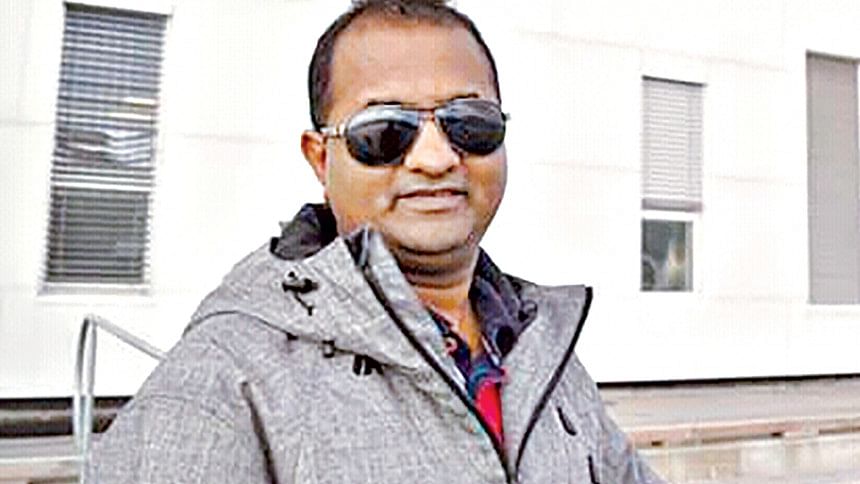 Audio dramas written and directed by someone visually impaired since birth, acted by a team of such challenged persons and made entirely on a mobile application, usher in hopes for those facing obstacles in life.
Mahbubur Rahman Rony, an English lecturer in Sylhet, came up with the initiative using technology.
As part of his efforts, he formed Ganga Padma Shilpigushthi in February. Since then, the platform has produced 14 audio dramas, all performed by visually impaired artists from Bangladesh and India.
Talking to The Daily Star, Rony, who is also Bangladesh's first visually impaired BCS cadre, said, "We see people like us taking part in singing or reciting poetry, but it is rare that they are in acting. Though it is slightly tough for them to act on-screen, they can act professionally through voice-over."
But, the 31-year-old pointed out, most of the radio channels and other similar mediums in the country are not interested in working with them.
So he began thinking about directing and producing dramas using WhatsApp. At one point, he started to contact people like him over phone and many of them showed interests.
"It's true that a visually impaired person may not get the proper message of a film or a play as they cannot watch it. But it is also true that they are very attentive. They always try to get the inner meaning of everything. It makes them good performers as they easily understand the situation."
Their first work was Onuvutirao Nirapode Thakuk, which roughly translates into "Let feelings stay safe too", released on Ganga Padma Shilpigushthi's YouTube channel in May amid the coronavirus pandemic.
He says it was the first WhatsApp-based production in Bangladesh. Taslima Mitu, Mahfuja Chameli and Rony himself from Bangladesh and Raju Majhi from India took part in it.
It is a love story woven in melancholy, depicting the impact of quarantine on a relationship. A misunderstanding takes place between the protagonists -- Sabbir and Keya -- over her isolation at a hospital after she tests Covid-19 positive.
Rony's latest work -- Jonmo Tarikh (Date of Birth) -- was uploaded on June 19 on the same YouTube channel, he said, adding that several other of previous production await to be uploaded.
Asked how the work is done, Rony, a teacher at Government Teachers' Training College, explains: "WhatsApp is very user friendly as its voice notes feature and group options are fully accessible to us. As we communicate through voice notes anyway, we perform dialogue on the same WhatsApp group."
Rony then settles on his drama's plot and asks others to act accordingly and send the recordings to him online. "Everything, from scripting to characterisation, from acting to editing, is done through voice notes. Everyone works from home."
He says he looks forward to partnering with radio and TV channels and film studios. "From our audio production, anyone can produce dramas or movies in a visual format. Our drama could be a dummy for them. If they collaborate with us, half their work will be done."
Talking to The Daily Star on the issue, Tanzina Aktari, a voiceover artist and presenter of Bangladesh Betar, said, "Rony's proposal has merit, especially at a time when everybody is expected to stay indoors so that coronavirus does not spread."
Rony completed his bachelors and masters' in English at Dhaka University and did his MPhil from University of Oslo, Norway. He then did a teacher's education foundation courses at Boston College, USA in 2018-19.
He says without his mother and three sisters he wouldn't have come this far.  He hopes that with their love, he will be successful in this endeavour as well.