'Stepping down for sake of love'
Says Kishore Kumar Das about why he resigned as head of Bidyanando that faces torrents of abuse over his religious identity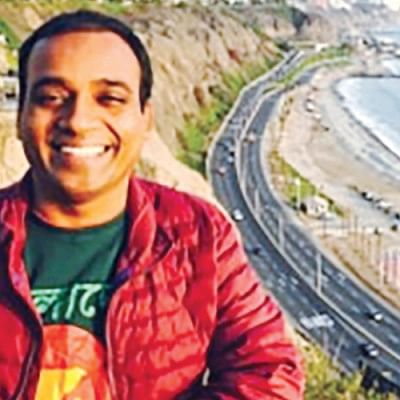 In a surprising development, Bidyanondo Foundation founder chairperson Kishore Kumar Das announced his resignation yesterday. The notice of his resignation appeared on the organisation's official Facebook page.
But why did he do so all of a sudden?
Kishore, who is currently living in Peru, was contacted over phone and he gave an interview to The Daily Star about why he had left his position.
He said, "If anybody asks me what my most favourite thing in the world is at this moment, I would say that it is Bidyanondo Foundation. But sometimes a person needs to make sacrifices for the sake of people, for the sake of love. That is why I am resigning as the chairperson of the organisation."
A graduate of computer science from Chattogram University of Engineering Technology, Kishore is currently working as an entrepreneur in Peru.
Kishore informed that Bidyanondo was formed in 2013 with an aim to provide education to underprivileged children. Currently, more than 2,000 children receive basic literacy and food aid through its 12 branches. They also receive clothes, books and stationary, and monthly stipends.
So why did Kishore choose to suddenly move away from all of this?
"I never wanted to maintain a grip on the post of chairperson for myself. I wanted new leadership to come forward from within the organisation…I always wanted youth leadership to take charge, and steer the organisation with their talents."
Asked, if there was any other reason behind his resignation, he said there were several other factors.
There are allegations that some religious bigots have been disparaging Kishore for his being a Hindu on Bidyananda's Facebook page.
Yesterday, the page was forced to announce, "Our founder cannot dedicate much time since he resides abroad. About 90 percent of this mammoth task is done by Muslim volunteers. Nevertheless, many resort to spreading false information, targeting our founder's religious identity. We wanted to reveal this matter after the current campaigns, but the abuses have crossed all limits in the last few days. So to extinguish the fire, we are sharing this news."
Kishore said, "I have always grown up knowing my identity as a human is bigger. The name Bidyanondo was given by a Muslim brand expert. It means 'fun through learning'. But many think that the foundation was named after some specific person."
"For the last six months, I have been facing abuse for being a Hindu. When we started working to combat the hunger crisis after the coronavirus pandemic, the abuse intensified. It hurt me that people used religion as a ploy to harass me. This was affecting our work. Even some donors had issues with fact that I am a Hindu," he said.
"After observing all of this, resigning as the organisation's chairperson seemed a better option," Kishore said, adding, "Let people stop their abuses. Let the organisation's work flourish."
As the news of his resignation spread, volunteers of the foundation issued an amendment to the previous announcement saying that discussions were still underway regarding whether or not Kishore would continue as the chairperson.
To that, Kishore said, "I don't know what I did to deserve such a love from them. Where Bidyanondo is today is entirely because of their contributions. All of my volunteers have other professions -- some of them have full-time jobs, others are students. They are our strength. Our work is resource-intensive, and this comes from lakhs of people from within the country and abroad who believe in us. So I announced in March that I am resigning. I will continue to be with them in other capacities."
Asked, if people collectively requested him to stay on, would he reconsider his resignation? "I am proud to walk a path that is opposite to this society's mentality of holding onto the power. I never wanted to be known as a founder. Besides, why should it matter what position I hold? Now I am the chairperson, I might be in a lower position in the future -- perhaps as an organising secretary."
"… Bidyanondo is not my personal property. It belongs to the general people regardless of religion, caste or identity. I am willing to sacrifice anything for it.