Soul of resilience
Even with blindness since birth and kidney problems, Marjia refuses to give up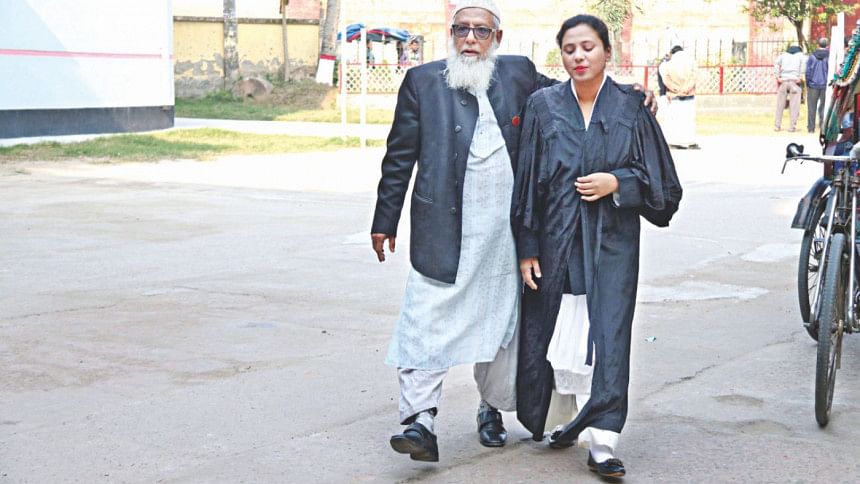 After Marjia Rabbani Shashi finished her arguments in court on New Year's Day, her first day at court as a lawyer, the judge acquitted the man she was defending.
It was a special day for her, not because she won on her first day, but because the day was a culmination of the struggle she had to do to get there. 
Shashi is blind since birth and her kidneys are on their last legs.
Her parents had left no stone unturned in trying to help her get her sight.
"We first suspected that she was visually-impaired six months after her birth. We took her to several doctors in Faridpur and Dhaka. We also went to India for treatment, but nothing helped," said her mother Afroza Rabbani.
"Ever since she was young, she was very bright. She learnt everything by heart just by listening to it once," added the 25-year-old's mother. Shashi is second among three sisters.
She went to Faridpur Mahakali Pathshala and Mohim Institution. Shashi appeared for her HSC at Government Sarda Sundari Mahila College in Faridpur. Her younger sister Abida Rabbani Dorin wrote on her behalf during these public exams.
Shashi obtained her Bachelor of Law degree from Southeast University in Dhaka in 2015. Later that year, she got married to Md Zahangir Alom, of Mohammadpur Upazila in Magura. He runs a cosmetic shop in Faridpur.
Never giving up hope and unable to become a doctor, Shashi promised to follow in the footsteps of father Golam Rabbani Babu Mridha, who is a senior lawyer in Faridpur judge's court.
Shashi's father said his daughter is a fighter. "We were faced with more bad news when Shashi was a second-year student in university. Her doctor told us that her kidneys were failing. She needed dialysis twice a week."
"Hearing our story, Prime Minister Sheikh Hasina gave us Tk 2 lakh to bear initial costs. She even ordered the kidney department of Bangabandhu Sheikh Mujibur Rahman Medical University to bear all expenses related to a kidney transplant, but we are yet to find a perfect match."
Md Abdur Rashid, general secretary of Faridpur Bar Association, said, "Shashi is the only blind female advocate in the 134 years history of our association. We are really proud of her."
Shashi enrolled as an advocate of Faridpur Bar Association on January 1.
"I wanted to be a doctor but a doctor must be able to see. Now I want to be a barrister but I don't know whether this dream will become reality. I want to help the poor people as a good lawyer," said Shashi.
Shashi never learnt braille. Her father helps her by reading court documents to her.