Snapshots of life: April is cruel, May may be cruelest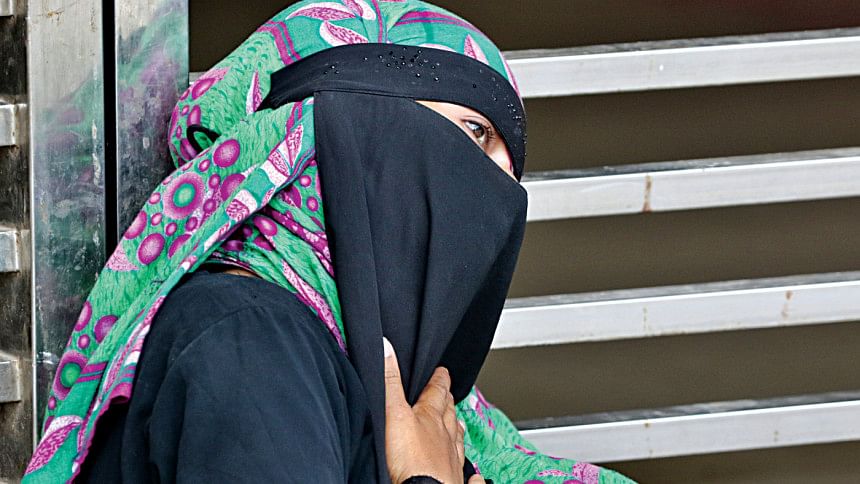 April in Dhaka is not what we know of. The month behaves almost like spring now.
Hot and humid is not the weather that used to be. Air is cool and clean. Chirping of birds, yell of vegetable feriwalas, tung-tang bell of rickshaws at times and occasional barking of dogs are all one can hear from empty roads. Looking at the window curtains being gently ruffled by pleasant breeze, one would almost tempt to savour the lockdown due to coronavirus pandemic.
But, just step out of the safety of house to fetch emergency medicines or groceries, you would soon come to realise how radically things have changed on nearly deserted roads of Dhaka within a month into government's stay-home order.
You're soon to be mobbed by people, who were our everyday helps only a few weeks back. Hunger is now written all over the faces you would come across. You would be shocked to find that these buas, cleaners, rickshawalas, vendors, transport mechanics, shop staffers, labourers and small garment workers of Dhaka are gradually turning into beggars. Quite aggressive beggars.
These daily earners, who make up the 20 percent of Dhaka's 20 million population, would stalk you for alms and hurl diatribes in case you don't oblige. Confronted by their intense stare and aggressive approach, you would start to feel vulnerable for being affluent to some extent.
Live out the recent experiences of The Daily Star journalists and a few others who shared their shocks with us, you would wish not to have this unusual April in Dhaka and worry more about May.
On Wednesday, the moment a senior journalist of this newspaper came out of the high-rise apartment building he lives in (on Shahjahan Road in Mohammadpur) to buy medicine from a nearby shop, 5-6 rickshaws appeared from nowhere and each of the drivers insisted him to get on board.
"No, not going far."
Barrage of questions followed his response.
"Sir, if you don't take rickshaw, how do we eat?" "We have to live, no?" "Don't you care about us?" Then came the demand with an intense stare. "Alright. Give us some money then."
Shrugging off, he walked away, only to be stopped by a stranger about 100 yards down the road. "Assalamualaikum, sir," addressed the middle-aged man, who claimed to be a shop assistant and without a job for two weeks. "My two children are starving … You people have money," he said with clenched jaws.
Turning around to leave the medicine shop, he was circled by four house helps.
"Sir, we're told not to come to work three weeks ago." "Haven't eaten since yesterday." "Starving along with the children." "You buy medicine. And we don't have food to live!"
Kamal Hossain, manager at a garments industry, bought a few groceries from a Modhubagh area shop and turned around to face two men in their 50s. "Give us some [money]."
Startled and about to say 'sorry', Kamal faced an unnerving question: "Only you would eat, no? Won't we?"
"I wish I could help them. But I myself am barely living with a family of five," he said on Thursday. "My factory is considering lay-off. Not sure if I would have a job."
On Tuesday, senior banker Foyez Ahmed was carrying a few bags full of groceries for 15 days from a super shop on Dhanmondi Road-27 to the car he parked about 100 yards away. Coming out shops, he forked out Tk 500 and gave away to a group of beggars he was circled in. Still, a group of young people with no worn-out clothes followed him, harassing him for money. At one stage of this hustle and bustle, one of his bags was torn apart and items were all over the place.
"Some items are lost. But, I'm more worried about the days ahead," he told The Daily Star.
Car that stops on roads is destined to be besieged by beggars and some people with desperate looks. Businessman Moslem Uddin loaded his car with some groceries and stopped it near City College to distribute those among the poor sitting on the pavement there. Soon, a group of youths showed up, shoving and beating away the beggars.
"Get lost!" they barked at him, taking away most of the bags from the car.
Photojournalist Prabir Das stopped his bike at Mouchak intersection on Thursday to take picture of some people waiting in a long queue for government's subsidised groceries to be sold from a truck.
A group of young people chased him like a gang, prompting him to get on the bike fast and drive off. "From my experience, I could tell the difference in the looks. Their looks were so scary!"
Unfed and half-fed faces are growing in huge numbers with every passing day. Most people are seen to be helping people, but in a crisis of this magnitude it's the job of the government to feed the poor.
According to the website of the Ministry of Disaster Management and Relief, 3,603 tonnes of rice were allocated mainly for the poor in Dhaka city corporation area. Was it distributed rightly or not enough for the four lakh poor?
A good number of daily-earners are allegedly denied of subsidised rice for not having NID card with them. "We didn't bring the card when we came for work in Dhaka. We can't go to village amid this strike [lockdown]," said a labourer at around noon, waiting for government rice to come since 3:00am Thursday at Mugda area bus stand. "Must we die then?" he asked photojournalist Sk Enamul Haq, with tears in his eyes and anger all over his face.