Six shot dead in Bandarban
Victims were PCJSS Larma faction leaders, activists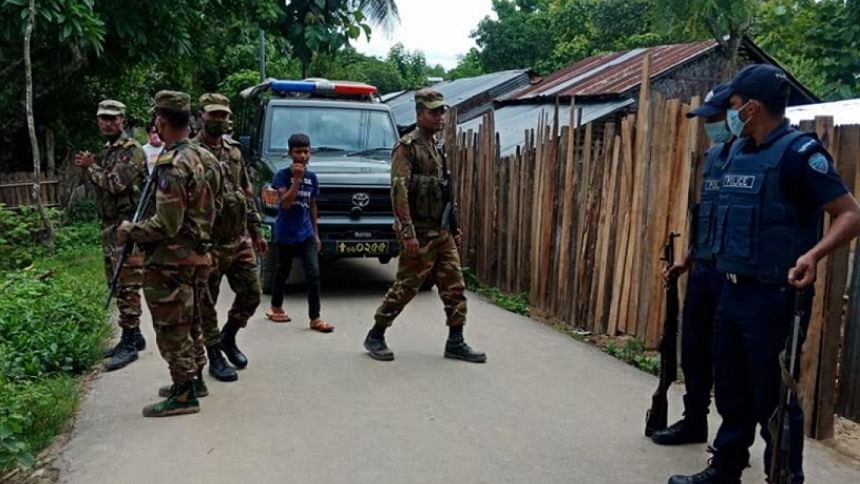 Six members, including Bandarban district unit president and two central leaders, of the MN Larma faction of Parbatya Chattagram Jana Samhati Samiti (PCJSS) were shot dead by a group of assailants in Baghmara area of Bandarban Sadar upazila yesterday morning.
The dead are: Raton Tanchyangya, 60, Bandarban district unit president of the faction, Bimol Kanti Chakma, 65, vice-president of the faction's central committee, Debit Marma, 50, a leader of the central committee, Joy Tripura, 40, Dipen Tripura, 42, and Milon Chakma, 60.
Joy, Dipen and Milon were members of the group, said Uba Mong Marma, secretary of MN Larma Bandarban unit.
Two other members of the faction -- Biddut Tripura, 37 and Niron Chakma, 50 -- and a local woman Hlawaing Sing Marma, 25, were critically injured in the incident.
They were referred to Chattogram Medical College and Hospital, said Dr Ajoy Kishore Barua of Bandarban Sadar Hospital.
Uba Mong, who was also on the spot during the incident and narrowly escaped death, blamed PCJSS for the attack.
He said five armed men came to the area around 6:45am and three of them entered Raton's house and opened fire on the victims.
All the dead and injured, except Raton, were from Khagrachhari and they had been staying at the party office of the newly formed unit since May 31, the secretary said.
The office is close to Ratan's house and the leaders and members often used to have meals in the house, he said.
The Bandarban unit of the faction was formed at a press conference in Chattogram on March 13.
Raton's wife Mini Marma said her husband and Bimol were gossiping sitting in the yard while the others were preparing food before she heard several gunshots.
"Moments later I rushed to the spot and found them dead," she said.
Md Reza Sarwar, additional superintendent of police in Bandarban Sadar circle, said they had recovered the bodies and that members of police and Bangladesh Army were deployed in the area.
He said it was not possible to comment immediately on who were behind this attack.
KS Mong Marma, a central leader of PCJSS said, "PCJSS never believes in the politics of killing and we strongly protest such killings."
PCJSS leaders said since the 11th parliamentary elections, some AL men, assisted by some law enforcers, have been sheltering criminals and formed the Mogh Party to ruin the harmony in this region.
They said Mogh Bahini men later joined the newly formed MN Larma faction in Bandarban and have been spoiling the harmony of Bandarban.
On May 7, 2019, a member of PCJSS was shot dead in the same area while another PCJSS man was abducted from Rajbila union under Sadar upazila the same day.
Two days later, another PCJSS supporter was allegedly shot dead by the Mogh Party at Bakichhara rubber garden area in the same upazila.
On May 19, brother of a local Awami League leader was shot dead in Rajbila while a local Jubo League leader killed inside his home in Rajasthali upazila of neighbouring Rangamati.
On May 25, body of former vice-president of AL Bandarban unit Chaw Thowai Mong Marma, 53, was recovered from a remote hilly zone of Kuhalong union in Bandarban Sadar.
Chaw Thowai, also a former commissioner of ward 5 in Bandarban, was allegedly abducted from his farmhouse on the night of May 22, 2019.
On June 25, a supporter of PCJSS was shot dead in Bandarban's Rowangchhari upazila.
On February 22 this year, a local AL leader was shot dead in Jamchhari area of the district and five others were critically injured.
On April 17, a member of Mogh Party was shot dead in the remote Kenaiju Para area under Rowangchhari upazila of the district.
On June 15, a UP member of Bandarban's Kuhalong union was shot dead.
PCJSS-MN Larma came into being after Santu Larma-led PCJSS, which had signed the peace accord with the government, split during the caretaker government in 2007-08.
The JSS was formed to establish the rights of the hill people in 1972.
General Secretary of Bangladesh Adivasi Forum Sanjeeb Drong yesterday told The Daily Star, "On the one hand, the peace accord has not been implemented -- on the other, a vested quarter has been created in the CHT."
It is really unfortunate that killings were still taking place in the region, he said, adding that such unexpected incidents would have come to an end had the peace accord been fully implemented.