Shipwreck in Mediterranean: 37 Bangladeshis among the dead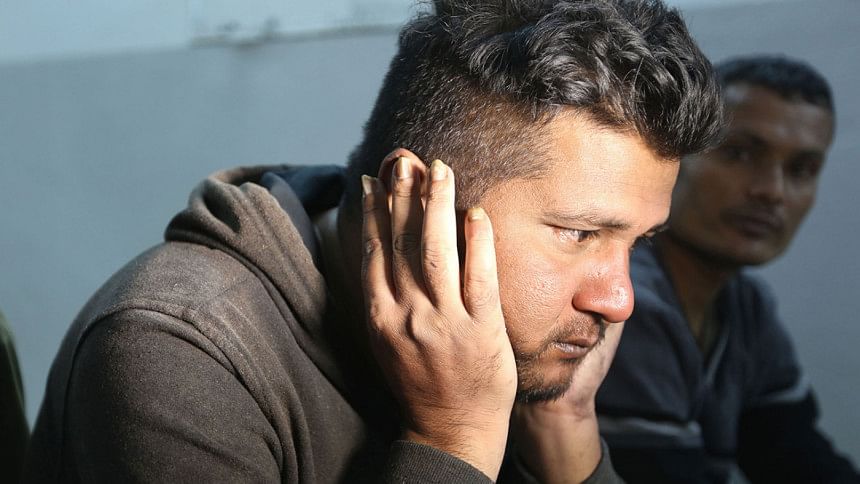 Siraj Miah has not stopped shedding tears since hearing news of his son Liton Miah's death in the tragic boat capsize off the Tunisian coast on Friday night. In between mourning, he repeatedly demanded punishment for the travel agent who had planned Liton's journey to Italy. 
"My son and others spent five painful months before leaving for Libya," he told our Sylhet correspondent over phone from Fenchuganj upazila yesterday.
Liton and six others from Sylhet division were victims of the tragedy that claimed the lives of 60 migrants. Thirty-seven other Bangladeshis are currently missing. Sixteen others, including 14 Bangladeshis, were rescued by the Tunisian Navy and fishermen.
Siraj Miah said three cousins -- Ahmed Hossain, 24, Abdul Aziz, 25 and Liton Miah, 24 -- with some others had left Bangladesh sometime in November last year. New Yeahia Overseas, a travel agency at Raja Mansion of Zindabazar in Sylhet city had charged Tk 8 lakh from each to send them to Italy via Libya.
He said the agency's owner Enamul Haque was a man from Fenchuganj who they trusted but conditions changed as soon as the migrants arrived in Libya.
"They faced a miserable situation during their five months in Libya before finally leaving for Italy," he said, adding that they were kept in a crowded jail-like condition. 
"This travel agent must be punished so that no one loses their family members [like this]," Siraj said.
Survivors said the tragedy unfolded after around 75 people, who had left the Libyan coast of Zuwara late Thursday on a large boat, were transferred to a smaller vessel. The vessel sank 65 kilometres off the coast of Sfax, south of Tunisia, according to the Tunisian Red Crescent.
Nationals from other countries -- three Egyptians, several Moroccans, Chadians and some from other Africans nations -- were also on the boat.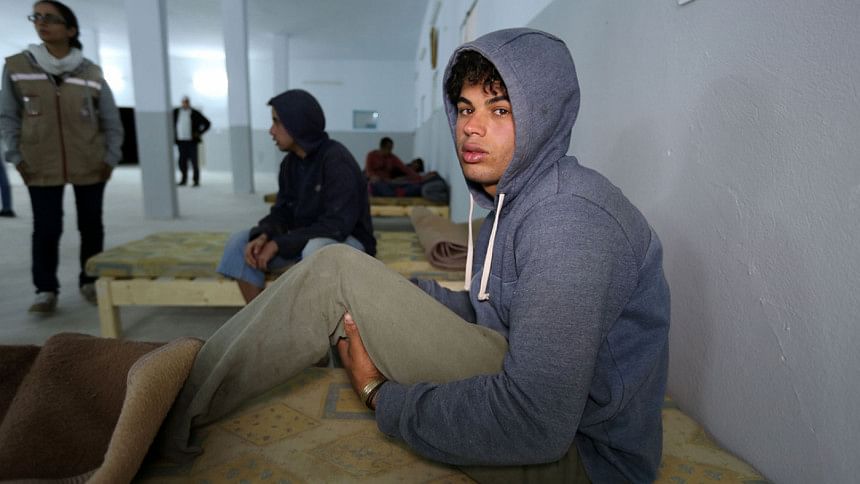 The seven Bangladeshi victims identified so far include Ahsan Habib Shamim, 23, of Bade Bhukhshimile village in Kulaura of Moulvibazar; Kamran Ahmed Maruf, 22, and Afzal Mohammad of Kodupur village and Haortola village respectively of Sylhet's Go-lapganj upazila; Ahmed Hossain, 24, Abdul Aziz, 25 and Liton Miah, 24 of Muyeedpur village and Ayaz Ali of Belkona village in Fenchuganj of Sylhet.
Kulaura Upazila Nirbahi Officer (UNO) Abul Layes, Golapganj UNO Mamunur Rah-man, Fenchuganj UNO Ayesha Haque and Manikona Union Parishad Chairman Emran Ahmed confirmed the identities of the victims.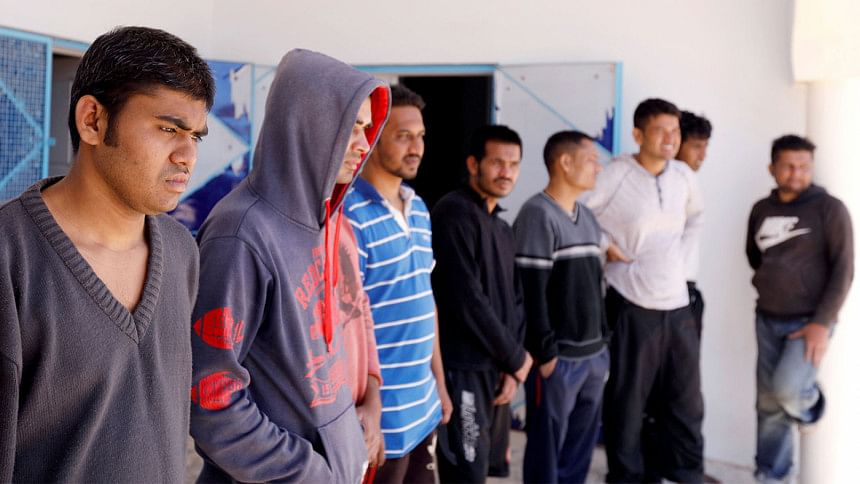 Maruf's brother Masum Ahmed and Abdul Aziz's uncle Ahmed Bilal were among the survivors, family members confirmed.
Abu Sayeed Bacchu, elder brother of victim Ahsan Habib Shamim, said Shamim was the youngest among seven brothers. Shamim, Maruf and Masum left for Italy in November last year but faced a tragic fate.
"They became victims of human trafficking," he told The Daily Star.
Masud Ahmed, elder brother of deceased Kamran Ahmed Maruf, said his surviving brother Masum called him after the tragedy and told him how he had survived by floating in the sea for eight hours but Maruf had passed away after losing hope.
"It's so tragic…difficult to bear," Masum told this correspondent.
Foreign Minister Dr AK Abdul Momen termed the incident, "very regrettable," expressing displeasure over the risky voyage undertaken by the Bangladeshis. The journey, rife with dangers in the Mediterranean, has seen thousands of migrants going missing or dying on their way to Europe.
The latest tragedy was dubbed the "deadliest migrant boat sinking since January" by the International Organization for Migration (IOM).
The IOM says as many as 443 migrants either died or went missing in the Mediterranean while trying to reach Europe in boats as of May 8 this year.
The figures were 2,299 in 2018 and 3,139 in 2017.
ASM Ashraful Islam, labour counsellor of Bangladesh embassy in Tripoli, said yesterday he was scheduled to fly to Tunisia last night to see the situation there and make arrangements to send back the bodies after those were recovered from the sea.
He told The Daily Star over phone from Tripoli that he had talked to the Tunisian Red Crescent and reconfirmed the number of dead or missing Bangladeshis to be 37.
As per the Red Crescent, four dead bodies were recovered. Meanwhile, five of the survivors were undergoing treatment in Tunisia. The other survivors were sheltered in an accommodation managed jointly by the Red Crescent and IOM in Tunisia, Ashraful said.
Libya, which has been wracked by chaos since the 2011 uprising that killed Muammar Gaddafi, has long been a major transit route for migrants desperate to reach Europe.
There were fears of further migrant crises in the Mediterranean with the escalation in fighting between the UN-backed Libyan government and the Libyan National Army (LNA) since early last month, as the latter has been trying to take control of Tripoli.
Since then, the Bangladesh embassy in Tripoli has relocated some 300 of its nationals from the suburbs of the Libyan capital to other safe places in the city, he said.
The official said some 20,000 Bangladeshis could be living in Libya. In 2014, Bangladesh stopped sending workers there.
Transnational human trafficking gangs in Bangladesh, in cooperation with their counterparts in Libya and other countries, however, continued to send workers to Libya via the UAE, Egypt and Sudan, owing to lax law and order in Libya.
"The allure for them is Europe," Ashraful said.