Migrant Boat Capsize: Identity of eight more Bangladeshis confirmed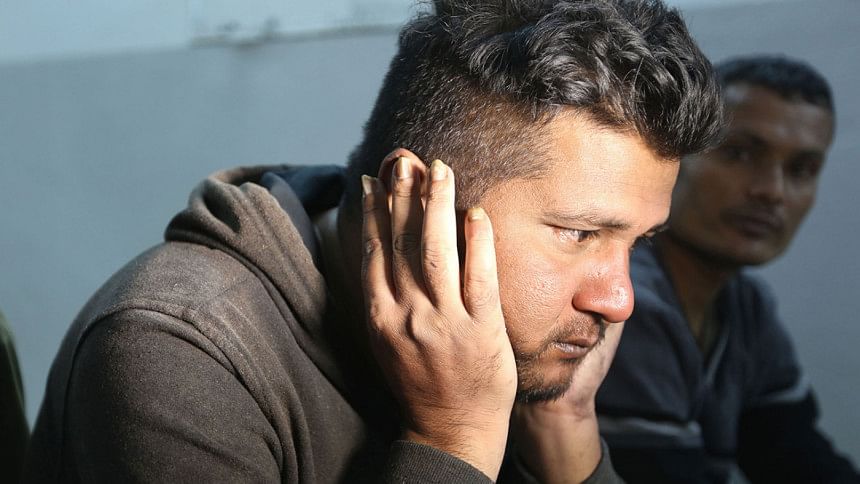 Identities of eight more Bangladeshis feared dead in Thursday's Mediterranean Sea boat capsize have been confirmed.
All of them are from Sylhet division. Family members, OCs of local police stations, and union council heads con-firmed the names to this paper yesterday. 
Among the victims, Abdul Muqtadir and Abdul Quaiyum are from Habiganj's Lokra village, Abul Kashem is from Bagha Uttar village in Sylhet's Golapganj. All are aged 22.
The rest are Dulal Miah, 32, of Shimultala village in Bishwanath upazila of Sylhet, Rezwanul Islam Khokon of Nowgar Majhpara village in Bishwanath upazila, Shoyeb Ahmed Tuhin, 20, of Adinagad Chelakhani village, Abdul Halim Sujon of Maijkapon village in Biyanibazar upazila, Sylhet, and Azizur Rahman Rukul, 27, of Kaliar Gaon in Moulvibazar sadar.
Families of Abdul Muqtadir and Abdul Quaiyum said, Mamun Miah, a survivor who had gone to Tunisia from Lokra village, had confirmed them of the two deaths over phone.
"If our children are dead, we demand their bodies be traced and handed over to us," said Quaiyum's father Alaud-din.
"Two boats -- one carrying around 50 and another 70 people -- set out at the same time on May 9. The first one possibly reached Italy while the second one capsized," ASM Ashraful Islam, labour counsellor of Bangladesh Em-bassy in Tripoli, told UNB.
Around 40-45 Bangladesh nationals remain missing after Friday's boat capsize in the Mediterranean Sea while attempting to reach Europe from Libya, he said.
On Monday, Bangladesh Red Crescent Society (BDRCS) published names of 27 Bangladeshi victims. So far, The Daily Star has obtained names of 15 victims from the Sylhet division who are feared dead.
On Monday, it obtained seven names: Ahsan Habib Shamim, 23, of Bade Bhukhshimile village, Moulvibazar, Ab-dul Aziz, 25, his cousin Ahmed Hossain, 24, and Liton Miah, 24 of Muhidpur village in Fenchuganj upazila, Sylhet, Kamran Ahmed Maruf, 22, and Afzal Mohammad of Kodupur and Haortola village in Sylhet's Golapganj upazila, and Ayaz Ali of Belkona village in Fenchuganj, Sylhet.
All of them were dead, claimed their families who said they got phone calls from survivors in Tunisia.
BDRCS is coordinating with the Tunisian Red Crescent, foreign ministry and International Organisation for Migration in identifying the victims.
Rights body Ain o Salish Kendra has called for effective and coordinated efforts at the national level to prevent recurrence of tragic deaths of Bangladeshi fortune seekers.
In a press statement published yesterday, it urged the authorities concerned to identify gangs that manipulate people to illegally migrate.