Shambolic: 142 Italy returnees allowed to go home after day-long mismanagement
59 more taken to Ashkona camp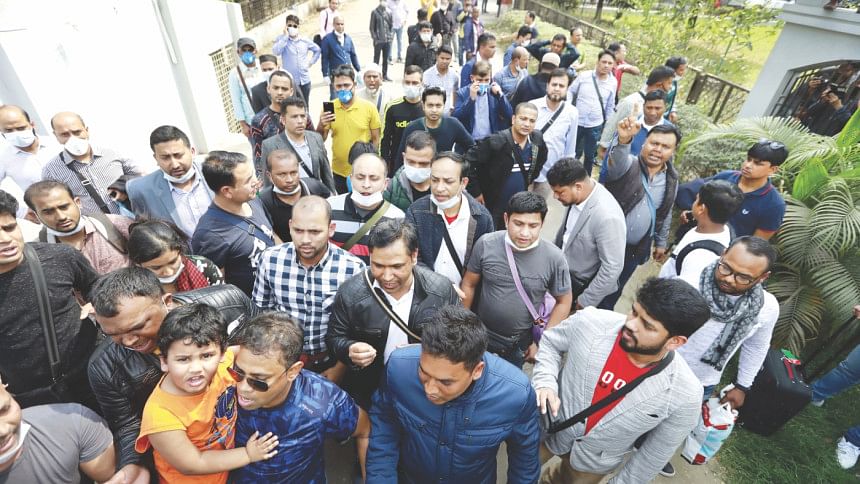 After daylong drama about quarantining people retuning from Italy, the authorities last night allowed 142 of them to go home and asked them to be in self isolation.
Health experts said this would put entire communities at risk as they feared there would hardly be any monitoring over their self isolation.
However, 59 other Italy-returnees who arrived at Dhaka airport in the evening were sent to a makeshift quarantine centre in Gazipur's Pubail.
Most of the 142 Bangladeshis had began arguing with officials as soon as they were taken to Ashkona Hajj Camp from the airport around 9:00am. They kept demanding that they be allowed to go home immediately.
At least five of the returnees told The Daily Star they left Italy after many people in their neighbourhoods in Rome and Catania were tested positive for the virus and fell sick.
On the way home, two of them told The Daily Star that the authorities didn't take any blood samples from them to test for coronavirus. Experts said it would have been wise if the Italy-returnees had been let go after proper tests.
The returnees left for their home only hours after Health Minister Zahid Maleque said people coming to Bangladesh from affected countries will face a compulsory 14-day period in quarantine. He also warned that anyone violating the directive would be jailed or fined.
Yesterday's daylong tension between the returnees and the officials at Ashkona highlighted the mismanagement and lack of basic protective measures taken by the authorities, especially since Italy is the worst affected country in Europe, the new epicentre of the coronavirus pandemic.
At Ashkona in the capital's Uttara, friends and family members started coming in contact with the returnees since morning.
Hardly anyone was wearing a mask, let alone other protective gear. Even the law enforcers wearing no masks jostled the crowd which was chanting slogans denouncing the authorities.
The returnees were allowed to go home because they showed no symptom of a coronavirus infection, DG of Directorate General of Health Services Prof Abul Kalam Azad told reporters at the scene. 
Contacted, Prof Muzaherul Huq, former adviser to WHO's southeast Asia region, said, "Who will make sure they would remain properly quarantined at home on their own? Even though they seem to be in good health, the signs of an infection may appear later. They may pose a threat to entire communities."
He added that it was highly likely that no one would be there to make sure the people were properly "self-quarantined".
Muzaherul also said a person in self-quarantine must stay inside a room with an attached bathroom. Anyone delivering food to the person must not go closer than six feet to the person.
At the hajj camp yesterday, which was supposed to be the quarantine centre for the 142, many expats said some had managed to flee while the law enforcers and officials were struggling to quell the protesting men.
Jahirul, a doctor at the health desk of Hazrat Shahjalal International Airport, said "These passengers do not seem to have coronavirus symptoms for now, but the virus could be in incubation in their body. In that case, the symptoms may appear a week and others may get infected."
At the hajj camp yesterday, this correspondent saw at least 30 to 40 passengers chanting slogans while others shook hands with their friends and family members at the gate.
Asked why they wanted to go home immediately ignoring the risks, a man said, "We have been here for five hours. But no doctor or official came to test or examine us."
A woman said, "I have three children aged between six and 11 with me. They have not eaten in 24 hours."
At one stage of the demonstrations, some 40 to 45 people started pushing the gate of the hajj camp and police had to jostle with them.
New infections in Italy soared Friday by more than 2,500 and virus-related deaths made their biggest single-day jump there, increasing by 250.
In the three weeks since the country identified its first virus cluster, Italy has reached a total of 17,600 confirmed cases -- the largest outbreak after China -- with 1,266 deaths.
The Italian government has ordered an unprecedented lockdown, ordering businesses to close and restricting people's movement.
On Friday, the World Health Organization warned that Europe has now become the epicentre for the pandemic, reporting more daily cases than China did at the height of its outbreak.