Rice prices go up by Tk 2-5 a kg in a week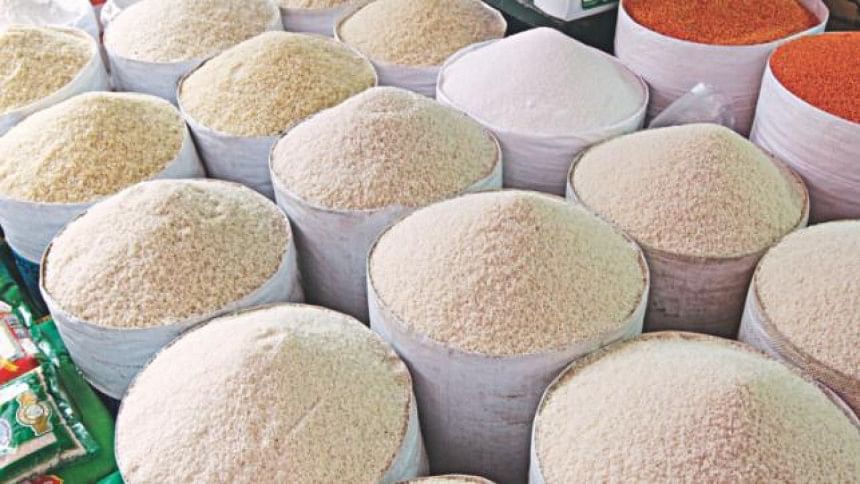 Although it is the peak season of harvesting rice, prices of the staple food are going up both in the capital's retail and wholesale markets, dealing a blow to the people with limited income who are already struggling to make their ends meet. 
Within a week, prices of fine rice have increased by Tk 2 to 5 per kilogram in retail markets and Tk 100 to 150 per sack [50 kg] in wholesale markets.
Prices of coarse rice also went up by Tk 2 to 3 per kg in retail markets and Tk 40 to 50 per sack in wholesale markets.
Our correspondents yesterday visited three kitchen markets and some retail stores in the city's Karwan Bazar, Moghbazar and Mirpur areas and found an almost similar hike in rice prices.
Retail prices of fine rice stood up at Tk 50 to 54 per kg from about Tk 45 to 48 a week ago. The prices of coarse rice stood at Tk 32 to 35 from Tk 30 to 31 during this period.
Asked about the price hike, the sellers blamed millers and the "rising trend" of paddy price.
The consumers, however, termed the hike "unusual" and criticised both the sellers and millers for hiking the price with an intention to make extra profits.
"Aman rice has just been harvested and its processing is going on in full swing. How could the prices of rice increase in such a peak season?" asked Muhammad Kamruzzaman, a buyer in Moghbazar area.
"We cannot accept the price hike of rice. I think the sellers and millers have formed a syndicate to make some extra profit," he added.
Jasim Uddin, a rice seller in Karwan Bazar, said they had nothing to do with the price as they were dependent on the millers.
"I bought a sack of fine rice at Tk 2,200 a week ago, but now I have to pay Tk 2,450. When I asked the millers about the increased price, they told me that the prices of paddy were on the rise," he said.
Apart from rice, prices of some other daily essentials -- sugar, lentil, mung bean and soybean oil -- also rose Tk 5 to 10 per kg in the last 10 to 15 days.
Ikramul Haque, an employee of a private company in the city's Mirpur, said in recent times he had been finding it difficult to maintain his four-member family due to the price hike of daily essentials.
"A few days ago, onion [prices] suffered us a lot; and now it's rice. I have been going through a situation where I cannot fulfill the demands of my kids on most occasions," he said.
"I don't know when we will get a respite from the price hike," said Ikramul, while talking to The Daily Star at a kitchen market in Mirpur 7.
Abul Kalam Azad, a retail store owner in the same area, said the government should address the issue of price hike as it creates a misunderstanding between the shopkeepers and customers.