Refugee camps in Cox's Bazar: Rohingyas tangled up in crimes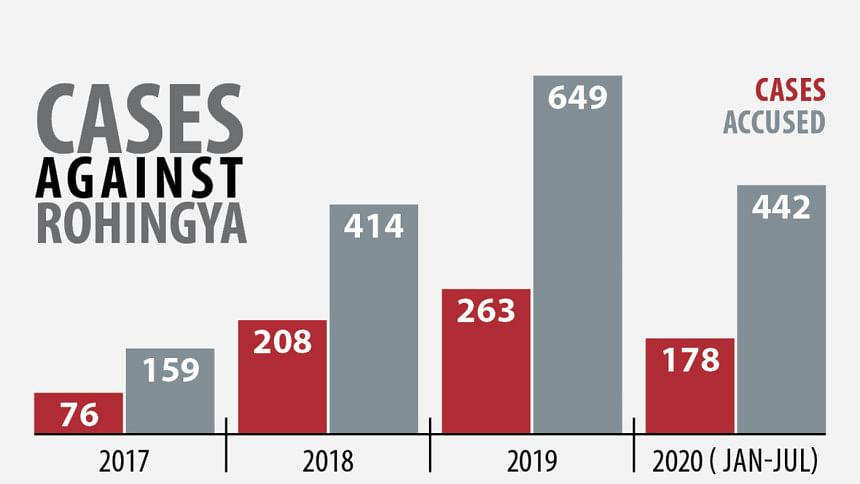 Three years on, crimes like murder, abduction, extortion and narcotics smuggling continue to multiply at the world's biggest refugee settlement in Cox's Bazar.
Following the largest-ever influx of Rohingyas in August 2017, at least 76 criminal cases on various charges were filed against the members of the community in the last quarter of the year.
In 2018, this figure was 208 cases, and in 2019, rose to 263.
In the first seven months of this year, 178 cases have already been filed against Rohingyas.
But law enforcers claim this is just the tip of the iceberg, as a large number of crimes -- including murder, abduction, and sexual harassment -- that take place inside the camps go unreported.
"We receive at least 10 to 12 complaints daily, including of murder, from the Rohingya camps but we fail to take any action as the Rohingyas are not interested to file any cases," said Md Hemayetul Islam, commanding officer of Armed Police Battalion (APBn-16). 
Hemayetul said they received a complaint that a Rohingya man killed his wife last week but they failed to take any action as the victim's family did not want to register a case.
The majority of the Rohingyas are not officially recognised as refugees by the Bangladesh government -- meaning they have no legal rights in the country and that's why filing a case can be daunting.
"They hold internal meetings led by majhis [Rohingya leaders assigned to help maintain order in the camps] and just perform the burial [of the victim]," he told The Daily Star last week.
Shalish-style informal justice mechanisms led by majhis take place in many cases and do not reach the police or even the camp in-charge.
On August 21, a Rohingya "criminal group" suddenly came out from the hills and started firing at Unchiprang camp 22. As law enforcers started gathering in the camp, the "criminal group" again went into hiding after firing 15 to 20 rounds, according to sources.
During the firing, two Rohingya men -- Block C residents Shukur, 20, and Nur Hossain, 45 -- suffered bullet injuries and needed treatment.
However, no case has yet been registered with the police.
On Tuesday, police arrested six Rohingya men in possession of arms following a raid at a refugee camp in Teknaf.  The arrestees are Nur Hossain, Mohammad Alam, Abdur Rahman, Abu Sadek, Md Amin and Jafor Alam -- all living in Wykong Puthibonia Rohingya Refugee Camp.
Two pistols, seven bullets and machetes were recovered from their possession, said Anwar Hossain, camp-in-charge of APBn.
"Some unruly Rohingya men were trying to establish supremacy in the Rohingya camp by creating chaos," he said, adding that they fired blanks to create panic.
A case was, however, filed in this connection.  
Due to crime incidents such as these, locals living in Teknaf and Ukhia -- where the camps are located -- have expressed concerns over their safety.
Jahangir Kabir Chowdhury, chairman of Rajapalong union parishad, told The Daily Star on Thursday, "We are in fear as they [Rohingyas] are organised and they are gradually spreading to various parts of the district.
"We often find thousands of Rohingyas moving outside the camps. If they attack us, then who will protect us from them?"
The government does not permit Rohingyas to move freely outside the camps -- though this has been unevenly enforced over the years, restrictions have tightened recently.
ABM Masud Hossain, superintendent of police of Cox's Bazar, told The Daily Star that they have two special battalions (APBn-14 and APBn-16) to oversee law and order in the camps.
"We only investigate the cases filed with police stations. Still, we are on alert and take action whenever any specific information reaches us," he added.
MAJOR CRIMES
Police and local sources said crimes inside the refugee camps mainly take place over sexual harassment cases, including rape and that related to extramarital affairs, narcotics smuggling, and hundi.
A high ranking police official who works inside the camps said many Rohingyas living in other countries send money to their families in Bangladesh.
"But they mainly send money through hundi as they have no direct account service. The receiver sometimes does not pay the full amount to the family after receiving the money," he said.
For this reason, cheated family members often hire local criminal groups to abduct the person and take them away in the hilly areas and hold them there until they give up the rest of the money, said the official.
According to the police database, nine abduction cases were registered against 39 Rohingyas in 2018, six cases against 40 Rohingyas in 2019, and one against three Rohingyas so far this year.
Besides, some members of the Rohingya community often get locked in clashes -- sometimes fatal -- over narcotics smuggling, claimed several police sources.
The police database shows 22 narcotics cases filed in 2017, which jumped to 95 cases in 2018, 152 cases in 2019, and 136 cases in the first seven months of this year.
Lt Col Ali Haidar Azad Ahmed, commanding officer of 34 Border Guard Bangladesh Battalion, told The Daily Star on Friday, "Total control of the yaba trade has gone into the hands of the Rohingya. They now have investors and carriers inside the camps.
"They have their syndicate members on the other side of the border [Myanmar]. Through the syndicates, they smuggle yaba inside the camps."
According to the database, around 67 Rohingyas were killed in gunfights with law enforcers in the last two years for their alleged involvement in narcotics smuggling and robbery.
From January 1 to August 20 this year, the 34 BGB battalion has recovered around 14.20 lakh yaba tablets and detained some 21 Rohingyas in relation.
Hemayetul Islam, CO of APBn-16, said that they are working closely to address the crimes and ensure security but often face difficulties as they have no outpost inside the camps.
"We have already held meetings several times with the Refugee Relief and Repatriation Commissioner and placed requisitions for an outpost and vehicles to ensure full-fledged security in the camps," he said.
Once an outpost is installed and police can stay inside the camps around the clock, then they will be able to monitor activities closely and address these issues, he added.
UNAUTHORISED SHOPS, INFORMAL WORK
According to sources, there are around  10,000 unauthorised shops inside the Rohingya camps.
These sell daily essentials such as vegetables and meat, as well as more luxurious products such as electronics and gold ornaments.
These shops, run without trade licenses and which do not pay tax, are owned by locals and Rohingya leaders such as majhis who collect tolls. Clashes often ensue inside the camps when extortionists harass shop owners, according to locals and police sources.
Bazlur Rahman, head majhi of camp 26, told The Daily Star on Friday that they have learned about the involvement of some majhis in yaba smuggling and collecting tolls with criminal groups.
"We are working with law enforcers and the local administration to address the situation and make the camps crime-free," he added.
Rohingyas are also hired by locals to work outside the camps -- mostly as day labourers in the fields or as domestic help.
During a visit to the Cox's Bazar area, this correspondent met a local who claimed that he would be able to provide Rohingya domestic help "of any age".
He said, depending on the employer, he charged between Tk 2,000 and Tk 5,000 for this service.
Rohingya men also work as day labourers in various parts of Cox's Bazar district.
Every morning, they go out of the camps for work and come back in the evening, claimed a district ruling party leader, requesting anonymity.
Mohammad Shamsuddoza, additional refugee relief and repatriation commissioner, told The Daily Star on Sunday that the number of crimes reported is high because there is close monitoring but the situation is actually not that bad in the camps.
"Still, we are holding meetings with law enforcers regularly and asked them to take control so that not a single incident is reported from the camps," he said.
"We have also taken steps to ensure APBn requirements that they placed for duty in camps and it is already under process," said Shamsuddoza.
Regarding the unauthorised shops and movement and work outside the camps, Shamsuddoza said all law enforcement -- police, APBn, Rapid Action Battalion, and the NSI -- are working to address the issues.
[Our Cox's Bazar correspondent Mohammad Ali Jinnat contributed to the report]