Rayhan returns, head held high
He faced tough times for speaking out against Malaysia's mistreatment of migrants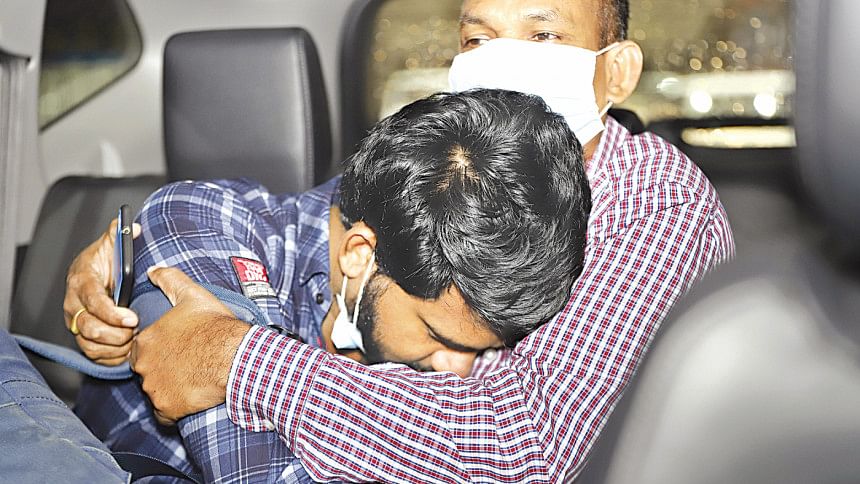 Fajr azaan had just ended. Everyone was awake since midnight at a house in the Bandar area of Narayanganj, especially a mother who was praying since night. Her son was returning home. At five o'clock in the morning on Saturday, her wait ended with the sound of a car.
The car stopped in the Shahi Masjid area. Rayhan had arrived. Rayhan Kabir, for whom everyone had been waiting for so long, got out of the car and started walking towards the house. By that time his mother had also come out. The son practically jumped into his mother's embrace. Both started crying.
It can be hard to believe that crying can contain so much love, happiness and relief. The mother and son were hugging and crying. Rayhan's sister also joined in. His father was watching from a distance. Emotions running high touched the neighbours whose eyes watered too. It was Rayhan who stopped the crying after a few minutes. A bold voice who spoke out against unfairness, his mother should not cry. No more crying.
Rayhan's journey started from Kuala Lumpur at 9pm on Friday, for this long-awaited reunion. He received the message on Friday morning that he could return to Bangladesh at night. Earlier, he had to stay in custody of Malaysian immigration police for 27 days. Before that, Rayhan had to stay in hiding for 21 days. A four-hour interview with him revealed the events that led to his homecoming.
On July 3, Al Jazeera published an investigative documentary titled "Locked Up in Malaysia's Lockdown". In the documentary, along with citizens of many other countries, Rayhan gave an interview, which angered the Malaysian authorities.
A warrant was issued against Rayhan Kabir. He was arrested by Malaysian police on the evening of July 24. After 14 days of interrogation, police produced him in court on August 6 and it granted a 13-day remand which ended on August 19. Police said there were no charges against him. Immigration police then decided to send him back to Bangladesh.
Rayhan was informed on Friday morning that he would be sent to Dhaka on a night flight. Then the preparations for return home began. First the lawyers and then the High Commission officials came.
Immigration officials took him to Kuala Lumpur International Airport at 9pm. After completing all procedures, he waited for the flight at around 10:30 pm.
A DIFFERENT EXPERIENCE AT KL AIRPORT
Rayhan had a strange experience while waiting for his flight at the airport in Kuala Lumpur.
"I had been wearing the same shirt for 30 days after my arrest. The shirt was torn in many places, in awful condition and dirty. I was wearing a face mask. No one recognised me. When I took the mask off for a brief period, someone recognised me and shouted, 'Rayhan Kabir!'
"At that time, around 150 people standing in line for the plane started crowding around me. They started taking pictures with me and said 'you have spoken truth that we can't say'. I cannot describe this love shown to me. All the troubles I had endured for a month were gone," he recounted.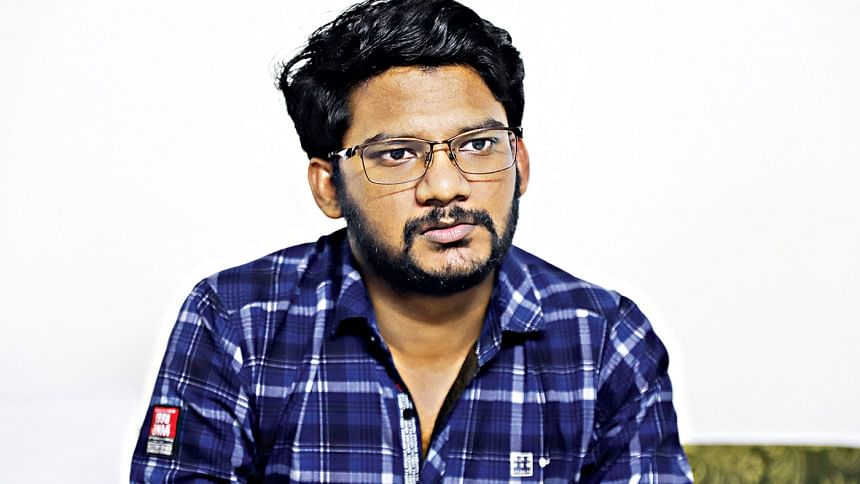 LANDING IN DHAKA
Rayhan landed in Dhaka on a Malaysia Airlines flight MH-196 at 1am on Saturday (August 22). Expatriates also greeted him at Dhaka Airport. Police officers at the airport also took pictures with him, including the officer who completed his immigration process.
His father Shah Alam broke down in tears after seeing his beloved son at the airport. Their reunion touched everyone around them.
At the airport, Rayhan's father told The Daily Star, "We were eagerly waiting for our son to come to us. He's here now. We have the Eid moon in our hands!"
His mother had sent food in a tiffin carrier. Rayhan was ecstatic to find rice, hilsa and shrimp as soon as he opened the box. After a quick meal, Rayhan started his journey to Narayanganj, where his mother was eagerly waiting.
ON THE WAY TO NARAYANGANJ
From Dhaka airport to Narayanganj's Bandar upazila where Rayhan's family lives -- he was looking at everything on both sides of the road with fascinated eyes. As if he wanted to absorb everything about this country, his motherland. In the meantime, he answered some questions.
What was his reaction to the Al Jazeera interview? Rayhan replied, "I gave a very simple interview. I only expressed my views, spoke about what I saw in Malaysia during the pandemic. But Malaysians did not like it. Police have repeatedly asked me why I said what I said."
Why did he say that? Rayhan said, "I was in Malaysia for about six years. I often saw drives against migrant workers. They would be handcuffed, chained and humiliated. Often, this was done to Bangladeshis. This is not how citizens of other countries are treated. You won't find Europeans, Americans and Chinese being tied up. This is how Bangladeshis are treated. It deeply hurt me. I said the same to Malaysian police."
"I didn't think Malaysians would be outraged by this," Rayhan said. "And I didn't want to hurt anyone. But a summons was issued against me. Then my work permit was revoked. I was arrested on July 24 and interrogated for 27 days."
What did they ask him for 27 days? Rayhan's answer: "Mostly they asked, whether I have any involvement with the Malaysian opposition party. Sometimes they woke me up late at night. Some days, from 7am to 7pm, I was interrogated. Repeatedly, they asked if anyone paid me to say what I said in the documentary. They asked me to apologise and say I'm wrong. I said, I cannot lie."
How was their attitude? Rayhan said, "They had treated me incredibly well, except for the first day. There were 14 detainees where I was. They provided good food for all. I urged them to not stop this kind behaviour when I leave. When I was leaving on Friday, they said, 'Rayhan, you didn't lie.' They praised me in front of the people of the High Commission."
Was he aware what was happening outside the prison? "I didn't know what was happening in Malaysia or Bangladesh when I was in prison. I could only listen to the radio. I heard some statements from different countries about me. I heard news on CNN and BBC. But I could not hear any news from Bangladesh," he said,
What did he miss most about Bangladesh while in jail? "I missed everything about my country. I wondered when I would return to my beloved country," he said.
During conversation, a bus was coming from the opposite direction while crossing the Signboard area of Narayanganj. Rayhan shouted, "Oh my God! As someone who drives, there needs to be discipline!"
However, he was fascinated by the new bridge in Kanchpur. "What a beautiful bridge!" he said.
When the lawyer went to see him, he asked for some books on Bangabandhu, especially the unfinished autobiography. Why did he ask for those books? Rayhan responded, "If anyone stays in jail day after day, he will become mentally weak. I too felt like that at times. Then I thought, Bangabandhu had been in jail for 14 years for the country and for the people. If I can read books on him, I will get inspiration and mental strength."
Does he have a message for people of the country? "I have forgotten all the hardship because of the people of Bangladesh, millions of expatriates, journalists, the government -- everyone who stood with me. I am grateful to everyone," he said.
What is his future plan? "My demands are very few. I can do something based on my qualifications. But I want to work for migrants. These people are oppressed in various ways that are not always highlighted. But first, I want to take rest for a few days," the young man said.
The writer is a freelance journalist.