Proposed Reception to PM: Rift in Hefajat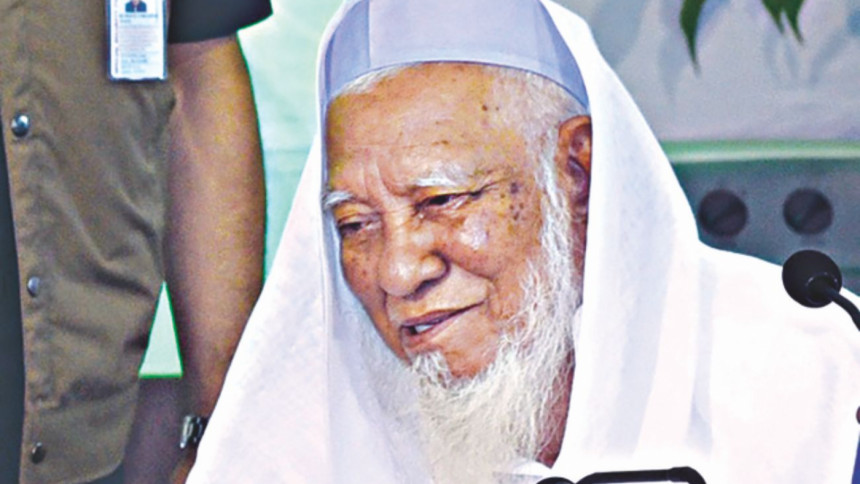 Cracks have surfaced within the Hefajat-e Islam over a proposed public reception to Prime Minister Sheikh Hasina, prompting the Islamist group's senior nayeb-e-ameer Mohibullah Babunagari to resign. 
The proposal that threw Hefajat into the crisis came from none other than its undisputed supremo, Shah Ahmad Shafi.
On October 1, he announced the plan to accord a reception to Hasina as a gesture of gratitude for the passage of a bill recognising top Qawmi degree Dawra-e-Hadith as equivalent to master's in Islamic studies and Arabic.
A 15-member committee was also formed to organise the programme.
But, insiders say, several leaders are not supporting this because of the "government's role" on May 5, 2013, when Hefajat activists got involved in deadly clashes with law enforcers and ruling party men, turning Motijheel and Paltan areas into a battlefield.
On that day, Hefajat had organised a huge gathering at Motijheel Shapla Chattar to press home its 13-point demand, including a law ensuring capital punishment for "maligning Islam".
Its activists went on the rampage setting fire to hundreds of shops, vehicles and police checkpoints, which led law enforcers to swing into action to flush them out in a raid after midnight.
After the incident, 83 cases were filed against 3,416 people, and most of its front leaders went undercover fearing arrest.
However, things would drastically change in the days to come. The Islamist group got close to the AL and the government, getting benefits, including land, according to a number of its leaders. 
Hefajat now remains almost silent over its 13-point demand as, insiders say, the government has convinced it to refrain from taking to the streets pressing for those.
The leaders also no longer speak of what they earlier called "brutal action of May 5". The organisation earlier even said the government had carried out "mass killing of its men" in the Shapla Chattar operation, a claim it has never been able to prove. 
And Hefajat Ameer Shafi himself has started to praise the government.
Recently, addressing a programme in Chattogram, he said, "I am not an Awami League. People say I have become Awami League. It's wrong. Even if I become Awami League, I have no objection. Because there are people in the Awami League who love religion."
THE RIFT
Sources in the Qawmi madrasa-based organisation said Mohibullah Babunagari resigned from his post on October 3 amid feuds within the party high-ups.
Talking to The Daily Star on Friday, Mohibullah said the decision about the PM's reception was not taken in any meeting and nobody talked with him about the issue.
"Hefajat was formed to materialise its 13-point demand. Now the organisation has no activities to press for those," he added.
Founding nayeb-e-ameer of Hefajat, Mufti Izharul Islam Chowdhury, told this paper on Friday that Mohibullah had resigned from his post protesting the decision to accord a public reception to the prime minister.
"He [Mohibullah] resigned in protest at the plan to accord a public reception to the PM. Many other leaders support him," he said, mentioning that 150 Islamic scholars had submitted a memorandum to Shafi demanding cancellation of the decision.
"Hefajat has shifted from its 13-point demand, based on which the organisation was formed," he again said, adding there was no protest after the "Shapla Chattar was stained with the blood of Hefajat men".
Recently, unidentified people distributed several hundred leaflets at Al-Jamiatul Ahlia Darul Ulum Muinul Islam in Chattogram's Hathazari, known as the Hefajat headquarters.
The leaflets denounced Shafi's son Anas Madani for using the Hefajat ameer to serve his purposes and questioned why the people who were earlier termed "enemies of Islam" are now being treated as friends.
A number of other leaders alleged that the government "managed" Hefajat, which was very much anti-Awami League at the time of its formation, to keep it from anti-government activities.
However, Mufti Fayzullah, joint secretary of Hefajat, said there was no internal conflict in Hefajat and they are on the right track.
'BANKRUPT'
Hefajat grabbed the spotlight as a force opposed to Gonojagoron Mancha, spearheading the 2013 Shahbagh movement for highest punishment to war criminals. It took the centre stage after the February 15 brutal murder of blogger Rajib Haider.
Talking to The Daily Star, a number of Hefajat leaders in Dhaka admitted the Hefajat became "bankrupt" by receiving undue benefits from the Awami League government.
"We have come to know that some top leaders, including Anas Madani, elder son of Hefajat Ameer Shah Ahmed Shafi, Organising Secretary Azizul Haq and Joint Secretary General Moinuddin Ruhee joined hands with the Hasina government after getting undue advantages," said a Hefajat leader, also a central committee member of Khelafat Andolon, in May 2014.
He added that the government had completed all formalities regarding a lease of 33 acres of railway land to Hefajat.
Wishing anonymity, another Hefajat leader said he has come to know that those leaders even received money from the government as part of an understanding not to act against the administration. 
"Due to the opposition of a section of top Hefajat leaders, including those three, we could not launch any major protest programme regarding the May 5 crackdown," said a Hefajat leader.
Talking to this newspaper a few days back, a minister admitted that the government has succeeded to tame Hefajat by giving benefits to some of its top leaders and through negotiations since 2014.
Shafi himself admitted in a programme held on October 1 that some people of Awami League donated a huge amount of money for the development of their madrasa.
According to local sources, Anas Madani, who is a teacher at the Hathazari madrasa, got rich after the incident of Shapla Chattar.
He reportedly built five multi-storey buildings on 20 kathas of land in Eidgah and Chandraghona areas. Local sources say the price of one katha land in the areas was at least Tk 40 lakh during the construction of buildings in 2014.
A two-storey building has also been constructed and soil test has already been done for a 10-storey building on the madrasa campus, sources added.
Contacted over the phone on Friday, Anas Madani said, "I am in a meeting. Talk to you later." He didn't pick up the call of this correspondent in the next couple of days.