Priya Biswas Saha: Ill motive behind her remarks
She will be sued for sedition, says Quader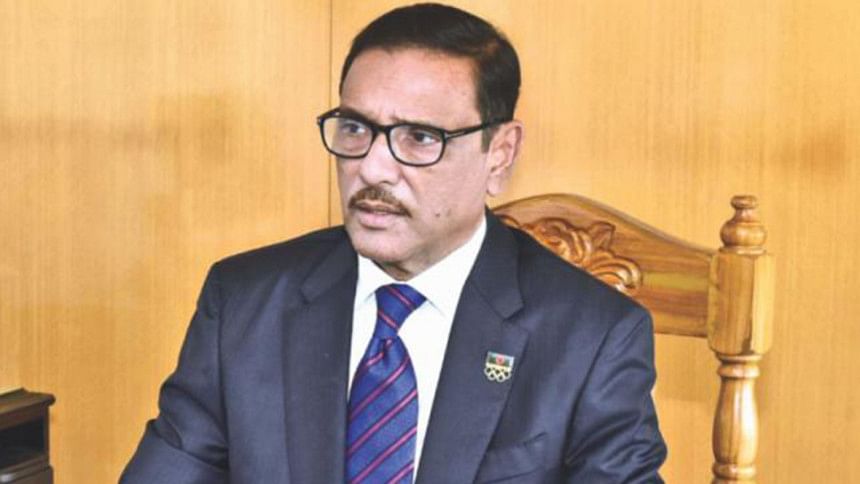 The government yesterday said there seemed to be an ulterior motive behind what Priya Biswas Saha told Donald Trump recently.
Terming her remarks absolutely false and concocted, it said they were aimed at maligning the country's image, reports UNB.
Priya, one of the organising secretaries of Bangladesh Hindu-Bouddha-Christian Oikya Parishad, told the US president that 37 million Hindu, Buddhist and Christian people have disappeared from Bangladesh.
She was attending a programme at the White House on Thursday.
Priya also told the president that her land had been grabbed by Muslim fundamentalists and sought his help so that Hindu, Buddhist and Christian people could live in Bangladesh.
She also participated in the Second Ministerial to Advance Religious Freedom held at the US Department of State in Washington, DC on July 16-18.
Delegates from 106 countries, including about 40 foreign ministers, attended the meeting at the invitation of US Secretary of State Mike Pompeo. Bangladesh Foreign Minister AK Abdul Momen also took part in the event.
In a media statement yesterday, Bangladesh's Ministry of Foreign Affairs strongly protested and condemned in the strongest possible terms "all the blatant lies" that Priya told Trump.
"Bangladesh is a beacon of religious freedom and communal harmony, where people of all faiths have been living in peace for ages," it said.
The Bangladesh government would expect that organisers of such a big international event would invite responsible individuals who would objectively contribute to promoting the true spirit and value of religious freedom, read the statement.
The humane attitude and generosity of the Bangladesh government have been commended by the whole world when it decided to temporarily shelter over 1.1 million forcibly displaced Myanmar nationals, it added.
Meanwhile, US Ambassador to Bangladesh Earl R Miller, while visiting a Buddhist temple in the capital's Merul Badda on Friday afternoon, appreciated the country's religious harmony.
Miller, who was sworn in as the ambassador on November 13 last year, shared with reporters his experience of meeting religious leaders from across the country.
"I now have enough perspective after being here for eight months and travelling so widely to recognise that Bangladesh is doing something remarkable," he told journalists.
The US envoy also said, "Everywhere I have gone I have received the same message, be it from an Imam, a priest or someone in the temple, that no country can succeed unless it works together."
He said it was a lesson that his country and the world could learn from.
Contacted over the phone, an official of the US embassy in Dhaka, wishing not to be named, told The Daily Star that he did not know how Priya was selected to meet the US president as a religious persecution survivor.
The US state department had invited eight people from Bangladesh, including two Rohingya representatives, to attend the conference.
The Bangladeshi delegation included people from Muslim, Hindu, Christian and Buddhist communities and government officials to talk about their experience about religious freedom.
Talking to UNB over the phone on Friday, Rana Dashgupta, general secretary of Bangladesh Hindu-Bouddha-Christian Oikya Parishad, said he was not aware how Priya went to the US and reached Trump.
He said she was not among the three members who represented their platform at a ministerial meeting on advancing religious freedom hosted by the US Department of State. 
"I've nothing else to say," he said.
'PRIYA TO BE SUED'
Awami League General Secretary Obaidul Quader yesterday said Priya would be sued on sedition charges.
"Priya Saha's allegation was absolutely false. No one will agree with her. A sedition case will be filed against her. The process is underway," he told reporters at the AL president's Dhanmondi office.
BSS reports: Home Minister Asaduzzaman Khan yesterday said Priya must prove her "allegations".
"She will have to prove the allegations she made to the US president, or otherwise stern actions will be taken against her for the baseless, false and fabricated complaints," he told journalists at his Dhanmondi residence.
Asked about the allegations, the home boss said, "I didn't see any such incidents over the last five and a half years. I don't know why she made such false statements to the US president.
"She may have a purpose. We must ask her when and how it happened. Of course, she will give an answer accordingly."
Describing the present situation in the country, he said, "Before the last caretaker government's tenure, Hindu people constituted more than 8 percent of the population. Now it has risen to 10 percent.
"If such incidents had taken place, the government and the people would have known."
Dhaka Metropolitan Police Commissioner Md Asaduzzaman Mia also termed Priya's complaints on persecution of minorities in the country totally fabricated, baseless and unrealistic, BSS adds.
Kazi Reazul Hoque, former chairman of the National Human Rights Commission, said Priya should be tried for spreading falsehood.
"Bangladesh has been demeaned in the world as she made a false and fabricated allegation to the US president. It is a punishable offence," he said.
Addressing a programme at the Jatiya Press Club, Reazul also called upon the Bangladesh government to conduct an investigation into the matter to bring Priya under the purview of the legal process.
State Minister for Shipping Khalid Mahmud Chowdhury also condemned Priya's statements.
At an event in Dinajpur yesterday, he said she made such remarks for her own personal interests.
He did not elaborate.
Meanwhile, Sampriti Bangladesh, a citizens' platform, has condemned and protested the controversial remarks, said a press statement issued by the platform's Convener Pijush Bandyopadhyay and Member-Secretary Mamun Al Mahtab.
In a press statement, Alliance for Resistance of Terrorism and Communalism, another platform, said what Priya told the US president were lies and tantamount to treason.