Poor drainage sinks Dhaka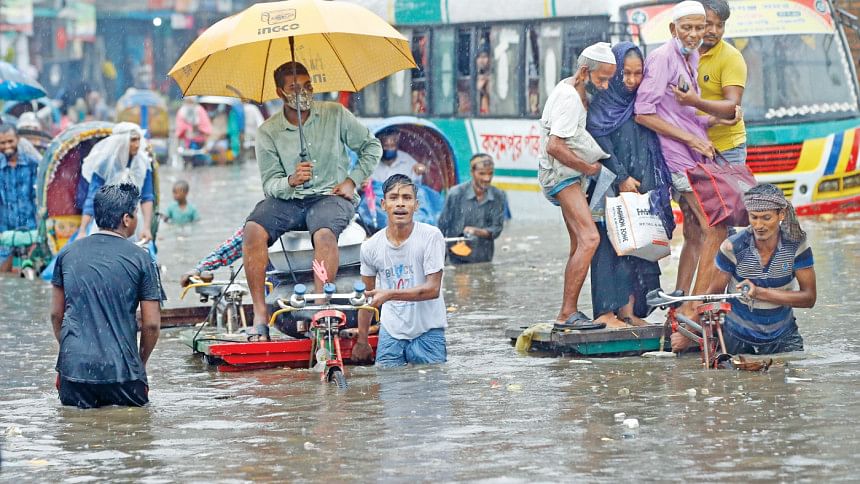 Many parts of Dhaka went under knee-to-waist-deep water after monsoon rainfall in the last two days, once again exposing the dilapidated state of the city's drainage system.
Experts told The Daily Star that Dhaka's waterlogging problem could not be solved without an integrated master plan and coordinated work of various authorities concerned.
Apart from Wasa, six other authorities deal with Dhaka's drainage system on a piecemeal basis without much knowledge about who is doing what.
"We will not achieve anything until five government organisations and two private bodies work under an integrated management with an integrated master plan," said Iqbal Habib, joint secretary of Bangladesh Paribesh Andolon.
He said canals of Dhaka belong to the deputy commissioner office and Rajuk, but they are maintained by Dhaka Wasa.
On the other hand, two city corporations maintain surface drains while underground drains are maintained by Wasa.
Water Development Board pumps out the rainwater from retention areas to rivers, he said, adding that Bashundhara and Cantonment have their own managements to deal with the issue.
Five things, he said, are very important to solve the problem -- an integrated master plan, a coordinated management involving solid waste management and sewerage management with the plan, a time-based plan involving public representatives so that people can know about every development of the work, and making every organisation responsible for cleaning their water bodies and drains to ensure their maximum retention capacities.
Adil Mohammad Khan, general secretary of Bangladesh Institute of Planners (BIP), said water retention bodies, including ponds and canals, covered 12 percent areas of a planned city, whereas in Dhaka it was less than two percent.
He suggested that the grabbed canals be reclaimed and area-based retention ponds be built to take the edge off the city's water-logging problem.
"We also do not use the either of the surface and underground drains properly, which is another reason of water-logging even after a moderate rain," said Adil, also a professor of urban and regional planning at Jahangirnagar University.
He said the reduced amount of open spaces and unpaved areas are also responsible for the situation as rainwater cannot infiltrate into the ground.
Local Government and Rural Development minister Md Tajul Islam said they were going to hold a coordination meeting within a few days to ease the problem.
He said they were trying to increase the retention capacity of rivers around the capital as well as the city canals.
Asked about handing over all the responsibilities to a single authority, he said it was a tough job.
Capacities of the city corporations have to be enhanced before saddling them with all the tasks, he added.
DNCC Mayor Atiqul Islam said they were going to hold a meeting with all the stakeholders to solve the problem in an integrated way.
A PROJECT REMAINS STUCK
Dhaka Wasa undertook a Tk 550 crore project for canal development to solve the capital's water-logging problem and it was approved by the Executive Committee of the National Economic Council on May 22, 2018.
However, the project, scheduled to be completed by June 2021, could not progress much due to issues regarding land acquisition.
A high official of Wasa said they had sent the proposal for land acquisition to the land ministry about a year ago, but were yet to receive any response.
Contacted, DSCC Mayor Sheikh Fazle Noor Taposh said the Local Government (City Corporation) Act, 2009 entitled city corporations to deal with the water-logging issue.
So if Wasa hand over the authority to us in compliance with the act, we will certainly deal with this properly and effectively, he said.
Besides, BWDB has the pumping machines to pump the water, but they are not doing so, he added.
"I urge all the authorities concerned to hand it over to the DSCC," Taposh said.