Padma bridge, rail link work affected
Say project officials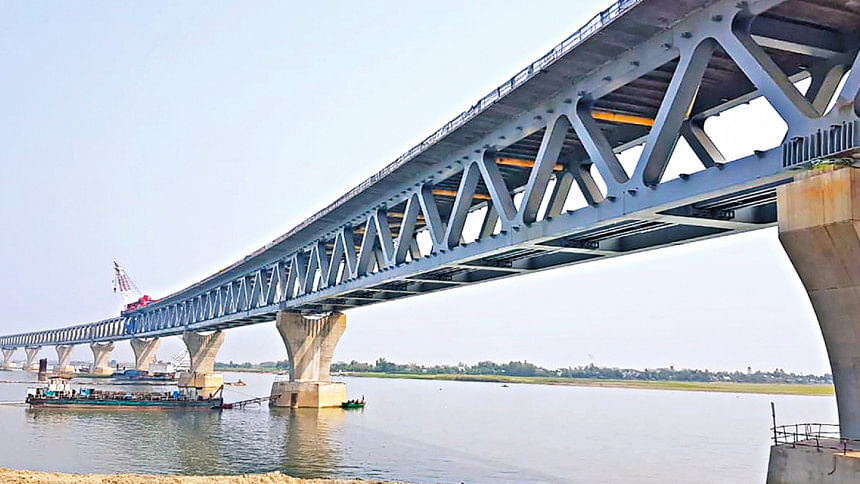 The outbreak of coronavirus in China has begun affecting two mega projects in Bangladesh -- the Padma Multipurpose Bridge Project and the Padma Bridge Rail Link Project – "to some extent", project officials said.
A shortage of Chinese staff involved in these two fast-track projects and disruption of the regular import of construction materials from China are the main reasons behind it, they said. 
At least two officials involved in the Padma Bridge project said that if the situation does not improve, the deadline of the project may be extended by a month or two.
"Of course, there is an impact [of coronavirus] on different projects… Because many engineers could not return [to Bangladesh]," Chinese Ambassador to Bangladesh Li Jiming said yesterday.
The ambassador was speaking at a press conference, organised by China Railway Group Limited in Keraniganj's Jinjira, on whether the outbreak of coronavirus is affecting major projects undertaken by different Chinese companies. 
Later, journalists were taken to the two project sites.
China Railway Group Limited and its subsidiary China Major Bridge Engineering Co Ltd are implementing Padma Bridge Rail Link Project (PBRLP) and Padma Multipurpose Bridge Project (PMBP) respectively.
This is the first time that officials formally admitted that the coronavirus outbreak is hampering the projects.
Since February 5, Road Transport and Bridges Minister Obaidul Quader on several occasions said that the construction work of the bridge would not be affected if the coronavirus situation improves in "two months." 
In his written speech, which was distributed among journalists, Wang Kun, project director of PBRLP, said, "The outbreak of coronavirus is affecting the execution of the two mega projects of CREC to some extent because some business entities are not in full operation in China."
"Some project staff [members] in the epidemic centre are not allowed to leave. To ensure the continuity of the work progress, CREC has been trying its best to mitigate the impact of coronavirus," he said.
Project Director on behalf of Bangladesh Railway, Golam Fakhruddin Ahmed Chowdhury, said reduction in the number of workers due to coronavirus is hampering their work.
Besides, construction materials cannot be brought as they weren't able to give approval to the materials after going to China, he said. 
Around 260 out of 1,700 Chinese nationals involved in those projects could not return to Bangladesh after they went China to celebrate new year there, a Chinese official said. 
Fakhruddin, however, said they have written to the authorities concerned to allow some Chinese nationals to come to Bangladesh for the sake of the project.
Najnin Ara Keya, chief engineer (bridge viaduct) of the project, said around 150 Chinese staff members out of 900 have been stuck in China.
However, they are recruiting Chinese nationals coming from "Non-Hubei" provinces, she told this newspaper.
They are also considering a third-party inspection of Chinese products, she added.
Md Kamruzzaman, deputy project director (Technical) of the Padma Bridge project, said their work is now moving forward at 70 percent of the original speed and they would try to resume work in full swing within this month.
He said that the Chinese are training local people and have already brought robots for the works. 
"We were not aware of the coronavirus outbreak even three months ago. This is some 'act of God'," he said.
Saying that they have a target to open the bridge for public in June 2021, he added, "Our target would not be deferred for now but we are suspecting that if catastrophe comes, the deadline may be deferred by a month or two."
A total 25 of the 41 spans have already been installed and 14 have arrived in Bangladesh. Two are still under construction in China, he said.
Another project official said that these spans were supposed to come to Bangladesh in January but those are still under construction and they are not sure about when those would arrive.
"We have a plan to install the spans that have arrived in Bangladesh within June. But we have to wait for the two spans, as it would take around three months to assemble even after reaching Bangladesh," he added, wishing anonymity.
"In that case, the deadline may be deferred by one or two months," he said.
REMEDIES 
Wang Kun said all of the Non-Hubei key staff members have returned to Bangladesh after their holiday had been shortened and those who are currently working in Bangladesh have been instructed not to avail any yearly holiday until further notice.
He also said weekends are being utilised to make up for the loss of time due to coronavirus and to make up for the insufficiency of Chinese workers, skilled local workers have been recruited.
He said the Bangladesh government also needs to take proper actions, such as opening of a green channel for visas of Chinese personnel related to major projects and expediting the customs procedure for importing project materials and equipment.
He, however, said that the impact caused by coronavirus on the progress of the rail link project is smaller than that done by slow land acquisition and resettlement.
At that, Golam Fakhruddin said that whenever Chinese contractors brought issues related to land, they tried to settle those quickly.
Bangladesh Railway is implementing the rail link project at a cost of Tk 39,246 crore to connect the capital to Jashore with a 169km double-track rail line over the under-construction Padma Bridge.
Bangladesh Bridge Authority is implementing the bridge project at a cost Tk 30,193 crore to connect Dhaka with 21 southern districts.