Onion price hits the roof; Tk 180 a kg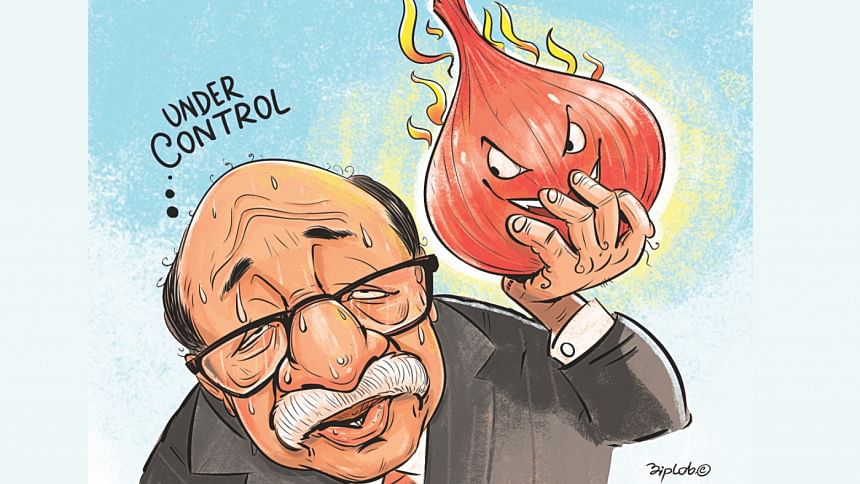 Onion price has hit a record high with each kg selling for Tk 180 and above yesterday evening, a day after Industries Minister Nurul Majid Mahmud Humayun said the prices were under control.
The prices kept rising in the last couple of days, and the trend intensified yesterday.
Retail price of the local variety was Tk 160 a kg yesterday morning in the capital, Tk 10 more than the evening before. It kept rising as the hours went by and in the evening, each kg sold for Tk 180.
The wholesale price was lower by Tk 10 to 15.
Supply shortage and bad weather have driven the prices upwards, retailers and wholesalers said, adding that the essential spice may sell for Tk 250 next week.
Onion prices were hiked two months ago after India put export restrictions.
"I have never seen onion prices this high," said 54-year-old Kamrul Hasan, while shopping in the capital's Karwan Bazar.
"This is shocking," said the employee of a private company.
The picture was similar in Moghbazar kitchen market.
The industries minister on Tuesday told parliament that the onion market "has come under control now".
Around 2:00pm wholesale and retail prices of onion were Tk 160 and 170 in Karwan Bazar. By 4:30pm the prices soared to Tk 170 and 180.
However, the Egyptian variety was selling for Tk 135-150.
"How could it become costlier soar within a few hours?" Habibur Rahman, a retailer asked a wholesaler in Karwan Bazar in the afternoon.
In reply, the wholesaler Mohammad Sayeed said, "We have a supply shortage."
Our correspondents in different districts reported a sharp rise throughout yesterday.
In Rajshahi's retail market, a kg was sold for Tk 165-170, in Sylhet Tk 145-160, in Khulna Tk 160, in Rangamati Tk 140-160, in Narayanganj Tk 155, in Chattogram Tk 150-155, and in Cumilla Tk 150.
OTHER ESSENTIALS' PRICE ALSO SOARED
Vegetables, garlic, ginger and soybean oil have also become pricier by Tk 5 to 30 per kg in a week.
A kg of cauliflower was selling at Tk 50 to 60, up from Tk 25 to 35 four days ago. Besides, prices of other winter vegetables, including cabbage, carrot and radish, also went up by Tk 10 to 20.
Prices of bottled soybean oil rose by about Tk 5 a litre.
"Vegetables' prices are supposed to go down as the winter is coming. The sellers are using the recent downpour an excuse," Sharmin Zaman, who was shopping in Karwan Bazar, said.