No room for suspected Covid-19 cases?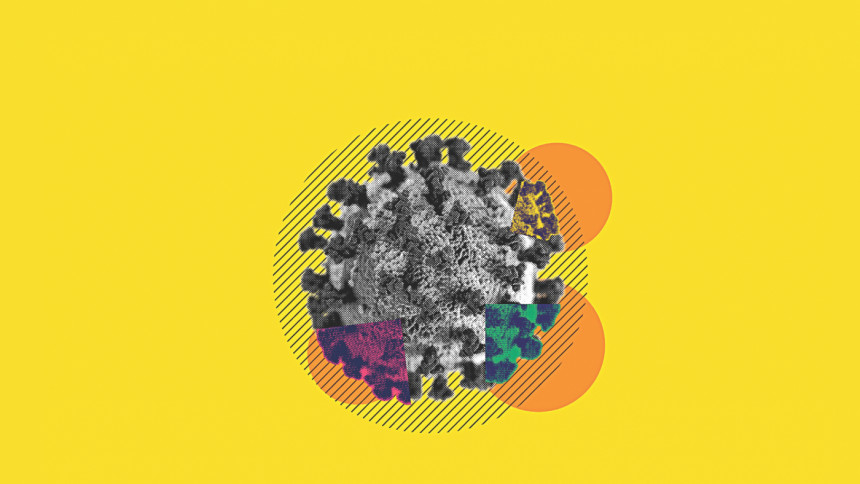 Forty-three-year-old Mosammat Roksana Ahmed, mother of three, and caregiver to her ill husband, passed away on the night of March 31 following multiple health complications including respiratory distress.
Her eldest daughter Tajkia Mostafa Khadem claims the death was a result of mismanagement and lack of protocol for suspected Covid-19 patients.
Tajkia, who recently graduated from Chittagong Medical College (CMC), recounted her mother's medical history in her Facebook status, as well as to this correspondent over phone.
"My mother had sciatica [radiating pain from lumbar region to legs] since 2010. Our family has remained especially careful since early March and didn't come in contact with any foreign returnee. We knew both my parents would be at high risk of Covid-19. My father is in a vegetative state since last year," she said. Roksana also had hypertension and diabetes, which were under control.
Although Roksana was getting by with physiotherapy and exercise for lumbar pain, on March 16, the pain became debilitating, and her prescribed painkillers were bringing no relief.
"I consulted a senior orthopedic and trauma surgeon, who advised me nalbuphine hydrochloride injection for pain relief, and pantoprazole to curb acidity," said Tajkia.
Although Roksana visibly recovered after 10 days, her condition started deteriorating again on March 30.
Last Tuesday (March 31) morning, she was taken to Crescent Hospital in Uttara, where the family lives. "At the time, my mother had mild fever and the on-duty doctor (in full PPE) in the emergency room found that her vitals were drastically bad," she said.
"The doctor told me she was showing signs of respiratory distress so the hospital couldn't admit her, as this could be a Covid-19 case. They didn't perform an ECG, a basic emergency diagnostic test."
Tajkia said her mother had no previous respiratory conditions, hereditary or otherwise, and she brought the patient's full medical history to the hospital. So began the quest to get Roksana treated at an ICU while she was "suspected" to have Covid-19.
"I started calling the IEDCR hotlines for a coronavirus test as soon as Crescent Hospital said they couldn't admit her; they said I should go to Kurmitola [general hospital]. When someone from IEDCR hotline finally answered, I told them about my mother's condition. They too told me to go to Kurmitola and didn't suggest testing her at all," she added.
At Kurmitola, a doctor in PPE immediately attended to Roksana, and found signs of respiratory distress after carrying out an X-ray.
"The doctor told me the best he could do was to admit my mother at the isolation ward, but they could not provide any ICU support," Tajkia recounted.
"At this point, my family members called multiple private hospitals, all of which refused to treat my mother after hearing her symptoms. The doctor at Kurmitola learned of my mother's history and suggested further treatment at home. I agreed to that because there is medical equipment at the house for my father, and we know home healthcare workers."
Brig Gen Jamilur Reza, director of Kurmitola General Hospital, told this correspondent that they cannot admit any patient to ICU before confirming whether or not they have Covid-19.
After reaching home from Kurmitola around 6:45pm that day, Tajkia went out of the house to get an extra oxygen cylinder. "After I returned, I couldn't detect my mother's pulse, and her pupils were not reacting. I was under severe distress, consulting as many people as I could to figure out what to do next."
"A friend from CMC managed to get through to Kuwait-Maitree Hospital's control room, and they said they would receive my mother," Tajkia said.
After a 40-minute wait, an ambulance finally reached their house.
"The hospital's gates were closed. There was no emergency facility. I found two doctors on the other side of the gate and asked them to assess my mother," said Tajkia.
"The doctors went inside and didn't return for a long while. Meanwhile my cousin called the hospital's control room again, asking them to assess her," she added.
In this time, a team arrived from IEDCR at the spot, after Roksana's family members had been calling the hotlines repeatedly. The team collected her sample.
"I waited there [Kuwait-Maitree] for 40 minutes. Finally, the control room called me and said they could admit my mother to the ICU, but there was already a Covid-19 positive patient there. I kept asking them to assess her first, which they never responded to," Tajkia said.
"Frustrated and distressed, we went back to Crescent Hospital and found no doctor in the emergency room. I started screaming for a doctor there, then the staff asked to take my mother's files to the doctor, who initially refused to see her because we had come earlier too.
"Then he sent a messenger saying he was having dinner. After 30 minutes of waiting and screaming for medical attention, the doctor came to check my mother's body in the ambulance and declared her dead."
A hospital management staff of Crescent Hospital spoke to this correspondent under the condition of anonymity.
"Our ICU was being fumigated at the time so it wasn't available, that is why we could not treat her. We provided all primary treatment, including for her respiratory symptoms," he said, adding that at night there is always just one doctor in the emergency room and it is not always possible to see patients immediately.
Dr Shehab Uddin, coordinator at Kuwait-Maitree Hospital, told this correspondent over phone that he is aware of the incident, and acknowledged that there was a delay in attending to the patient. "However, I believe the patient and her attendant were misdirected by the previous hospitals when they were sent here, and our doctors were not responsible for the death."
Tajkia also said in her Facebook status that Kuwait-Maitree Hospital was not responsible for her mother's death. "But the previous two hospitals are," she alleged.
Shehab also said, "We can admit patients if they are confirmed to have coronavirus, but our hospital cannot at the moment tend to all emergencies."
On April 2, just a day after Roksana's death, IEDCR's test revealed that she did not have coronavirus. "We called multiple private hospitals, all of them refused to treat her because she was 'suspected' to have Covid-19. And the designated hospitals couldn't treat her because it wasn't confirmed that she had Covid-19. Meanwhile, all hotlines were extremely difficult to reach, how could we get her tested in time?" Tajkia questioned.
"Where is the protocol? Who tends to 'suspected' cases and how?"