New homes, new hope for Rohingyas
First batch of 1,642 refugees sheltered at govt-built housing facilities in Bhasan Char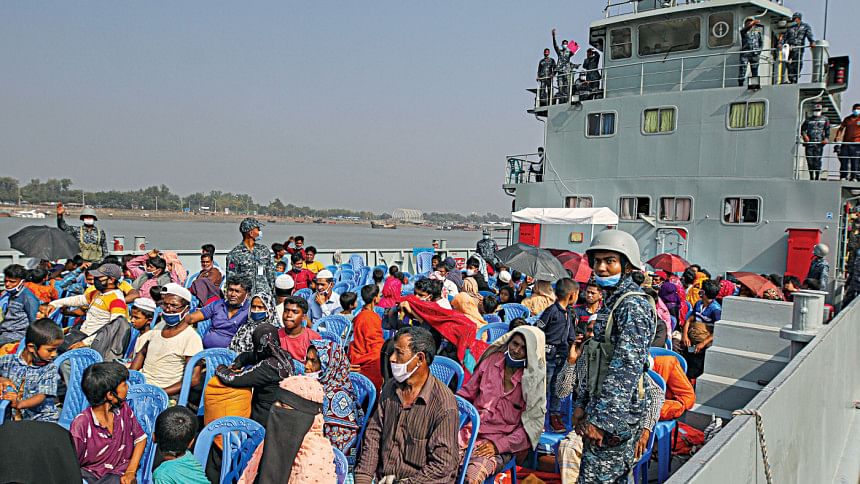 Mahmuda Khatun's desire for peace and comfort is what made her leave the congested Rohingya camp in Cox's Bazar for Bhasan Char on Thursday.
And as she reached the island yesterday noon, she was elated to see the facilities there.
"It seems there will be no more struggle and sufferings here," Mahmuda, 60, said while talking to The Daily Star.
The mother of four along with 10 others of her family are among the several lakh Rohingyas who fled to Bangladesh and took refuge in the Rohingya camps in Cox's Bazar following a brutal crackdown in their homeland Myanmar in 2017.
"At the camp, all of our family members used to live in a small hut with a tarpaulin over our head. We would get drenched on rainy days and had to endure unbearable heat in summer," she said.
"We couldn't bathe properly… But here [in Bhasan Char], we have a building to live in with other facilities that I believe will give us comfort and peace … That's why I decided to come here," she added.
Like her, many other Rohingyas, after arriving on the island, said they chose to move there for safety and comfort. They made the decision after seeing pictures and videos of the facilities being built under a Tk 3,100-crore housing project by the Bangladesh Navy.
They said they had been living in poor conditions in makeshift homes in the Cox's Bazar camps. On top of that, fighting between rival gangs in the camps made their lives miserable.
But now, they believe, they will be able to lead a better life with greater access to healthcare, education, and the fact that they can work in Bhasan Char.
Most importantly, the decision of living here was voluntary, a Rohingya man said.
A total of 1,642 Rohingyas were taken from Chattogram to Bhasan Char yesterday, amid concerns expressed by the United Nations and other development partners who demanded an independent assessment of the housing project before any relocation.
A UN team has still not been allowed to visit the island.
The Rohingyas were brought in on seven vessels, which left for the island around 9:00am along with two other vessels carrying goods, Lt Commander MK Zaman Shamim, an official related to the project, told this paper.
Two vessels, two response boats and four country boats followed the vessels with the Rohingyas on board. Naval vessels Shah Paran and Shah Makhdum, carrying 1,019 pieces of luggage, had reached on Thursday.
On Thursday, the Rohingyas reached Chattogram from Cox's Bazar. They stayed overnight at BF Base Zahur in Chattogram.
The government plans to relocate 2,500 Rohingyas to the island and these people were the first batch. Bangladesh Navy has prepared accommodation for nearly one lakh Rohingyas there.
HOPE OF A NEW LIFE
As the Rohingyas boarded the vessels in queues in Chattogram, Bangladesh Navy officials handed masks, water bottles and life jackets to each of them. Onboard, disinfectants were sprayed on their feet.
Many of those Rohingyas came to Bangladesh even before the 2017 influx. Some arrived around 20 years ago.
Abdur Rahim was one who had come earlier. He fled to Bangladesh in 2006, but his mother and other relatives came in 2017.
"I was good there [at the camp], but the situation has deteriorated recently. We fight among ourselves in broad daylight. There was no security and no future. We didn't have any work," he explained when asked why he chose to live on the island.
The vessels reached Bhasan Char in three and a half hours. After the Rohingyas arrived, they were taken to an empty warehouse. There, they offered special prayers expressing gratitude to the almighty. They also thanked the government for giving them shelter.
From there, all were taken to their houses.
Abdul Hamid, along with his wife and four children, was the first to enter their home. "I hope my new life will start from here. At least we can do something on our own. I am very happy," he said, adding that he wanted to farm.
A total of 768 rooms were allotted to the 1,642 Rohingyas.
Another Rohingya man, however, complained that his room was congested.
Mamunur Rashid told this paper that he was allotted two rooms for his family of eight and that the rooms were not spacious enough. "It would have been better had there been any interconnection between the two rooms," he said.
Commodore AA Mamun Chowdhury, director of the Ashrayan-3 Project (the official name of the Bhasan Char project), said a festive mood was prevailing on the island following the arrival of the Rohingyas.
"Now, there will be no host community here. I think with the help of the ministries and departments concerned, the Rohingyas will get a better life here."
Asked when the remaining Rohingyas would be shifted there, he said they were yet to get any such instruction regarding that.
UN and rights groups have been questioning the relocation plan, saying the island was flood-prone and could get submerged during high tides.
Queried on this, Mamun said, "I firmly believe when UN, UNHCR, WFP and IOM will visit here, they will be convinced. We are waiting for them. We are fully ready to show them what is an island and what are structures."
He also claimed the island was ready and safe from natural disasters.
Compared to the cramped conditions the Rohingyas in the camps are now in, the housing project appears to be a much better option for them. Currently, a family of six to eight people lives within a space that is barely 400 square feet.
But on Bhasan Char, which appeared only in 2006, buildings were constructed for them. The buildings are equipped with electricity and solar panels as well as biogas plants and functioning mobile phone networks. The houses have been built four feet above the ground with concrete blocks.
A family of four will live in each room in the new township. Each building will house 16 families in its 16 rooms providing more than the UN stipulated 37 square feet per head, said project officials.