Never-ending road to justice
The situation of 6,00,000 Rohingyas still living in Myanmar's Rakhine State has worsened -- a reality that mocks the International Court of Justice order to prevent the acts of genocide, legal experts and Rohingya activists have said.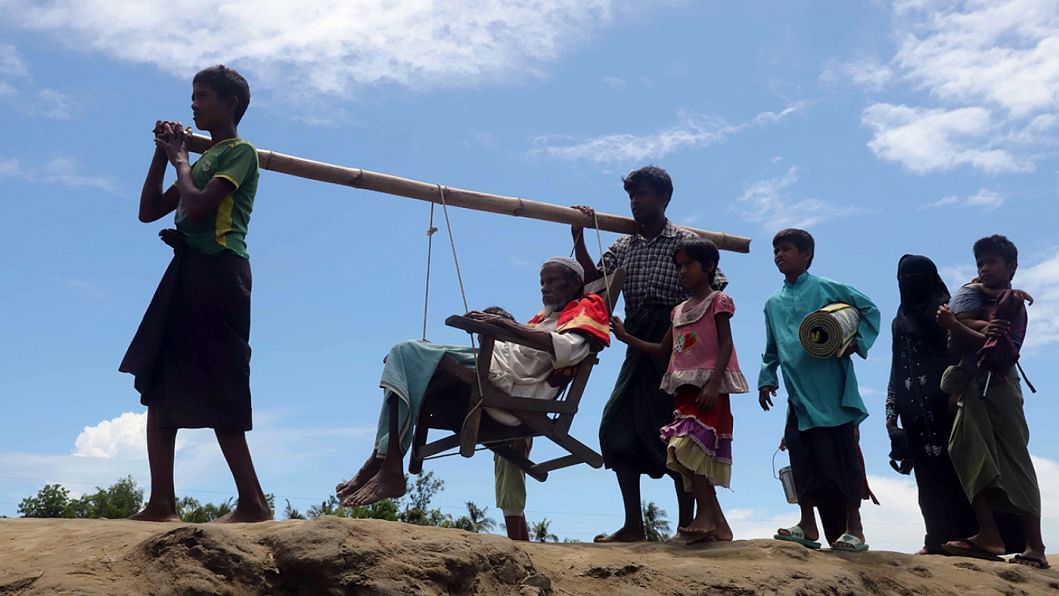 The situation of 6,00,000 Rohingyas still living in Myanmar's Rakhine State has worsened -- a reality that mocks the International Court of Justice order to prevent the acts of genocide, legal experts and Rohingya activists have said.
They said though the Rohingya genocide case at the top UN court generated high hopes, it may take long for them to get justice, and that too will depend on the global powers that are divided over business interests and geopolitics.
In its landmark ruling on January 23 this year, the ICJ made clear that genocide remains a serious risk for the 600,000 Rohingyas in Rakhine and asked Myanmar to prevent acts of genocide, stop destroying evidence, and report back within four months, and then every six months after that.
The ruling came after the Gambia, with support from the Organisation of Islamic Cooperation (OIC), filed a genocide case against Myanmar in November last year, more than two years after about 7,50,000 Rohingyas fled a brutal military campaign that left Rohingya villages burnt and thousands killed, injured and women raped.
Myanmar took genocidal policies decades back -- stripping the Rohingyas of citizenship and enforcing discriminatory policies including on health, education, marriage, birth, property rights and freedom of movement. They fled to Myanmar since the 1980s, with the latest facing the most brutal military campaign. 
The ICJ order gave a lot of hope, for the first time in Rohingya history, but more than six months after it, they find no progress at all. 
"Rather, the Rohingya situation in Rakhine has deteriorated. Killings, tortures and hate speech against them continues," said Nay San Lwin, co-founder of Free Rohingya Coalition.
Myanmar is going for national elections in November, but all the Rohingya candidatures, except for one, were rejected, denying a fundamental right that they enjoyed until 1990s. Also, Myanmar authorities are now using fights between its military and Arakan Army as a pretext to persecute the Rohingyas, he said.
"Sadly, the international community is not speaking out against it."
Lwin's statements were corroborated by the Human Rights Watch (HRW) that said hundreds of ethnic Rakhine and dozens of Rohingya civilians have been killed in the increased fighting where the military used air and artillery strikes. As many as 160,000 civilians were displaced across Rakhine state.
UN's Special Rapporteur on Myanmar Yanghee Lee too said the attacks may amount to war crimes and crimes against humanity and called for investigating the Myanmar military.
Param-Preet Singh, associate director for International Justice Programme at the HRW, in a report published on July 23, said preventing genocide is not just about preventing further violence.
Myanmar authorities imposed new restrictions on aid, movement, media, and the internet since January 2019. Humanitarian access has been restricted in eight of Rakhine State's 17 townships, leading to shortages of food, medicine, and shelter for the civilians. These Indicate Myanmar's intent to destroy the group in whole or in part, she said. 
"These are only a few of the steps Myanmar could take to protect the Rohingya if it was serious about implementing the ICJ's provisional measures order," Singh said, adding: "And these conditions are only getting worse."
International law expert Prof Mizanur Rahman of Dhaka University said Myanmar has not moved a little in amending the laws that discriminates against the Rohingyas, including the 1982 Citizenship Law, which effectively prevents Rohingya from obtaining Myanmar citizenship.
MYANMAR'S FIRST REPORT TO ICJ
As per the ICJ order, on May 23 Myanmar submitted its first report to the UN court on what it has done to protect the minority Rohingya from genocide. The ICJ is yet to make it public.
International legal experts said the report will be sent to the UN Security Council that so far could not take any concrete steps against Myanmar for opposition of veto powers China and Russia since the Rohingya influx in 2017.
Before submitting its first report to the ICJ, Myanmar issued presidential directives to ensure that officials do not commit genocide, prevent destruction or removal of evidence of abuses, and hate speech.
"That is the only thing that Myanmar government did. Nothing else," said Khin Maung, executive director of Rohingya Youth Association in Cox's Bazar. 
Noting of court martial conviction of three military personnel in June for crimes against the Rohingya, Param-Preet Singh said it is Myanmar's efforts to evade meaningful accountability, instead of seriously investigating the military leadership who oversaw the atrocity crimes.
The conviction was related to mass killing of Rohingyas. The Associated Press identified at least five mass graves where soldiers piled the bodies before burning their faces off with acid. An estimated 300 to 400 Rohingyas were killed and entire village was burned down at Gu Dar Pying village in Rakhine on 27 August 2017.
"Myanmar's farcical court martial is the latest attempt to feign progress on accountability in an apparent attempt to influence the UN and international tribunals," said Singh, recalling Myanmar's long history of failing to conduct credible investigations into alleged war crimes and rights abuses by its security forces.
Genocide researcher Mofidul Hoque said Myanmar's objective was to wipe out Rakhine's entire Rohingya population, whose ethnicity was not recognised. From that perspective, the ICJ ruling globally established their identity, which is a significant achievement. 
However, not many countries supported the Gambia, except for Canada and The Netherlands. The UK welcomed the ICJ decision and European Union called for Myanmar to comply with ICJ order. Actually, the big powers stayed away from supporting the case, but focused on humanitarian support, he said.
The ICJ ruling is binding, but depends on the UN Security Council for enforcement. However, as veto powers China and Russia oppose the Rohingya cause, a stronger international pressure is imperative, he said.
"More than a million Rohingya in Bangladesh cannot continue to live this way. The world must have a moral obligation to support the Gambia's case and help restore Rohingya rights as human being," Mofidul Hoque said.
WHERE IS ICC CASE?
Hoque said the International Criminal Court (ICC), which has approved investigation in the Rohingya genocide on its own, is very significant for the fact that Myanmar is not its member and that the UN Security Council has not referred Myanmar's Rohingya atrocities to the ICC.
However, it took into cognizance the case considering that the Rohingyas fled to Bangladesh, which is a member of ICC. A genocide researcher in a European country said ICC's approval of investigating the Rohingya case can set new precedence in international judicial system.
"ICC approved the investigation considering that it has a moral obligation to ensure justice to a population which has long been facing rights violation," he told this correspondent.
The powerful countries including the US, China and Russia, which are not its members, are not liking the ICC move, because if civil societies of these countries raise voice for any genocidal acts, these countries can also become the subjects of investigation in the cases the ICC sets precedence by investigating the crimes against Rohingyas, the researcher added.   
Mofidul Hoque said the UN's Independent Investigative Mechanism for Myanmar has also started working last year, building on the evidences collected by the UN Fact-Finding Mission.
"So, global justice mechanisms are working. It will take time for justice, but it must happen. We should continue to work in strengthening global voices for the sake of humanity and civilization," he added.