National Building Code: Disregarded all along
Made 26 years back; lone revision of the rules took more than a decade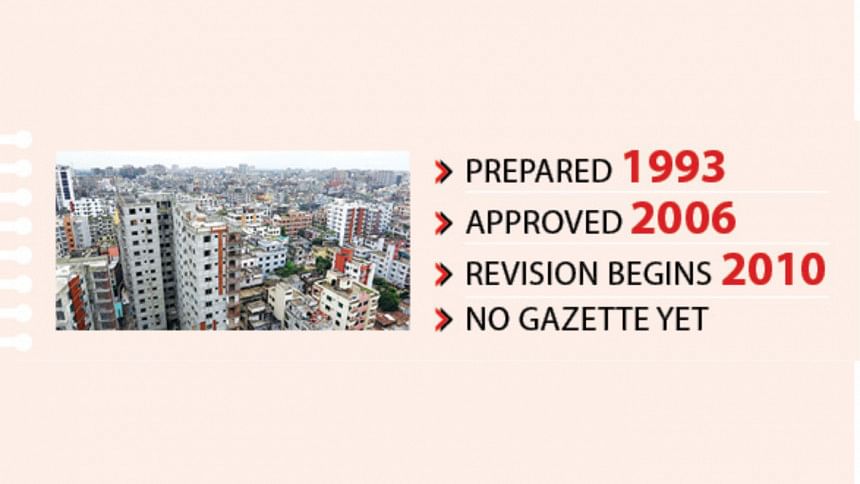 Despite tragic loss of lives and properties in repeated building disasters, the country's national building code has been lying largely unimplemented for 26 years, getting obsolete in the absence of an enforcement authority, said leading professionals.
The government has neither constituted a building regulatory authority nor designated building officials all these years for the enforcement of Bangladesh National Building Code (BNBC), considered the most essential tool for safe and environment-sensitive building construction.
The revision of the code was initiated a decade ago but the process has not yet completed with its publication in the gazette.     
Leading professionals have expressed disappointment that the government has made hollow pledges vowing building safety whenever there is a tragic disaster, but actually it is not doing much to put the code into practice.      
A noted civil engineering educator, National Professor Jamilur Reza Choudhury, said globally building code is revised every three or five years.
So, on a five-year cycle, the country's building code of 1993 was supposed to be revised at least five times by now, but the government has not completed updating even once, he said.  
The government took 13 years to approve the code in 2006 and 16 years to initiate the first revision. Then it procrastinated for a decade, meanwhile rendering the existing approved code obsolete, he said.    
It has neither instituted a building authority nor appointed building officials in 26 years since the code was first made though those measures were required as enforcement tools, added Prof Jamilur Reza. 
One may recall that the High Court in October 2010 asked the government to establish a national building code enforcement authority within a year.  
And now, the revised code provides for constituting an apex body named Bangladesh Building Regulatory Authority for its enforcement throughout the country.
The BNBC is a complete set of codes to ensure safe construction for a healthy habitat, use of quality materials, accountability of the professionals and conservation of environment.   
The code provides that the engineers, architects and planners involved in a building construction would be legally accountable for any anomalies in their professional duty.
The act, as amended in 2006, provides for punishment with seven years' imprisonment or a fine of Tk 50,000 or both in case of violation of the BNBC and Building Construction Rules of 2006.
In the absence of application of the BNBC, it is almost impossible to hold anybody responsible for a disaster triggered by faulty construction.
So, in the absence of an updated code and designated enforcement authority, an anarchy is what has been reigning over the country's thriving construction landscape, putting people's lives, property and environment in dire danger, building professionals said. 
Disasters overwhelmed the nation time and again due to building construction in violation of BNBC, said Brig Gen (retd) Ali Ahmed Khan, former director general of Fire Service and Civil Defence. 
"Enforcement of BNBC is a must in order to contain building disasters either triggered by a fire or an earthquake," he said. 
Khan Mahmud Amanat, a professor of structural engineering at Buet and an author of the proposed revised BNBC, said a building cannot be considered safe for occupancy if its structural design is not done in compliance with the building code. 
"The tragedies of Rana Plaza, Spectra and Phoenix building collapses were all due to structural failure," he said.
One may recall that building professionals attributed the structural failure of a six-storey sweeper colony building in May in 2007 within a week of its construction in Dayaganj to the use of construction materials of poor quality. The building was built by undivided Dhaka City Corporation.
M Abu Sadeque, immediate-past director of Housing and Building Research Institute and currently secretary general of Bangladesh Earthquake Society, said, "Compliance with the building code would ensure life-saving built-in system with sufficient fire safety and earth quake resistance measures in a building."
In the capital city, the building code could be largely applied if the Building Construction Act was enforced accordingly, he said.
"But the question is how far the building rules are enforced, as 95 percent structures of all kinds in the capital have been built without building approval, according to Rajuk's information," said Sadeque, also a member of editorial team and steering committee on revision of BNBC.   
A DECADE-LONG DELAY
The building code was made legally binding for building construction on November 15, 2006 under the Building Construction Act.
The government in 2008 took the first move to revise the BNBC and a year later hired Buet consultants for the job.
The Buet team of experts first submitted a revised version in 2010.  The Housing and Building Research Institute however sent it back to the consultants, as it lacked adequate provisions on fire safety and implementation mechanism, said Prof Raquib Ahsan, coordinator of Buet consultants.
The consultants submitted the updated code two years later. There was, however, no progress towards formalisation. In 2014, it was revised again and submitted the following year. It went through legal vetting and correction. It was not approved though.
The law ministry took more than a year for scrutiny and asked for some corrections. The final corrected version was submitted to the works ministry in mid-2017 and the law ministry cleared the revised code by that year for publication.
But, according to official sources, diploma engineers opposed approval of the revised code demanding equal status as graduate and doctorate engineers and lobbied with the government.
The government on political consideration went slow on approval, as the general elections were to be held within a year, they said.       
"The first updating process has been so delayed that yet another updating has been due," said Prof Saiful Islam,vice-chancellor ofBuet, at a national seminar at the university auditorium on April 27. 
Public Works Minister SM Rezaul Karim at a press conference in the capital on April 6, said the government would publish the amended building code in a week or two.                
As this correspondent called the minister on September 23, he said his ministry had sent the final revised BNBC to the law ministry a week ago for publishing it in the official gazette.
Asked why the government took a decade to revise the nation's building code just once, the minister said, "I do not want to make any comment on it. I have no idea why it took so long." 
Several days back, the law ministry sent back the revised BNBC to the public works ministry with some queries, said an official source.