Minipack menace
Plastic packets, hard to decompose, are everywhere; their alarming spread may turn into an environmental disaster, experts fear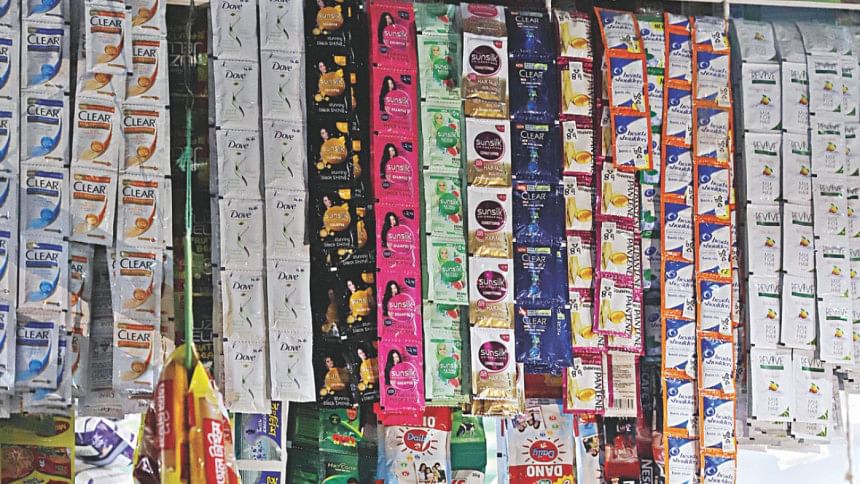 Sachet marketing -- selling products in small quantity, usually in minipacks -- has practically revolutionised the business of consumer products over the last few decades. Gradually, however, it is turning into a serious cause for concern.
Cheaper and convenient, these minipacks have made their way to even the most far-flung corners of the country. From shampoo to pickle, minipacks of almost everything are now everywhere. 
But its spread threatens to become an environmental disaster.
According to a 2015 study conducted by Waste Concern, an independent pro-environment group, more than 95 percent of the soiled plastic waste generated in Dhaka comprised of poly-packaged throwaways, including pet bottles, polythene bags and sachets of fast food and non-food consumer goods such as toiletries, food items and toothpaste.
The recycling industry absorbs just about six percent of the 257 tonnes of soiled plastic waste dumped in the landfills of Dhaka every day.
The plastic sachets have multiple layers of different materials for the air-tightness and so they cannot be segregated during the recycling process, unlike pet bottles.
"Basically, minipacks and large amount of packaging materials have no recycle value because of the multiple layers of film coating under the plastic to keep the products intact. Middleclass consumers like them because they are cheap and convenient," said AH Md Maqsood Sinha, executive director of Waste Concern, an organisation working on improving waste management and recycling in the country.
There has not yet been any definitive study on the extent of damage these minipacks are causing to the environment.
However, studies have shown that plastic does not decompose; rather, it breaks into micro-plastic. A single pet bottle of mineral water, for example, will break down into at least 10,000 pieces of micro-plastic and remain in the ecosystem, unwanted forever.
Since the 1950s, about 8.3 billion tonnes of plastic have been produced worldwide, and to date, only 9 percent of that has been recycled, says a separate study by a team from the University of Georgia, the US.
Worryingly, there is no data as to how many minipacks are produced globally. 
"Because these soiled poly-packaging materials along with minipacks do not get recycled at all and we don't know how much is produced and thrown away, are reasons enough to be highly concerned about the havoc they are wreaking on the environment and drainage system," said Sinha.
Sources in one toiletries and cosmetics company said the used 400 tonnes of plastic packaging per month, which by itself is a shocking glimpse of what the total numbers could amount to. 
KM Iqbal Hossain, vice president of Bangladesh Plastic Goods Manufactures' and Exporters Association (BPGMEA) said currently Bangladesh imports around 4 lakh tonnes of plastic raw materials and around 20 percent of the total import is used in the one-time packaging industry.
"The use of one-time packaging will increase day by day as people's living standard is improving gradually. Yes, the collection of one-time packaging waste is very poor but consumers have to be aware of it. The government can take initiative to recycle the plastic wastes," he told The Daily Star.
On September 16, the Environment and Social Development Organization-ESDO launched a cleanup activity in Dhanmondi Lake. In just one and a half hours, they collected around 100kg single-use plastic wastes. Among them were packages of 82 types of products of 120 brands.
"A movement is going on across the world to ban single-use plastic as it is environmentally harmful. The world famous chain coffee shop Starbucks has already banned plastic straw and Malaysia also did the same. We can initiate this," said ESDO Secretary General Dr Shahriar Hossain.
He also said the manufacturers, government, and environmental campaigners should work together to formulate a policy that can help reduce the volume of single-use plastic waste and pollution.
Shahriar said mini-packs do not add any value for consumers, but the companies produce them to boost sales and make higher profit.
"This type of plastic cannot be recycled. It goes into the canals, rivers, and to the sea….It will also damage landfills. Since this specific type of waste is non-recyclable, neither the city corporations nor private organisations collect it," he added.
A different study jointly conducted by the global think-tank Ellen MacArthur Foundation and the World Economic Forum, foreshadows a bleak future if drastic measures are not taken to check the disposable plastic culture. It says there will be more plastic than fish in the world's oceans by 2050 if things do not change.
Quazi Sarwar Imtiaz Hashmi, additional director general of the Department of Environment, said the government was going to formulate a policy to contain the use of plastic packaging materials.
"We sat with the plastic manufacturers, producers and BSTI officials to discuss how to contain the use of single-use plastic. We are encouraging the producers to recycle the packaging materials to contain environmental pollution."
However, how much is done, remains to be seen.