Migrant Workers: Malaysia offers them new hope amid pandemic
Allows them to switch firms in same sector; many Bangladeshis rejoin work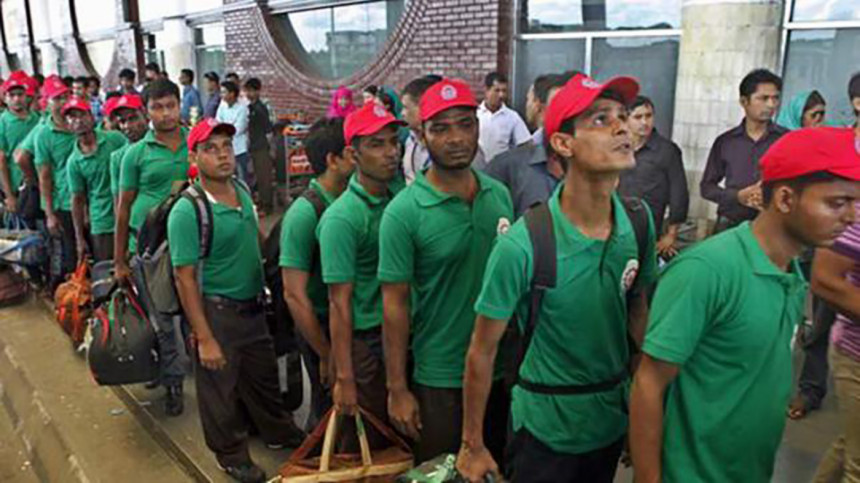 At a time when Bangladeshi migrant workers all over the world are having tough times amid Covid-19 fallout, Malaysia gives good news.
The Southeast Asian country has announced that foreign workers can now switch companies in the same sector as some firms ceased operation or sacked workers while some others need foreign workers.
Besides, many Bangladeshis, who had been without work for around three months, have started rejoining work as Malaysia moves to fully reopen its economy following a drop in Covid-19 cases, say officials.
Talks between Dhaka and Kuala Lumpur are going on for regularising undocumented workers, a Bangladesh High Commission official in the Malaysian capital told The Daily Star on Sunday.
"As recruitment of foreign workers has been suspended from July 1 till the end of this year, there is a strong possibility that Malaysia will announce an amnesty for the undocumented migrants," mentioned the official.
The developments come after Malaysia partially reopened its economy on June 10 with Covid-19 cases falling below 10 a day. Between July 1 and 5, the number of daily cases was between 1 and 10. A total of 8,663 people got infected with the virus till yesterday, and of them, 121 died.
Malaysia has also allowed reopening of childcare centres and kindergartens, cinemas and spas since July 1, attaching to it conditions that include social distancing and good personal hygiene practices.
Talking to this newspaper, AbuHayat, an independent Bangladeshi researcher based in Kuala Lumpur, said, "There was a fear that job opportunities will be largely lost. But now many of the Bangladeshi migrants are rejoining work after the reopening. This gives a lot of relief."
Still, there are many who don't have jobs, he pointed out.
Regularisation of undocumented workers and allowing the jobless to switch companies can help them greatly, he said.
Executive Director of Malaysian Employers' Federation Shamsuddin Bardan said a lot of foreign workers in manufacturing and services sectors were affected by the Covid-19 fallout.
On the other hand, the palm oil and rubber plantations are facing a shortage of workers, he mentioned.
"There is a shortage of 65,000 workers in plantations… It caused an estimated loss of 13 billion Malaysian Ringgit [more than $3 billion] last year," he told this correspondent over the phone from Kuala Lumpur on Sunday.
"We are urging the Malaysian government to allow transfer of foreign workers to plantations from other sectors as recruitment of foreign workers has been suspended till the end of this year," he added.
On its Facebook page, Bangladesh High Commission in Kuala Lumpur on June 22 said Malaysia allowed transfer of foreign workers from one company to another of the same sector, not to a different sector.
But if such transfer is allowed, it will be a very welcome decision, Jahirul Islam, labour counsellor of Bangladesh High Commission in Malaysia, told The Daily Star.
Switching companies requires permission from the current and future employers and also the authorisation of Malaysia's home ministry and the labour department, he mentioned.
The Bangladeshi workers, who want to change companies, should communicate directly with the high commission, instead of doing it on their own, he said.
"We are holding talks with the Malaysian authorities for regularising the undocumented workers."
Of around eight lakh Bangladeshis in Malaysia, an estimated two lakh could be undocumented, according to officials.