Low-Income People: Veg price hike adds to woes amid pandemic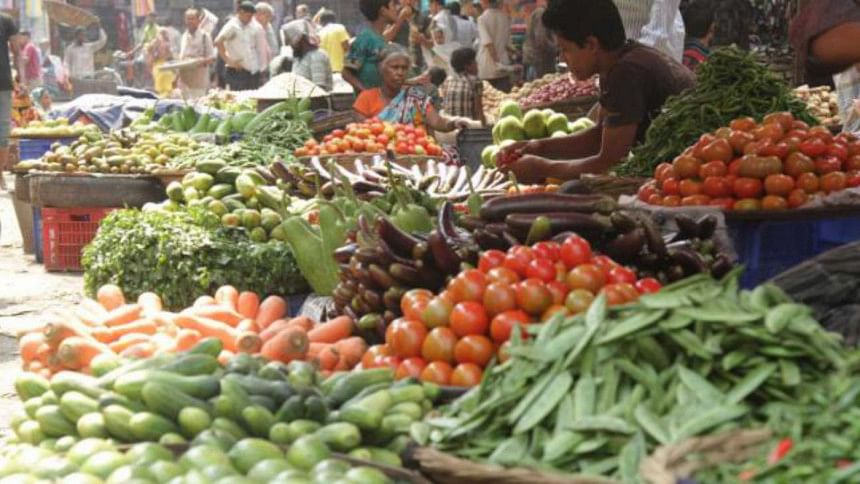 The price hike of daily essentials is coming down heavily on limited-income people, who are already struggling to survive the economic meltdown caused by the Covid-19 pandemic.
The price of vegetables has shot up by Tk 5 to Tk 30 per kg over the last one month. A recent visit to one of the kitchen markets in the capital revealed that the price of rice has also increased by at least Tk 5.
Retailers are blaming a shortage in supply for the price hike.
According to a horticulture scientist, pollination is being hampered due to heavy rainfall. Besides, excessive rainfall also paves the way for fungal and bacterial infection leading to a reduction in vegetable production.
According to the Met office, the rainfall will continue for the next 5-6 days across the country.
Shahinur Mia, a vegetable retailer in Shantinagar kitchen market, said he was selling per kg of potatoes for Tk 34, eggplants for Tk 80, green chili for Tk 200, tomatoes for Tk 120, green papaya for Tk 45, okra for Tk 50, pointed gourd for Tk 55, and bitter gourd for Tk 70.
A month ago, Shahinur said, he sold per kg potato for Tk 35, eggplants for Tk 60, green chili for Tk 170, tomatoes for Tk 100, green papaya for Tk 40, okra for Tk 40, pointed gourd for Tk 45 and bitter gourd for Tk 60.
At Jatrabari kitchen market, retailers were selling per kg of fine rice for Tk 56 to Tk 60. A month ago, the price of fine rice fluctuated between Tk 50 and Tk 58.
They were selling per kg of onions (local variety) for Tk 45, ginger for Tk 175 and garlic for Tk 85.
According to Trading Corporation of Bangladesh, the price of all kinds of rice, including fine, medium and coarse, has increased by five to seven percent in the last one month.
During this period, the price of soybean increased by one to 2.7 percent and flour and wheat by three percent. However, the price of lentil has dropped by three to seven percent.
Owner of a stationary shop Habibur Rahman said his income has dropped since the shutdown of academic activities due to the Covid-19 outbreak.
"But the price of daily essentials keeps rising. I don't know how to meet my expenses," he said.
Liton Mia used to work in restaurant in Motijheel. He lost his job in May and is now selling seasonal fruits on a cycle van.
"I can't tell you how I'm spending my days ….. it would be difficult for us to survive if prices keep rising," he said.
The price of daily essentials has also increased high at the district level.
In Bogura's Mahasthangarh Wholesale Market, per kg of green chili was Tk 140, eggplants Tk 45, radish Tk 30, long beans Tk 60 and pointed gourd Tk 35.
Babul Mia, president of Mahasthangarh Wholesale Market Association, said a lot of vegetables were damaged due to heavy rainfall.
"That's why the prices have almost doubled," he said, adding that they sold vegetables at half the current price before Eid.
Khaja Mia, a farmer of the district's Shibganj upazila, said farmers who are not affected by rainfall are getting good prices.
Monoranjan Roy, a vegetable grower of Dinajpur's Kaharol upazila, said that he has been growing vegetable round the year for the last 30 years as producing plants is more profitable than crops like paddy.
Due to the pandemic, however, he faced losses amounting to Tk 20,000 from vegetable production.
"I would overcome the losses, but, the daily rain is emerging as another problem for the farmers," he said, adding that vegetable production dropped alarmingly just because of rain, although the price is reasonable in the markets.
He cultivated eggplants on 50 decimals of land but due to the rainfall, the plants are yet to begin flowering.
Speaking to the Daily Star, Mohammad Abu Taher Masud, principal scientist of Horticulture Research Center of Bangladesh Agriculture Research Institute, said the production of vegetables like gourd, pumpkin, luffa and sponge gourd depends on pollination but heavy rainfall prevents it.
On the other hand, cloudy skies prevents flowering. "On the top of that, the weather remains hot and humid though we're seeing heavy rainfall. This condition is helpful for fungus and bacterial weed, which also prevents flowering," he said.
Md Shahinul Islam, meteorologist of Bangladesh Meteorological Department, said, "The southern district will have more rainfall than the northern district."
Agriculture Minister Dr Muhammad Abdur Razzaque said, "Due to the adverse weather, we're facing it [the damaging of vegetables]. We have nothing to do," he added.
(Our Dinajpur and Bogura Correspondents also contributed to the report.)