Martyred Intellectuals Day today
Listing Martyred Intellectuals: It begins, at last
49 years on, no official number or definition yet; committee starts work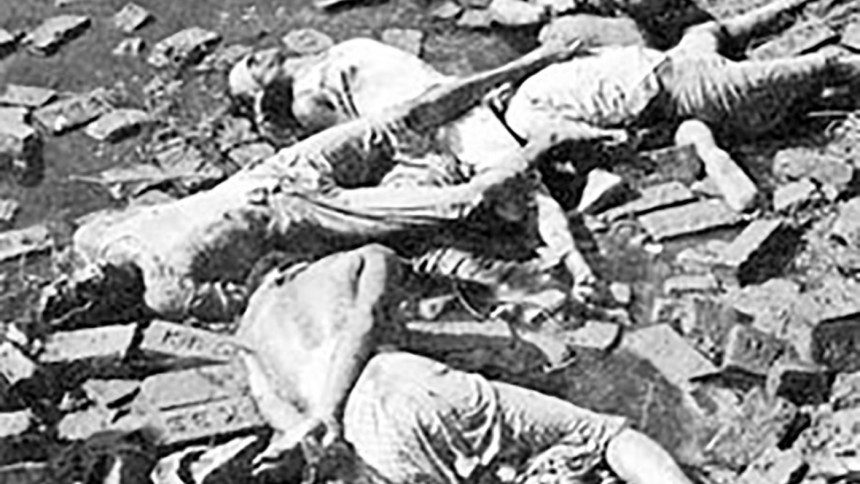 They were the country's leading intelligentsia who were the guiding light for Bangalees. These brightest sons and daughters of the soil were instrumental in the mass movements against the disparity and repressive measures of the Pakistani rulers and contributed to the 1971 Liberation War efforts.
But, faced with impending defeat, the Pakistan army, aided by their bootlicker local collaborators, planned and brutally killed them to cripple the future nation intellectually so that it could never stand tall.
Sadly, 49 years after the country's independence, the nation is still in the dark about how many of these luminaries faced martyrdom -- lacking a comprehensive and final list of martyred intellectuals or even a definition of the term.
Successive governments since 1971 have failed to prepare a list of the martyred intellectuals, despite making repeated pledges. The Awami League government is no exception -- it is yet to prepare the list during its three consecutive terms.
However, on November 19, the Ministry of Liberation War Affairs finally formed an 11-member committee comprising freedom fighters, liberation war researchers, and government officials to make and scrutinise the list of names.
In its first meeting yesterday, the committee decided it would primarily include 1,222 names on the list. It will also set a definition of martyred intellectuals, Liberation War Affairs Minister AKM Mozammel Haque said after the meeting.
Mozammel added they are expecting to complete the list by next year, when Bangladesh will celebrate 50 years of Independence.
Family members of the martyred intellectuals, meanwhile, voiced disappointment over the lapses in preparing the list after so many years.
"Many things related to the war are not properly and officially documented. The list of martyred intellectuals is no exception," said Asif Munier, son of martyred intellectual Prof Munier Chowdhury.
"Having no official documentation is intentional so that vested groups can create confusion. There were moves so that documentation does not take place during different regimes," he told The Daily Star.
Starting on the night of March 25, 1971, intellectuals were targeted by an army crackdown in Dhaka. Mostly university, college and school teachers, filmmakers, physicians, poets, writers, journalists and other eminent personalities, they had been deemed threats by the Pakistan army and were abducted, tortured, and killed.
Planned killings of the intellectuals reached its peak on December 14, two days before Victory Day.
LONG DELAY, EMPTY PLEDGES
On February 6, 2014, the liberation war affairs minister had told parliament that a list of martyred intellectuals would be published by June that year.
The ministry then sent letters to the deputy commissioners of all 64 districts seeking names of martyred intellectuals, but apparently the DCs did not send names because of a lack of clarity over the definition.
Mozammel, on December 14, 2016, also said the ministry would publish a book containing the names of martyred intellectuals, but this book, too, is yet to be published.
Noted historian and researcher Prof Muntassir Mamoon said, "There is a dearth of trained people to deal with such issues in our country. Bureaucrats dominate the system and they have hardly any interest in listing martyred intellectuals and other related work."
Prof Muntassir, a former history professor at Dhaka University, is a member of the new committee.
He added, "A list is much needed so the nation can pay their respects and new generations come to know about them. It is a source of history. We are having lists of freedom fighters and razakars, then why not such a list of martyred intellectuals?"
Shahriar Kabir, president of Ekattorer Ghatak Dalal Nirmul Committee, said that in his view, the government's top priority has been the identification of the real freedom fighters.
"Many things happened centring around the list of freedom fighters and many Jamaat men made it to the list during BNP-Jamaat rule," he said.
"The current government is putting most of its efforts and time to correct the list," added Shahriar, also a member of the new committee.
NEW PROCESS
According to Mozammel, the committee will finalise a definition of martyred intellectuals in its next meeting, likely to be held in January. He said the committee yesterday approved 1,222 names for the primary list.
"A total of 1,070 names will be taken from names available with the ministry and 152 from postal stamps issued in the name of martyred intellectuals at various times," he added.
Shahriar Kabir said that names of martyred intellectuals were available in "Shaheed Buddhijibi Koshgrantha", a biographical encyclopaedia of martyred intellectuals by the Bangla Academy; "Bangladesh," a documentary publication of the government in 1972; "Banglapedia", and postal stamps.
The committee will consider martyred intellectuals killed between March 25, 1971 and January 31, 1972, for the list.
On January 31, 1972, the Mirpur area of Dhaka was finally freed from pro-Pakistan Biharis, he said.
Freedom fighter Nasiruddin Yousuff, a member of the committee, said they will send letters to all DCs and UNOs asking for names of martyred intellectuals in their respective areas. "We seek names but will not solely depend on bureaucrats," he said.
"We will not make a new definition of martyred intellectuals rather we will revise the existing definition available in different research books including Shaheed Buddhijibi Koshgrantha of Bangla Academy."
"Shaheed Buddhijibi Koshgrantha listed 328 martyred intellectuals, but said the list was not complete," said another committee member.
The government documentary "Bangladesh" said 1,109 intellectuals were martyred.
"Banglapedia" estimated that 1,111 intellectuals were killed – including 991 academics, 49 physicians, 42 lawyers, 13 journalists, nine litterateurs and artists, five engineers, and two others.
Many war researchers, however, said the total number of martyred intellectuals could be much higher. The members of Buddhijibi Nidhan Tathyanusandhan Committee, set up in 1972, had made a primary list of 20,000 such intellectuals killed by the Pakistanis, they pointed out.
Asif Munier, also president of Projanmo Ekattor, an organisation of the children of the martyrs, said they are ready to give assistance to the new committee preparing the list.
"We believe the committee members will do the work with utmost sincerity as they have credibility."