Liberation War: More foreign friends to be recognised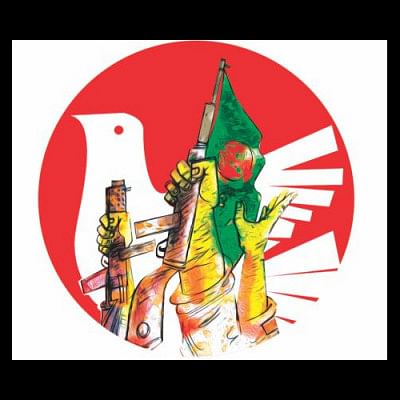 After a pause of six years, the government will once again formally honour foreign personalities and institutions who stood by Bangladesh during its War of Independence in 1971.
A ceremony will be held in December this year where it will confer awards on 20 personalities, Minister for Liberation War Affairs AKM Mozammel Haque told this paper recently.
Bangladesh launched the award in 2011 with an initial list of 565. Later the number was raised to 650. But after awarding 338 persons and institutions in seven phases until October 2013, the government stopped handing over the award.
The only exception was in June 2015 when Indian Prime Minister Narendra Modi, during his visit to Bangladesh, received the award on behalf of BJP leader and former Indian prime minister Atal Bihari Vajpayee.
The award winners this time would be getting crests made of silver as the government decided not to give them gold crests following the scandal over precious metals in 2014.
Previous Awards
In 2011, a committee prepared a list of foreign friends and institutions from 29 countries. Among them, 254 were Indians, 88 Americans, 39 Pakistanis, 36 British, 16 French, and 14 each from Russia, Nepal, and Japan.
The awards were in three categories -- Bangladesh Freedom Honour, Bangladesh Liberation War Honour, and Friends of Liberation War Honour.   
Until October 2013, Bangladesh awarded 338 foreign friends and institutions of 21 countries, including 225 Indians, 29 Americans, 17 Pakistanis, 13 British, 11 Russians, nine Nepalese, eight Japanese, and two French.
Sixty foreign friends were awarded during the seventh ceremony held in October 2013.   
Bangladesh Freedom Honour, the highest honour, has been conferred only on former Indian Prime Minister Indira Gandhi in July 2011.
Indian National Congress Party head Sonia Gandhi, the daughter-in-law of Indira Gandhi, received the award from president Zillur Rahman at a ceremony in Dhaka.
Indira took a firm, principled stand to side with the oppressed people of then East Pakistan in 1971. She travelled across the world to drum up support for the independence of Bangladesh.
The second highest award, Bangladesh Liberation War Honour, was conferred on 15 people and the third highest award, Friends of Liberation War Honour, was conferred on 312 people and 10 organisations.
CREST SCAM BEHIND 6-YEAR PAUSE
When asked why no such ceremony took place since 2013, the liberation war affairs minister said it was "due to various reasons" and he refused to provide further details.
Sources at his ministry, however, said it was due to the scam over crests.
In 2014, reports surfaced in the media that the gold crests handed to the foreign friends of the Liberation War effort had very little precious metals.
Bangladesh Standards and Testing Institution (BSTI) found the crests to have only 2.63 grams of gold when they were supposed to have 11.66 grams.
The BSTI test also confirmed that the crests, which should have been made of 351 grams of silver, had no silver at all. They were made of an alloy of brass, copper and zinc.
A committee formed by the government later found 13 people, including a former minister, guilty of fraudulence.
"The government has decided that it will no longer present crests made of gold to foreign friends. There will be silver crests and some traditional gifts," Minister Mozammel said.
Some officials at the ministry also pointed out the awardees' inability to travel to Bangladesh due to health issues as a reason for not holding the ceremony sooner. 
Shahriar Kabir, a member of the committee that prepared the list of foreign friends, said no ceremony was held in the last six years due to the crest scam.
"Now we have selected 650 foreign friends and the government should honour all of them. We had decided that Bangladesh would arrange the ceremonies at respective embassies or high commissions in case the awardee was unable to travel.
"If the foreign friends cannot come to the embassies or high commissions either, then the programme will be organised at their places. If someone is honoured posthumously, then their families or relatives would be handed over the award," Shahriar told this paper.