At least 5 killed as train falls off bridge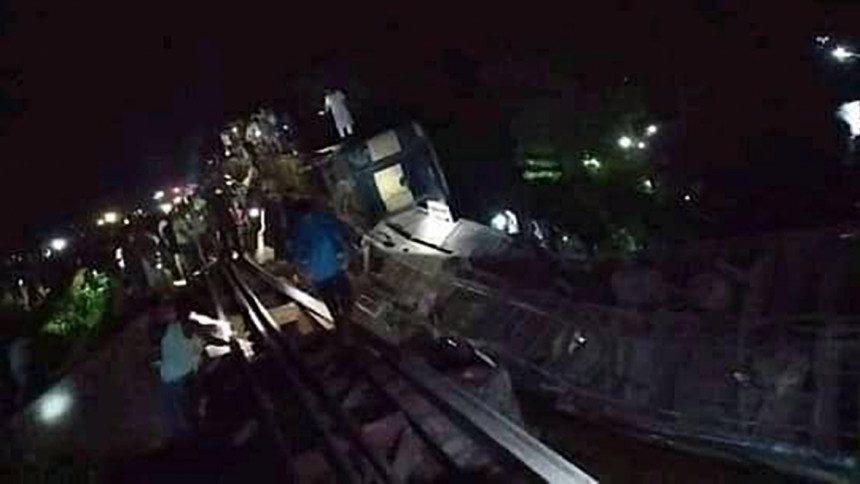 At least five people, including three women, were killed and more than 100 injured as a passenger train derailed on a bridge in Moulvibazar late last night.
The death toll may rise, police said.
One of the carriages of the Upaban Express, heading to the capital from Sylhet, fell into a canal while two others fell close to the canal's banks. Several other carriages were also derailed. The incident happened at Boromchal in Kulaura upazila.
Five bodies were recovered from the canal, said Nurun Nabi, an officer of Fenchuganj fire service who was on the spot.
The accident happened around 11:50pm last night.
The carriages that derailed were towards the tail of the train while the front part sped towards the next station, Akhaura.
"Right after the incident, we rushed to the spot to rescue people," Nurun Nabi told The Daily Star by phone. 
At least 13 fire engines were sent for the rescue mission and five ambulances went to the spot to provide immediate medical care to the injured.
Local fire service and civil defence units along with locals were conducting the rescue operations.
The operation was called off around 2:25am as they had completed getting people out of the carriage sunk in the canal and the carriages scattered at the scene, said Nabi.
Kulaura Railway Police Station Officer-in-charge Abdul Malek said, "We are yet to get the full picture of the accident and the number of casualties. The number of the casualties could rise."
He said the injured were taken to nearby hospitals for treatment. 
Moulvibazar Superintendent of Police Shahjalal said, "We do not know why the train derailed but we are investigating the matter."
Rail communication between Sylhet and other districts was suspended after the accident.