Rail links with north, south cut off for 7 hrs
Derailment at Ishwardi caused the snapping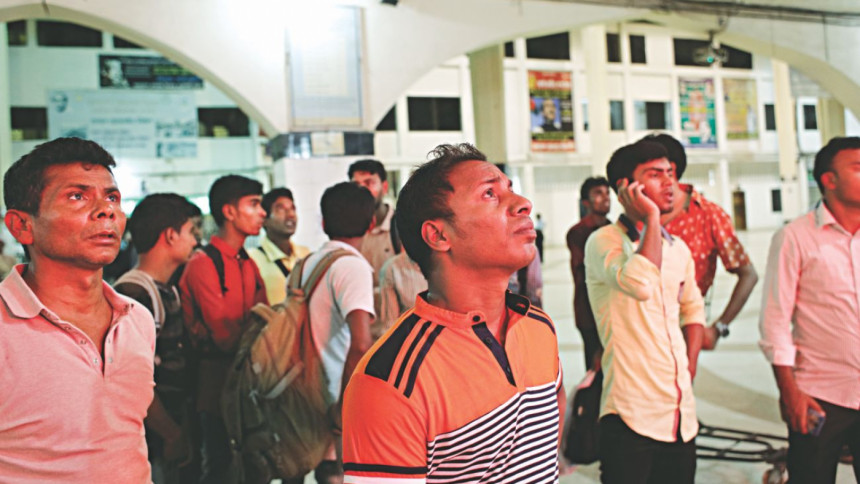 Rail communications between the capital and the country's north and south were suspended for about seven and a half hours after an express train derailed at Muladuli of Pabna's Ishwardi yesterday.
Nearly 3,500 passengers were stranded in eight trains at different places before communications were restored at 8:55pm last night.
"All the trains have left stations," Ashim Kumar, divisional manager in railway's west zone, told The Daily Star at 9:10pm.
Earlier, at about 1:22pm, Chitra Express derailed at Muladuli due to a "wrong overshoot" of the intercity train.
Rail communications between Dhaka and the northern and southern districts are routed through Ishwardi junction.
The derailment occurred when Chitra ignored the signal and tried to cross the trap point, said Abu Hena, additional signal and telecommunications manager who rushed to the scene.
"We set up automated mechanical traps on railway tracks to force a train to stop for averting major accidents," he said, adding that the train's engine, power car and a portion of a passenger coach went off the rail.
"We call it a 'train overshoot' when a train moves ahead of the trap point," said Hena.
A relief train from Ishwardi was sent to the scene at 3:00pm.
Moitri Express, which was coming to Dhaka from Kolkata, had to stand still for about seven hours in Ishwardi. Silk City left for Dhaka at 2:30pm but could not cross Muladuli and remained stranded at Ullapara of Sirajganj.
Our correspondents from Rajshahi and Pabna reported that passengers had suffered for hours. Some got off the trains and took alternative ways to reach their destinations.
"I am waiting for Padma express at Chatmohor station in Pabna since 4:00pm," Risul Islam told our Pabna correspondent at 8:30pm.
Rangpur Express and intercity trains Drutojan, Lalmoni and Ekota remained stuck on either side of Muladuli station.
Probir Saha, a government official coming from Dinajpur by Drutojan, was stranded at Ishwardi bypass. Sharing his ordeal with The Daily Star yesterday evening, he said, "I boarded the train around 9:30am from Chinir Bondor station and have been stuck here since 2:00pm."
Walid Bin Habib, who was supposed to go to Khulna from Kamalapur by Chitra Express at 7:00pm, had to cancel his ticket and opt to go by bus.