Khulna Division Covid-19: Two dedicated ICU facilities on deathbed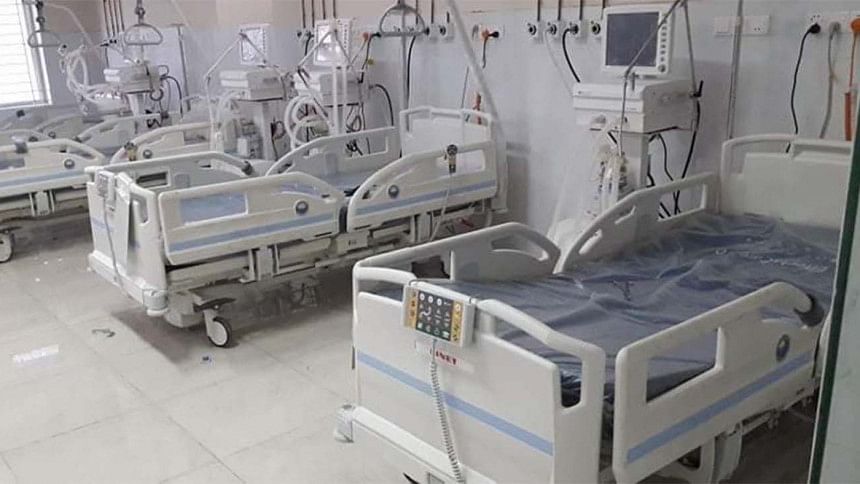 The 10 districts of Khulna division have only two ICUs for coronavirus patients -- that too are plagued with faulty equipment and inadequate medical supplies.
Both the intensive care units are under public hospitals while no private facility in the division treat Covid-19 patients. 
All the eight ICU beds of Satkhira Sadar Hospital and all the 10 of Khulna Diabetic Hospital, now under Khulna Medical College Hospital (KMCH), have been kept for Covid-19 patients.
There is no equipment in the ICU of Khulna Diabetic Hospital to immediately assess a patient's condition, said Dr Farid Uddin Ahmed, focal person of the hospital, dedicated for coronavirus treatment.
The breathing tubes of the ventilators are all damaged and some of the beds do not have a central venous line (a tube placed in a large vein of the body to give fluids, blood or medications or conduct tests quickly).
The physician added that there is also a shortage of electrolyte including sodium, potassium and chloride at the ICU.
Moreover, the negative pressure chamber, which takes out contaminated air out of the intensive care unit, is not working properly and needs replacement.
"We also have to appoint manpower. Without manpower, only ICU beds cannot do anything," Dr Farid said.
Problems are arising with the ICU at Satkhira Sadar Hospital too as the beds, installed 10 years ago, have remained unused for a long time, said Md Hussain Shafaat, civil surgeon of Satkhira.
Four monitors have become damaged and cannot display the different parameters of a patient's organs including the heartbeat. Besides, one of the sensors for measuring a patient's oxygen level is also not working properly, he said.
OXYGEN CRISIS
Both Satkhira Sadar Hospital and Khulna's coronavirus dedicated hospital do not have central oxygen supply systems. 
   A Covid-19 patient with severe breathing difficulty needs 50 litres or more oxygen per minute, which is about 3,000 litres of oxygen per hour, said Dr Farid Uddin. 
But there is no facility in Khulna that can supply oxygen at such a high rate, he added.
KMCH currently has about 350 oxygen cylinders of 15-20-litre capacity and a couple more with 200-300-litre capacity in the operation theatre, said Dr Munshi Md RezaSakender, director of the hospital.
But it is not possible to treat coronavirus patients with these cylinders; at best these can provide oxygen to a Covid-19 patient for three hours, he said.
"We need to buy at least 10 oxygen cylinders of high capacity."
Dr Rasheda Sultana, director of Khulna divisional health office, told The Daily Star that a liquid oxygen plant will be installed at Khulna's coronavirus dedicated hospital first and then ICU facilities for critical patients will be increased.
PATIENTS SUFFER
Covid-19 patient Md Mahamud Iqbal, 62 of Khulna Sadar, died on June 20 after his family tried to get ICU support for him, in vain.
"My brother tested coronavirus positive around mid-June. He was taking treatment from home. As his health deteriorated, we took him to at least four private hospitals including Gazi Medical College Hospital and Islamic Hospital but failed to admit him," said Mahamud's brother Sohel.
"A relative then forced us to get him admitted at the Khulna hospital dedicated for Covid. But all ten ICU beds there were occupied."
About no private facilities admitting Covid-19 patients, Gazi Mizanur Rahman, chairman of Bangladesh Private Clinic and Diagnostic Owners Association in Khulna, said, "Under the current circumstances, it is not possible for us to provide any medical treatment to coronavirus patients. We do not have adequate protective gears."
The situation is worse at the division's Jashore, Bagerhat, Narail, Jhenaidah, Kushtia, Meherpur, Chuadanga and Magura districts, where no ICU facilities exist at any government-run hospitals.
Md Abdul Momen, civil Surgeon of Narail, told The Daily Star, "As of yesterday, six coronavirus patients died in the district. Among them, three needed ICU support, but we could not provide them so."
Khulna divisional health director said that civil surgeons of the eight districts without public ICU facilities were asked to transfer critical patients to Khulna.
However, Dr Sheikh Baharul Alam, President of Bangladesh Medical Association, Khulna, pointed out that two doctors of Khulna were sent to Dhaka in critical condition as they could not be provided with ICU support due to the lack of necessary equipment.
He urged the government to take pragmatic steps to set up more ICU facilities in Khulna.
Since identification of the first Covid-19 patient in Chuadanga district on March 19, a total of 3,604 persons have been infected, 421 hospitalised, 52 died and 910 patients recovered in the division as of June 27.
Khulna district is the worst affected in the division with 1,551 people infected as of June 27.
Till date, 67 doctors, 70 nurses and at least 128 other medical and health administrative staff have tested positive in the division.
Three PCR labs -- Khulna Medical College, Jashore University of Science and Technology and PCR Lab of Kushtia General Hospital -- are conducting coronavirus tests in the 10 districts of Khulna division.