'Justice is partially served'
Rohingya activists hail ICJ ruling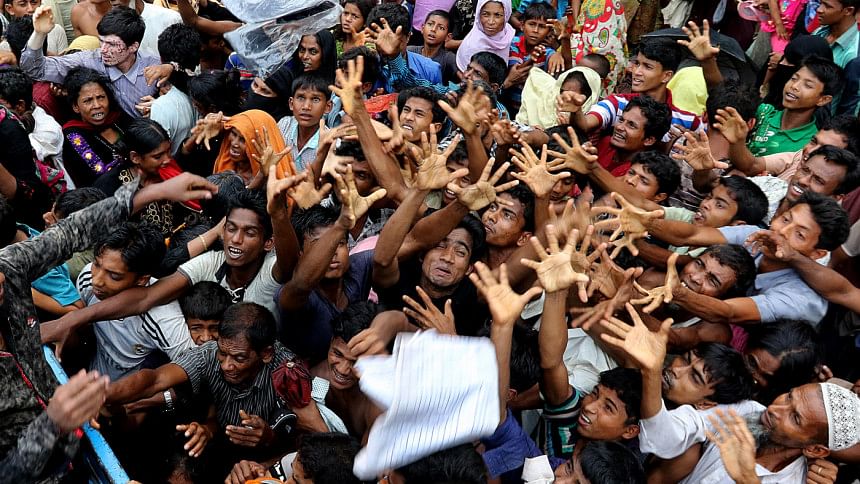 The Rohingyas have been facing persecution for decades. They have lived without citizenship and faced restrictions on freedom of movement. They have also been denied basic rights.
Many of them fled to Bangladesh or risked their lives to cross the seas to reach the shores of Malaysia and Indonesia, all to escape an unending discrimination, bordering on torture, in Myanmar.
Meanwhile, those who remained in Rakhine State -- home to majority of the Rohingya population -- continued to suffer due to sectarian violence or military brutality.
All this time, there was little global effort to hold accountable the perpetrators of this violence against Rohingyas.
Now, for the first time, there's something: the World Court.
In a historic ruling, the International Court of Justice in The Hague, also called the World Court, yesterday ordered Myanmar to take emergency measures to protect the remaining 600,000 Rohingyas in Myanmar against genocidal acts.
The Court also ordered Myanmar military or other forces to not do anything which may harm the Rohingyas physically or mentally and asked the country to not destroy any evidence of crimes against the Rohingyas.
During a military crackdown since August 2017, some 750,000 Rohingyas fled Myanmar, seeking refuge in Bangladesh.
"It has been decades of impunity. That is what is being questioned right now," said Yasmin Ullah, a Rohingya activist studying in Canada, adding that the impunity had spanned from the highest to the lowest levels.
In a twitter post, she said Myanmar authorities would now need to be watched and that was what was needed the most.
"It's for my family, for the children, for my uncle, for my niece and nephew, to feel that they are allowed to be human; that there are some sort of eyes that are watching over them. Twenty to thirty years ago when we had to leave the country, that was not there," she said.
Burmese Rohingya Organization UK President Tun Khin said the ICJ ruling was a crucial moment for Rohingya justice, and vindication for those who lived through the genocide for decades.
"The Court's decision clearly shows that it takes the allegations of genocide seriously, and that Myanmar's hollow attempts to deny those have fallen on deaf ears," he said in a statement.
Tun Khin said Myanmar must now immediately adhere to the ruling and end all violations against Rohingyas. This must include granting them citizenship, putting an end to repression, and a guarantee that violence will not re-occur in the future.
Myanmar's compliance to the rulings will be monitored by the UN Security Council (UNSC) and the ICJ itself. If Myanmar fails to take the adequate steps, it would be up to the UNSC to take actions to ensure Myanmar's compliance, he added.
"The international community must vigorously monitor how Myanmar follows this ruling. If the Myanmar authorities -- both the civilian government and the military -- fail to end their genocidal practices, the world must be ready to take action," said Tun Khin.
"So far, the UNSC has put politics over people's lives when it comes to the Rohingya... Instead it has been up to a small country like the Gambia to show moral leadership. This shameful situation has to end."
Nay San Lwin, media coordinator of the Free Rohingya Coalition (FRC), a global platform for the ethnic group, said, "Justice is partially served. We know that there is a long road ahead."
Khin Mung, Bangladesh coordinator of the FRC, who fled the 2017 military crackdown in Northern Maungdaw of Rakhine to Bangladesh, said he could study only up to class ten there.
"I had a dream of studying law and working for Rohingya rights. That dream remains unfulfilled. I had to rely on fishing for my survival back in Maungdaw," he told The Daily Star from a refugee camp in Cox's Bazar.
Following the ICJ ruling, Rohingyas have expressed hope that the Myanmar government will amend its law to grant them citizenship, which was denied to them in 1982.
"This ruling will also lead to sustainable repatriation of the Rohingyas to Rakhine," another refugee, Khin Maung, 24, said.
Meanwhile, Rohingyas and locals in Cox's Bazar offered special prayers at different mosques in the refugee camps after the ICJ verdict, reports our correspondent in Cox's Bazar. 
Some Rohingyas arranged large projectors in some points of Kutupalong to livestream the ICJ decision.
"We are happy with the verdict. But we demand proper implementation of it," said Sayeed Ullah, general secretary of the Arakan Rohingya Society for Humanity.  
Abu Taher and Mohammad Lalu Majhi of Balukhali refugee camp in Ukhia said while accountability measures go on, there should be efforts for sustainable repatriation of the Rohingyas with citizenship.