Justice finally catches up with Majed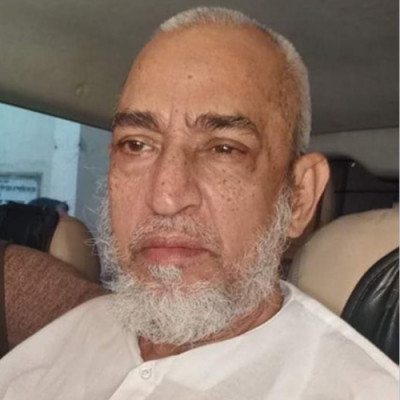 Yet another paid for his brutality while assassinating Bangabandhu Sheikh Mujibur Rahman and his family members as sacked army captain Abdul Majed, a "self-confessed killer" of the Father of the Nation, walked to the gallows early yesterday.
Majed was fugitive for several decades and got arrested in Dhaka on April 7. He, as part of the conspiring army officers, ruthlessly killed Bangabandhu on August 15, 1975, barely four years after he led the country to snatch independence from the clutch of Pakistanis.
The conspiring officers did not spare Bangabandhu's wife, sons, daughters-in-law and other relatives. Bangabandhu's daughters Sheikh Hasina, now the country's prime minister, and Sheikh Rehana survived the massacre as they were abroad at that time.
The execution of Abdul Majed, convicted killer of Bangabandhu and his family members, was carried out at Dhaka Central Jail in Keraniganj at 12:01 am yesterday, Mahbubul Islam, jailer of Dhaka Central Jail, told The Daily Star.
A prison official said the civil surgeon declared Majed dead at 12:15 am.
He said that other concerned officials including a magistrate, police representatives witnessed the execution as required by the law while inspector general of prisons Brigadier General AKM Mostafa Kamal Pasha also was also present.
Meanwhile on Friday, some family members of Abdul Majed met him at Dhaka Central Jail where he had been kept in solitary confinement on death row.
Earlier on Thursday, President Abdul Hamid rejected Majed's petition for presidential clemency, filed by the convict's lawyer Mosharraf Hossain Kajol on April 8.
Majed was arrested on April 7 from Gabtoli in the wee hours, after decades of remaining absconding.
He was nabbed by the Counter Terrorism and Transnational Crime (CTTC) unit of the police.
"Majed said he arrived in the country on March 15 or 16 from Kolkata. He claimed that he was hiding there for about 23 years," Hemayet Uddin Khan, assistant public prosecutor, told The Daily Star.
The Supreme Court on November 19, 2009, upheld the death sentences of Abdul Majed and 11 other self-confessed killers of Bangabandhu. Of them, five were executed on January 27, 2010.
They were Syed Farooq Rahman, Sultan Shahriar Rashid Khan, Bazlul Huda, AKM Mohiuddin Ahmed and Mohiuddin Ahmed.
Six other convicts, including Abdul Majed, remained at large. The other fugitive killers are sacked Lt Col Khandaker Abdur Rashid, SHBM Noor Chowdhury, Shariful Haque Dalim, Rashed Chowdhury, and Risaldar Moslehuddin.
Another condemned killer, Aziz Pasha, died in Zimbabwe in June, 2001.
MAJED: THE MAN BEHIND SERNIABAT AND JAIL KILLINGS
Law Minister Anisul Huq, who is a state counsel for Bangabandhu murder trial, told The Daily Star that Majed went to the house of Abdur Rab Serniabat and unleashed the attack. After that he went to the Radio station.
Then water resources minister Abdur Rab Serniabat was brother-in-law of Bangabandhu, and brother of Sheikh Fazilatunnesa Mujib.
The merciless derailed solders attacked Sernibat's house at Mintoo Road and killed Serniabat's daughter, son and his nephew.
Anisul Huq also said that Majed took part in the killing of the four national leaders inside Dhaka Central Jail in November 1975.
On November 3, 1975, four leaders of the Awami League, who led the Mujibnagar government in absence of Bangabandhu -- acting president Syed Nazrul Islam, prime minister Tajuddin Ahmad and cabinet ministers M Mansur Ali and AHM Quamruzzaman -- were brutally killed inside Dhaka's Central Jail.
BIGGEST CHALLENGE
The law minister, in a video message released yesterday, said that it was the biggest challenge for them to nab and execute convicted fugitive killers of Bangabandu.
But it was a slight relief that one of them -- Majed -- was nabbed and executed on the year of birth centenary of Father of the Nation, he said.
"We promised that we will bring back all fugitive convicted Bangabandhu killers and execute them."
We are reiterating our promise that we will bring back all fugitive killers and execute them, he added.
SPECIFIC INFORMATION ABOUT TWO FUGITIVES
Home Minister Asaduzzaman Khan yesterday said that the country was more unburdened with the execution of Abdul Majed.
Talking to journalists while distributing food among the destitute at his Dhanmondi residence, home minister said that government was giving the highest effort to bring back all fugitive killers of Bangabandhu.
Asaduzzaman also said that the execution of Majed is a gift from the prime minister in the Mujib Year.
He said the government had specific information about two fugitives. "All five fugitive [killers of Bangabandhu] will be brought back and executed," he said.
BURIAL IN SONARGAON SPARK PROTEST
Majed's burial at his in-law's family graveyard in Sonargaon sparked protest among the Awami League men, reported our Narayanganj correspondent.
"We have urged the local administration to remove the body of Majed from here. Otherwise, freedom fighters and the Awami League leaders, with the local people, will take steps in this regard," said Freedom fighter Saiful Islam Bhuiyan, convener of the AL's Sorangaon upazila unit.
Moniruzzaman, officer-in-charge of Sonargaon Police Station, said the body was buried there as per the government directive.
Local Awami League leaders can communicate with the higher authorities of the government in this regard.