Infection control ignored
Most hospitals don't follow WHO guidelines amid lack of dedicated manpower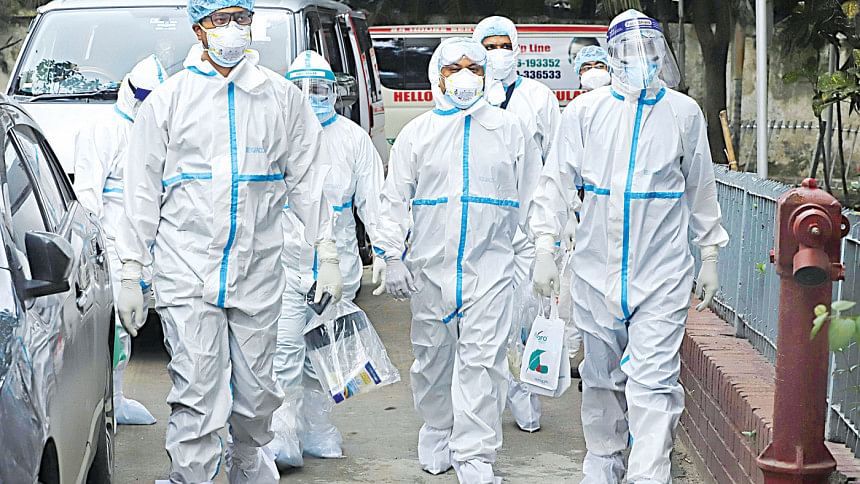 In the absence of people dedicated to prevent and control infections at hospitals, healthcare-associated infections are rising across the country, affecting the general populace and healthcare professionals alike.
Although the World Health Organization has a guideline for Infection Prevention and Control (IPC), only a handful of private hospitals follow it.
Many lives could have been saved during the Covid-19 pandemic if the IPC protocols were implemented at the facilities, experts believe.
IPC is a scientific approach to prevent harm caused by infection to patients and healthcare workers, according to WHO.
It is crucial in infectious disease management at the facilities and implementing this would require employees, including doctors and nurses, dedicated to looking after the aspects of infection prevention from every angle.
The necessity of infection prevention was propelled into the spotlight with a growing number of doctors and health workers testing positive for coronavirus and dying from the disease.
According to Bangladesh Medical Association (BMA), 44 doctors died of Covid-19 until Saturday.
Meanwhile, at least 3,437 health workers -- 1,072 doctors, 938 nurses and 1,427 other hospitals staffers -- got infected with Covid-19, says BMA.
"We could have saved lives of many doctors and reduced the rate of infection during this pandemic if we had properly maintained the infection prevention and control programme," Prof Muzaherul Huq, former adviser (Southeast Asia Region) of WHO said.
"I am sure that no public hospitals in Bangladesh have the [IPC] programme. A few private hospitals may have the programme but I have reservations about their proper application."
There is, however, no study on the rate of healthcare-associated infections (HAI) in Bangladesh, he said.
Prof Sultana Shahana Banu, head of virology at Dhaka Medical College, said many health workers were being infected with Covid-19 as they were not following the necessary protocols to avoid infection or failing to use Personal Protective Equipment (PPE) properly.
Besides, cleaning hospitals is very important, but many cleaners, due to the lack or absence of proper training, cannot do it properly, she said.
Waste management at hospitals is another source from where the virus can be transmitted, the virology professor said.
"We have seen in foreign countries that there is a dedicated unit at every hospital to supervise and monitor all these measures to prevent infection. But, as far as I know, no hospitals in Bangladesh have designated manpower to prevent infection," she added.
Brig Gen AKM Nasir Uddin, director of DMCH, said although there was no such dedicated unit at their hospital, they have had a committee to prevent and control infection for long.
The committee is comprised of doctors and administrative officials, the director said, adding that they have long been providing training to doctors, nurses and even cleaners.
WHAT WHO'S GUIDELINES SAY
In 2016, WHO issued a set of guidelines on core components of IPC programmes at the national and acute healthcare facility level.
The first guideline says an IPC programme with a dedicated and trained team should be in place in each acute healthcare facility to prevent HAIs and combat antimicrobial-resistance (AMR).
Another guideline advises that IPC education should be in place for all healthcare workers by utilising team- and task-based strategies that are participatory and include bedside and simulation training to reduce the risk of HAI and AMR.