Human Trafficking: MP Shahid's trial begins in Kuwait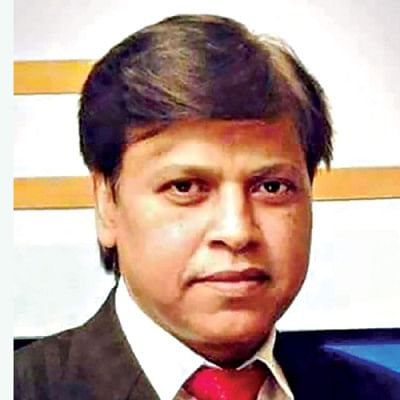 Lawmaker Shahid Islam Papul and three managers of his company were taken to a Kuwait court yesterday on charges of human trafficking, money laundering, bribing and threatening the state security. 
"The hearing is going on. We can't say for sure when it ends. Sometimes it continues up to 11:00 at night," a Bangladeshi, who works in Kuwait as a stringer for a Bangladeshi satellite TV channel, told The Daily Star around 8:00pm yesterday.
 They were taken to the court at Kuwait time 3:18pm (Bangladesh time 6:18pm) in a case that created much hype in the Arab world as well as in Bangladesh.
 A total of 13 people were accused in the case, but four were later exempted during investigation.
 Other accused including two Kuwaiti lawmakers -- Saadoun Hammad and Salah Khorshid -- are facing trial for taking bribes from Shahid.
 Maj Gen Mazen Sheikh Mazem Al Jarrah, assistant under-secretary of the interior ministry in Kuwait, is also among the accused.
 It was not clear if the Kuwaitis accused in the case were taken to the court yesterday.
 Kuwait's Criminal Investigation Department arrested Shahid, an independent lawmaker from Luxmipur-2, and also the managing director and CEO of Marafie Kuwaitia Group.
 He was accused of charging each foreign worker, mostly from Bangladesh, up to 3,000 dinars in exchange for taking them to Kuwait. Many of them, however, alleged they were not provided with the jobs and wages as promised.
 Shahid has since confessed to bribing millions of dollars to Kuwaiti officials for recruiting Bangladeshi workers and getting contracts for his company.
 In response to a complaint filed on February 16, Bangladesh's Anti-Corruption Commission opened an inquiry into an allegation that Shahid amassed Tk 1,400 crore by trafficking people to Kuwait and laundered the money to different countries.
Sources said Shahid earned huge black money through his illegal business, which also included human trafficking, and spent crores to buy the ticket to become an MP in 2018 elections. The same way, his wife Selina Islam also became an MP from women reserved seat, the sources said.
As Shahid faces trial and can potentially be convicted, there are questions if his parliament membership would be cancelled.
 "It is not a matter whether the trial process of an MP is holding at home or abroad. Our consideration is that if we receive any judgement and other related documents that an MP has been awarded more than two years' imprisonment on moral turpitude, the Speaker will verify the documents and will take measures to vacate the seat," said Fazle Rabbi Miah, deputy speaker of the Jatiya Sangsad.
 He added that the MP's membership in parliament would be vacated only if he is convicted on moral turpitude. But the parliament has nothing to do now as the trial goes on against the independent MP.
 Eminent jurist Shahdeen Malik, also an expert of the country's constitution, also echoed the deputy speaker.
 According to the Article 66 of the constitution, a person shall be disqualified for election as, or for being, a member of parliament who has been, on conviction for a criminal offence involving moral turpitude, sentenced to imprisonment for a term of not less than two years unless a period of five years has elapsed since his release.
 There are also several other grounds for which an MP can lose his membership in parliament.