Hope battles despair on Dhaka streets
Wealthy people, community-based voluntary organisations stepping forward to support the needy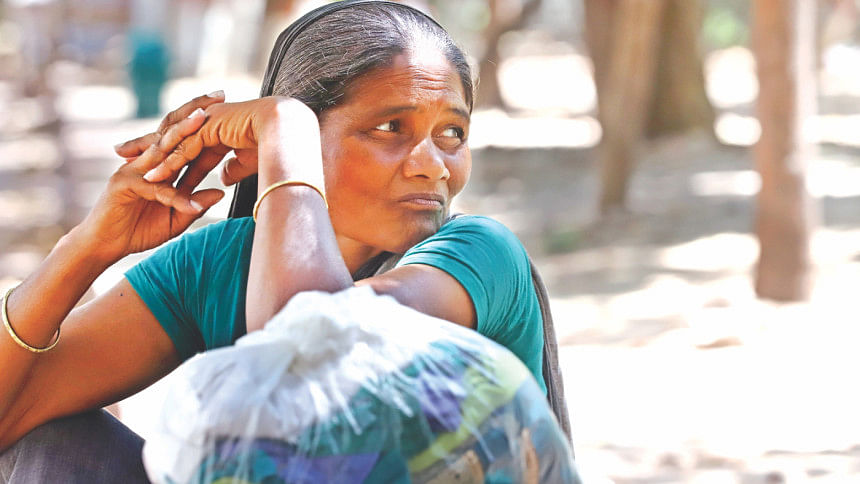 Dhaka is eerie quiet, much like most capitals and countries around the world as they grapple with a common enemy -- the spread of the coronavirus. Bangladesh is currently in the midst of a country-wide shut down that has been in force from March 26 and will extend till April 4.
Daily income of rickshaw-puller Aminul, who operates in Farmgate, in normal times the capital's busiest area, has almost dwindled to nothing. Like millions who depend on their labour and the city being the vibrant one it was less than a month ago, anxiety has gripped him about how he will provide even the basic necessities to his family of four.
But a pleasant surprise was in store for him.
A passenger eventually came by, headed for Mohammadpur. After reaching the destination, the passenger gave him a bag full of groceries -- rice, lentils, oil, eggs, potato, biscuits, soap and washing powder -- that would support Aminul and his family for at least two days.
The despair on the streets and in homes seem to have bred an attitude that is breaking down barriers between classes and producing tales of fellowship and humanity. The effort has been undertaken at an individual level as well as from community-based voluntary organisation across the city and they have stepped forward to distribute daily needs to the poor.
Talking to this newspaper, the passenger, who is an employee of a private organisation, said he and his relatives have undertaken an initiative to support day labourers every day on their way to work.
"If you are going to office or if you come out for daily needs, at least help a day labourer with groceries," he said.
He said his cousin, Shamima Jeba, an expatriate living in Canada, initiated the programme through their social voluntary organisation "Prochesta", which has been working for marginalised people for several years with small projects involving health, hygiene and helping the poor towards self-sufficiency.
A Mirpur DOHS community-based group was seen helping 50 rickshaw-pullers in the area on Thursday.
"In this period of crisis, we distributed packs of groceries among 50 rickshaw-pullers in the area. A bag contains 3 kgs of rice, 1 kg potato, 1 litre oil, half kg lentil, half kg onion, half kg beaten rice, one soap, 10 paracetamol tablets and one mask," said Syed Ashiqul Islam, a resident of the area.
When most are concerned about their hygiene to fight the coronavirus outbreak, poor people can hardly afford measures to safeguard themselves against the virus.
"Free for the poor people. Don't take more than necessary,"read a bannerhung over a table where hygiene products like hand sanitiser, soap, tissue, gloves, saline and washing powder were kept for low-income people, street children and slum dwellers in Dhaka and Gaibandha.
The initiative was taken by Zoom Bangladesh, a small non-profit organisation which works for the unprivileged children.
Several members of Dhaka Metropolitan Police distributed food among 100 needy people on Thursday night, from their own funds.
Some 110 low-income families were provided food and other daily essentials in Dhanmondi, Hazaribagh and Russell Square areas, said Ramna police ADC Abdullah Hill Kafi.
Each package contained three kgs of rice, half kg of lentils, one kg potato, one kg onion, half litre oil and a soap.
"With everything shut down, the low-income people hardly have any income. So, this is just a little effort." Kafi said, adding that they bought these products with funds from an assistant police commissioner, several sub-inspectors and his own salary.
The police officer called for the wealthy to help the people of low-income.
In Dhaka Reporter's Unity premises yesterday, "Shonge Achhi", a voluntary organisation distributed 150 bags of groceries among maids, day-labourers, street people yesterday.
"We are a very small social organisation. We raised funds from our few senior brothers and from a portion of our salary. We may not have much money like the rich people in the city. But we want to show how you can stand beside needy people even with small amounts of money," said Jashim Uddin Khan, a journalist and convener of the organisation, adding that the initiative will be running for the next 10 days.
Meanwhile, the 50 police stations of the DMP have started locally distributing food among 2500 street children and poor people every day from yesterday until April 4.
HOPE SPRINGS INDIVIDUALLY
A driver behind the wheel of a car was seen in front of Bashundhara City Shopping Complex around 1:30pm yesterday, and there were 40 packets of meals on his back seat.
"My employer, the wife of a businessman Abu Ahmed Siddiqui in Dhanmondi, told me to distribute these among the needy people on the street. I came out with the car and am looking for some people who really need food at this time," said Kamrul, the driver.
Kamrul said Siddiqui's father is also distributing meals among 100 day labourers every day.
Hashi Begum, a municipality cleaner of Dhaka North City Corporation, was walking near Saarc fountain in Karwan Bazar with a co-worker. A car arrived and the man inside the car wanted to know what they were doing.
Having gotten her details, he gave them two bags of groceries.
"Now I have no worry for at least two days as my family doesn't have to starve," Hashi thanked the kind man and said such initiative would be a great help at this time for the people who live by hand to mouth.
Many flat owners and tenants have been barring their maids from coming to work for fear of the spread of coronavirus.
Azizur Rahman Faruk of Jhigatola, however, thought otherwise. He along with some other members of his apartment building, were packing 130 bags of groceries in the garage to distribute those among the maids in the area yesterday.
"I am doing this as part of social responsibility at this time of crisis. This will help the quarantine process. Many wealthy people live in this city. I think, they should stress their hands too," he said.
In front of Town Hall Bazar on Saturday afternoon, 50 bags of groceries were kept in front of a shop. The grocery shop owner Parvez told this correspondent that they got this order from a customer to pack those distributing among street people.
"In the last three days, four such customers bought grocery bags from my shop for distribution," he added.
On social media, people are posting their initiatives how they have been helping the community. Some people who were not able to help financially, came for another way to aware the community.
At a kitchen market in Khulna, a young girl Faima Rahman Jui along with two of her acquaintances marked spots with white color to stand in distance while buying groceries at the market.
"We had no money, no manpower. Only three people, we marked the spots before every shop so that people who came for shopping, can maintain social distancing," she wrote on Facebook.