Healthcare Professionals: On the front line, true to their oath
While some taking safer path, many risking their lives to fight the pandemic; so far, 60 of them including 32 doctors have contracted the virus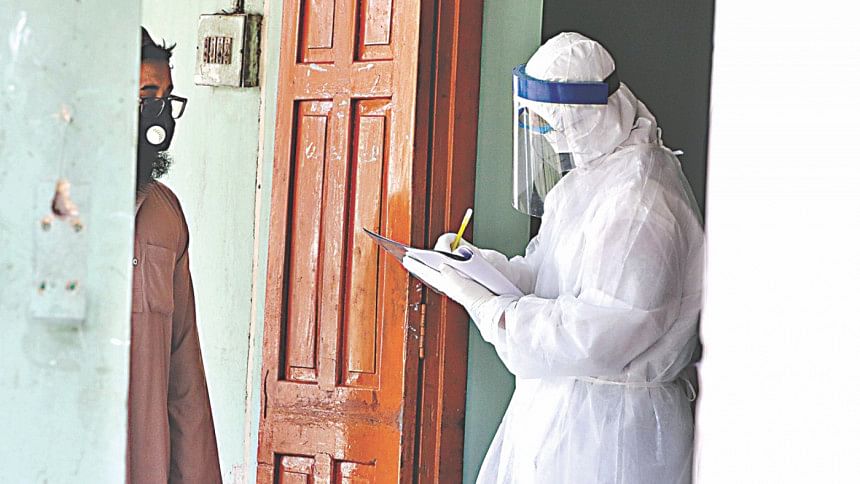 Although there are criticisms over the role of some healthcare employees, many of them are giving it all on the frontline of the battle against coronavirus.
Over 60 health department officials, including 32 doctors, have already tested positive for coronavirus.
To make matters worse, many patients reportedly hide their health and travel histories. Besides, there are questions over the quality of personal protective equipment (PPE) supplied to them by the authorities.
The rate of infection among healthcare employees in Bangladesh is higher than that in many other countries, and if the government does not take steps to protect them, the challenge to contain the spread of coronavirus would be much stiffer, experts and physicians said.
Now that the virus is spreading within communities, all healthcare employees must get proper PPE, and hospitals must ensure rigorous triage, they added.
Against this backdrop, many doctors, in adherence to Hippocratic Oath they took during their internships, have devoted themselves to treating Covid-19 patients.
The Hippocratic Oath means that doctors will give the utmost priority to the patients and they will ensure the secrecy of the patients.
Experts said, doctors at different private hospitals should be involved in the coronavirus response as the number of government doctors are too small.
As the country witnesses a sharp rise in detected coronavirus cases and deaths, the role of health service providers becomes crucial.
A total of 803 people tested positive for coronavirus and 39 of them had died, according to Institute of Epidemiology, Disease Control and Research (IEDCR).
At least 32 doctors have tested positive for the coronavirus until April 12 and the number of infected health service providers is over 60, according to Bangladesh Doctors' Foundation.
Three of them are now at ICU while the of number of doctors in quarantine is between 250 and 300, Nirupam Das, chief administrator of BDF told The Daily Star.
BDF, a platform of around 1 lakh doctors and medical students, collected the information from officials concerned, he said.
"If doctors are infected at such a rate, the healthcare system will collapse," he said.
In India, 8,504 people tested positive for coronavirus as of April 12 and of them, 289 died, according to NDTV.
At least 90 healthcare workers, including doctors and nurses, tested coronavirus positive in India, NDTV reports.
Nirupam said many healthcare employees got infected due to the lack of proper PPEs.
Besides, many patients hid their health histories when they came to hospitals and later some of them were test positive for Covid-19. Eventually, the ones who provided them treatment, got infected, he said.
Delayed introduction of triage at hospitals is also responsible for the situation, he said.
Triage is the process of determining the priority of patients' treatment based on the severity of their condition or the likelihood of their recovery with or without treatment.
EXPERIENCE AND CHALLENGES
People sometimes do not cooperate with doctors and nurses when they test positive or come to hospitals with flu-like symptoms, some doctors said.
A man in Ramganj upazila of Lakshmipur, who was tested positive on Saturday, refused to come to hospital despite repeated requests by healthcare providers.
"Police had to intervene. They went to his village with an ambulance and brought him to the district hospital. The situation will be difficult to handle if people do not cooperate with us," said Civil Surgeon Abdul Gaffar of the district.
"People are hiding the covid-19-like symptoms… PPE is necessary for all healthcare providers now."
A doctor at Kuwait Bangladesh Friendship Government Hospital said, "Sometimes we do not have the time for lunch… We eat some biscuits and drink water. There is no fixed working hour for us now."
Kuwait-Bangladesh Maitree Hospital is a major hospital for treating Covid-19 patients.
"We do not want any extra money or benefits. What we need is appreciation, not criticism," he said.
Sometimes physicians have to do the job of other employees, he said.
Directorate General of Health Services (DGHS) on Saturday suspended six doctors of the hospital after they allegedly declined to treat Covid-19 patients. Besides, there are reports that doctors declined to treat suspected coronavirus patients who died later.
Most private hospitals shuttered their gates after the outbreak. After criticism, however, they changed their decisions.
WHAT TO DO NOW
The government should ensure that the PPEs are "up to the mark", and triage must be followed properly, Nirupam said.
Prof Muzaherul Huq, former adviser (Southeast Asia Region) of the World Health Organization, said whenever doctors get a suspected Covid-19 patient, they must maintain proper distance.
The ideal practice should be to quarantine doctors and other health employees treating Covid-19 patients.
The authorities should ensure residential and other essential services to the doctors at the hospital, he said.
Hospitals treating Covid-19 patients, must have the arrangement, he said.
"If making residential facilities at hospitals isn't possible, they [doctors] can be kept at hotels, but similar safety measures must be taken there," he told The Daily Star.
A doctor at Dhaka Medical College Hospital said the government should immediately involve doctors at different private hospitals in this fight, otherwise it would not be possible to manage the situation.
Many nurses and ward boys who still don't have PPE are exposed to the risks and they are putting their colleagues and family members at risk, he said wishing anonymity.
BANGLADESH'S STRENGTH
According to a 2018 DGHS bulletin, the number of registered BMBS doctors was 93,358 while 9,569 were registered as BDS.
A total of 25,615 doctors are employed against 27,409 posts at different facilities under DGHS, according to a March 2020 report.
Besides, around 75,000 doctors are involved in different private facilities, a DGHS official said.
Asked about the quality of PPE, Aminul Hasan, director (Hospital) at DGHS, said, "Now we have ensured the quality of PPE."