Golden voice goes silent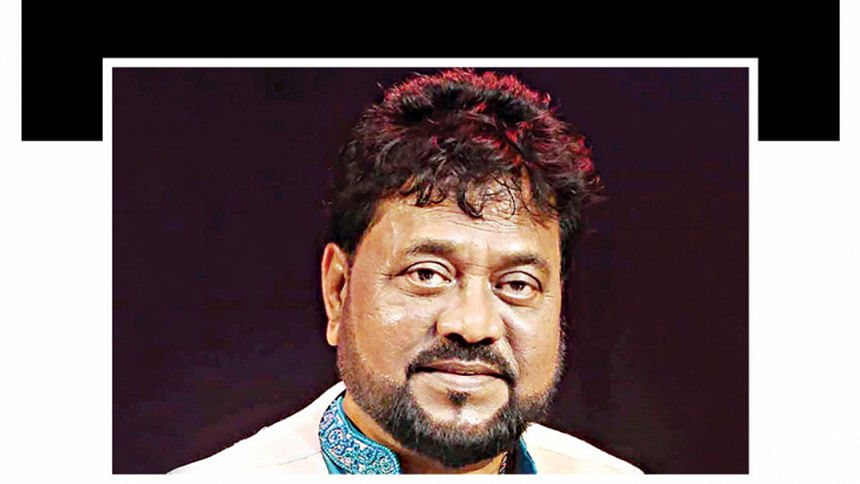 Eminent playback singer Andrew Kishore, who had been battling cancer for months, passed away at his hometown Rajshahi at 7:00pm yesterday, confirmed his brother-in-law, Dr Patrick Bipul Biswas.
Andrew, 64, left behind his wife Lipika Andrew Eti, daughter Minim Andrew Songa, son Jay Andrew Saptok, along with millions of fans who will miss him dearly.
The president, prime minister, Speaker and state-minister for Cultural Affairs expressed shock at the demise of the singer. Prime Minister Sheikh Hasina had previously financially assisted Andrew with a cheque of Tk 10 lakh for his treatment.
His last rites will take place in Rajshashi, where he was undergoing treatment after returning from Singapore.
Composed by renowned musician Alam Khan, the song Dak Diyachhen Doyal Amare (1982) put Andrew under the spotlight, after it gained massive popularity. His lifelong dedication to music has earned him many awards and accolades.
The multiple-time National Film Award winner is famous for evergreen songs, including Jiboner Golpo Achhe Baki Olpo, Haire Manush Rongin Phanush, Amar Shara Deho Kheyo Go Mati, Amar Buker Moddhe Khane and Amar Babar Mukhe Prothom Jedin Shunechhilam Gaan, among others.
Andrew Kishore was diagnosed with Diffuse Large B Cell Lymphoma (cancer in both adrenal glands) on September 9 last year.
His treatment started at the Singapore General Hospital, where he underwent chemotherapy. After a nine-month battle, he finally returned to Bangladesh from Singapore on June 11 this year. He was taken to his home in Mirpur upon arrival. However, he was soon taken to his birthplace in Rajshahi, where he breathed his last.
The maestro mesmerised music lovers with his voice since the '80s and was once the highest-paid playback singer. Born and brought up in Rajshahi, he later came to Dhaka and established himself as a playback legend.
The singer entered the film industry with the song Ek Chor Jaye Chole for the film Protikkha and recorded thousands of songs as a playback singer.
Andrew won the Bangladesh National Film Award for Best Male Playback Singer eight times for films Boro Bhalo Lok Chhilo (1982), Surrender (1987), Khotipuron (1989), Padma Meghna Jamuna (1991), Kabul (1996), Aaj Gaye Holud (2000), Saajghor (2007) and Ki Jadu Korila (2008).
As a patriot, he would always wish for the welfare of the country and its people. He had a great faith in the present generation of singers, who he believed to be creative and energetic.
Artistes like Andrew Kishore come once in a century. His legacy will forever be etched in the musical history of Bangladesh.