Autistic girl, 15, raped in Narayanganj
2 more girls raped in Bandarban, Jamalpur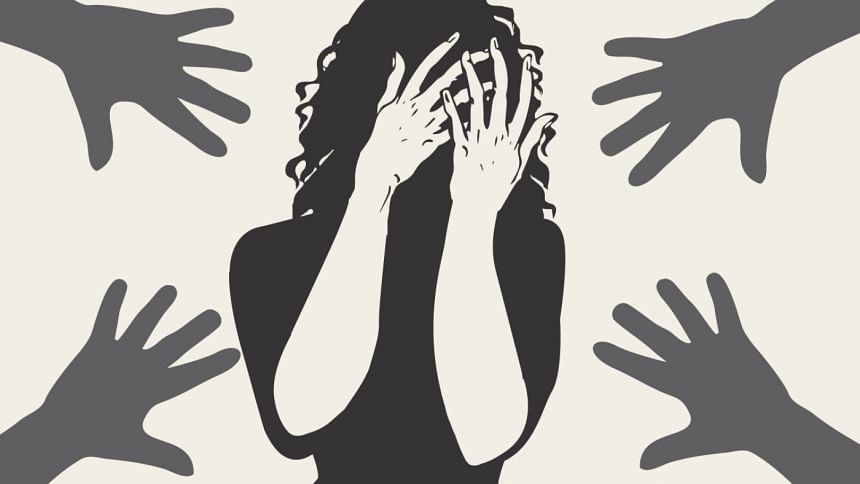 Two girls, including an autistic teenager, were allegedly raped in Bandarban and Narayanganj on Tuesday and Wednesday.
In Jamalpur, police rescued a Pakistani schoolgirl from Mohishakani area of Sarishabari upazila early yesterday, two days after she was allegedly kidnapped and raped by her Bangladeshi cousin.
Law enforcers in Rangpur yesterday detained three people for allegedly trying to cover up the rape incident of a fifth grader.
Besides, a schoolteacher was suspended on charges of sexually harassing several schoolgirls in Natore.
In another incident, a suspected rape victim died at Sir Salimullah Medical College and Mitford Hospital in the capital on Wednesday afternoon, hours after she hanged herself at her home in Munshiganj's Sirajdikhan upazila.
Police said the 15-year-old autistic girl was allegedly violated by one Jamal, 32, in Narayanganj's Bandar upazila.
She used to go to Autism Child Care School in Farazikanda area. Around 3:00pm on Wednesday, she went to a shop in front of the school to eat an ice cream, said Rafiqul Islam, OC of Bandar Police Station.
At that time, Jamal took the girl to an empty home in Madhabpasha area saying that he would buy her an ice-cream. The man "violated" the girl there, the OC added.
Later, her mother filed a case against Jamal. Police sent the girl to Narayanganj General Hospital for medical examinations.
Drives were underway to arrest the accused.
In Bandarban, a seven-year-old girl was allegedly raped by a sixth grader at her house in Kyaching Ghata area on Tuesday noon.
She was admitted to Bandarban Sadar Hospital on Wednesday night, said the victim's mother.
A case was lodged with Bandarban Sadar Police Station in this connection.
PAKISTANI GIRL 'RAPED'
Al Mamun, OC of Gopalpur Police Station in Tangail, said 17-year-old girl's father went to Pakistan around 25 years ago. Later, he started a business there and married a Pakistani woman.
The ninth grader, along with her mother, came to her paternal grandfather's home in Tangail from New Karachi in Pakistan five months ago. They were staying at the house of one her uncles in Gopalpur upazila, the OC added.
The son of her another uncle had been allegedly stalking her for months.
On Tuesday, the schoolgirl's 20-year-old cousin with the help of several others "abducted" her from the house, took her to an unknown place and "raped" her, said the OC, quoting the victim's mother.
A case was filed with Gopalpur Police Station by the girl's mother on Wednesday night, accusing the cousin and his parents.
Police arrested the alleged rapist's mother on Tuesday night. Gleaning information from her, law enforcers later rescued the schoolgirl early yesterday.
Police were conducting drives to catch the two other accused.
THREE HELD IN RANGPUR
Rangpur police yesterday detained three people for trying to cover up an April 15 rape incident.
Mother of the victim on Wednesday night filed a case with Kotwali Police Station, accusing six people, including a ward councillor of Rangpur City Corporation.
Of them, one was accused of rape and the others of threatening the victim's families to cover up the incident, said Kotwali OC Rezaul Karim.
In Noakhali, father of a schoolgirl filed a case against one Abul Basar, 60, on Wednesday for allegedly raping his daughter in Mohammadpur village of Senbagh upazila.
Relatives of the schoolgirl said she was playing with her friends near her home on April 15. At one stage, Basar forcibly took her to his room and raped her.
The alleged rapist also threatened the girl not to disclose the matter.
Basar went into hiding following the incident. Police were trying to arrest him.  
In Natore, the managing committee of BIAM Laboratory School under Singra upazila yesterday suspended teacher Fazlur Rahman on charges of sexually harassing several students of the school. 
'RAPE VICTIM KILLS HERSELF'
A suspected rape victim died at Sir Salimullah Medical College and Mitford Hospital in the capital on Wednesday afternoon, hours after she hanged herself at her home.
The victim was identified as Setu Mandal, aged 14.
Police and Setu's relatives said she was abducted by Sohel Miah, 24, on April 10. The following day, she was rescued in an unconscious state from South Keraniganj of Dhaka.
Police suspected that the class-eight student was drugged and raped by criminals.
Law enforcers have detained Sohel for interrogation.
Our district correspondents contributed to this report.