Flood to prolong up to mid-Aug
More than a third of the country already affected; this year's flood may turn out to be the longest in 2 decades, experts fear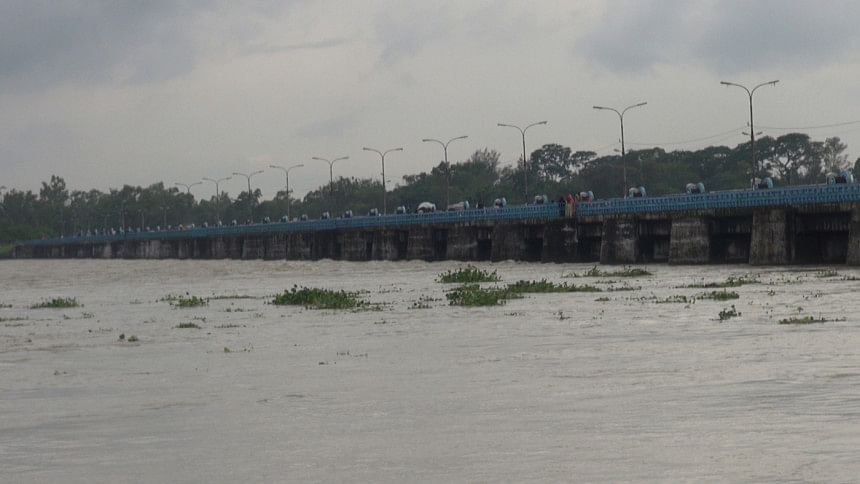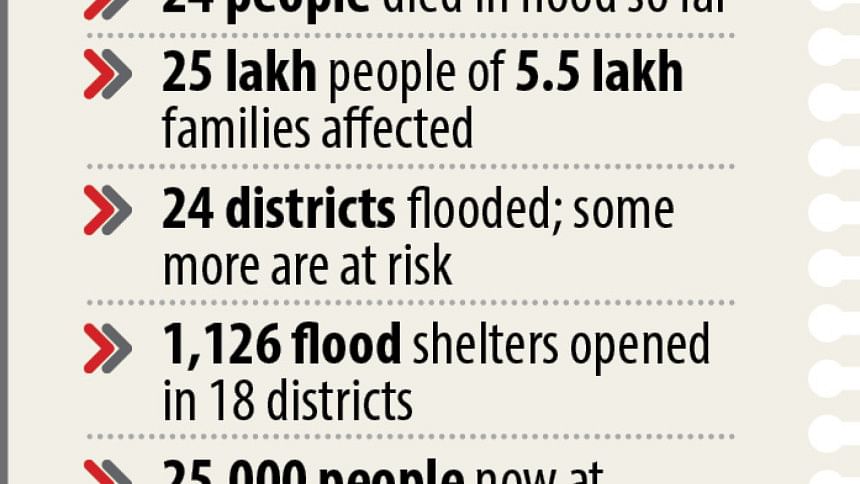 The sufferings of more than 25 lakh people in 24 districts are likely to linger as experts predict floods will continue till mid-August.
Experts fear this flood is going to be one of the worst the country experienced in recent memory as it may about to outlast the record 63-day flood in 1998.
"The 1998 flood lasted 63 days. This flood is likely to continue for more than 40 days," said Prof Saiful Islam of the Institute of Water and Flood Management at Buet.
Flood situation in several northern and north-eastern districts has deteriorated further with flash floods ravaging many areas for the third time this year. Sea storms in the Bay of Bengal made things worse in some flood-hit areas in the southern region yesterday.
Since June 26, floods have claimed 24 lives, damaged standing crops, thousands of houses, roads and embankments in at least 90 upazilas of 24 districts, said officials of the Department of Disaster Management.
"The water level of the rivers in the northern and Sylhet regions is likely to keep rising till the end of this month. As far as we understand, flood water may start receding from the second week of the next month," Md Arifuzzaman, executive engineer at Flood Forecasting and Warning Centre (FFWC), told The Daily Star.
In a bulletin yesterday afternoon, the FFWC said the water level of the rivers in the northern and north-eastern districts (the Brahmaputra and the Meghna basins) may rise further due to heavy downpour upstream.
The monsoon is very active in the northern part of the Bay of Bengal, and India's Rajasthan, Haryana, Uttar Pradesh, Bihar, West Bengal and Assam, causing heavy rains in those areas.
Rashed Chowdhury, principal scientist at the Pacific ENSO Applications Climate Centre of the University of Hawaii Manoa in the US, said La Nina, the special oceanic atmosphere that causes rains in Bangladesh and India, developed late this year.
"I think that this year's flood will last longer than any normal year as the onset of La Nina is late this year. Normally La Nina develops by May-June and reaches its peak by July-August."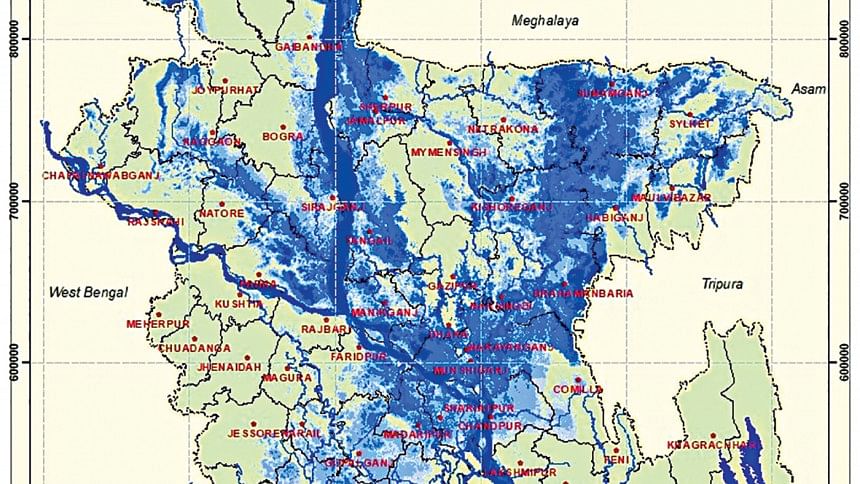 But this year, La Nina is developing in July. It will take more time to reach its peak, he pointed out.
"So, weak-to-moderate flood will last longer than any other normal flooding year," predicted Rashed who has been monitoring the country's flood situation.
Prof Saiful said at the moment, the sea is rough and tidal waves are higher than normal due to the influence of the new moon.
"The flood situation is unlikely to improve before mid-August," he said.
The FFWC in its bulletin said that in the next 24 hours, the flood situation will deteriorate in Gaibandha, Jamalpur, Sirajganj, Tangail, Manikganj, Natore, Faridpur, Madaripur, Rajbari, Shariatpur, Sylhet and Sunamganj.
Floodwater in the areas surrounding the capital will increase, it mentioned.
Our correspondents from Sylhet and Lalmonirhat report: flash floods have hit many areas of Sunamganj, Sylhet, Lalmonirhat and Nilphamari for the third time within a month.
The Surma, Kushiyara, Jadukata and Sari-Gowain rivers in Sylhet and Sunamganj, and the Teesta river in Lalmonirhat and Nilphamari were flowing above the danger level, said officials at the Water Development Board.
Amirul Islam, chairman of Laxmipur Union Parishad of Sunamganj's Dowarabazar, said, "We are affected by floods every year. But this time, flash floods hit us three times, causing huge losses of crops and properties."
In Kurigram, flood-hit people built temporary shelters on embankments and roads, using polythene sheets. But many of those shelters went under water as rivers keep swelling.
"It seems there is no end to our sufferings. I along with my family members took shelter on the roadside 10 days ago. But the shelter got submerged yesterday morning," said 55-year-old Shamsul Islam from Ramna area in ​​Chilmari upazila.
"We couldn't cook anything since morning. We are starving."
Meanwhile, the Jamuna eroded its banks at several points in Sirajganj.